Where You Know The Cast Of Five Nights At Freddy's From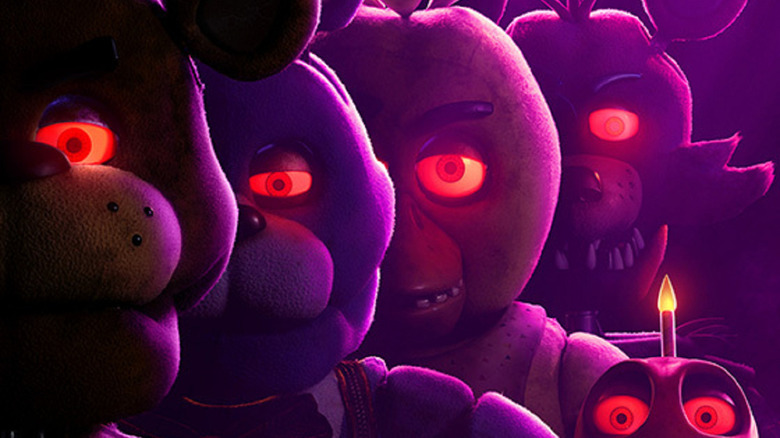 Universal Pictures
Languishing in development hell since at least 2015, the feature film adaptation of the viral video game "Five Nights at Freddy's" is finally hitting theaters in 2023 courtesy of horror studio Blumhouse. Directed by Emma Tammi, the film is set at the titular family fun center called "Freddy Fazbear's Pizza," a clear parody of iconic family-friendly restaurants like Chuck E. Cheese and ShowBiz Pizza Place. In the film, Freddy's hires a new security guard who becomes the target of the establishment's animatronic entertainers when they turn into crazed killers.
To bring the movie to live action, Tammi has enlisted the services of a cast of actors led by a trio of established Hollywood stars who are supported by a wide array of lesser-known talent. You'll probably recognize a few of them; others you may know from somewhere but might not remember right away. The most fresh-faced actors making early career appearances may be new to your radar. Don't worry, though — we're here to help spotlight the cast of "Five Nights at Freddy's."
Josh Hutcherson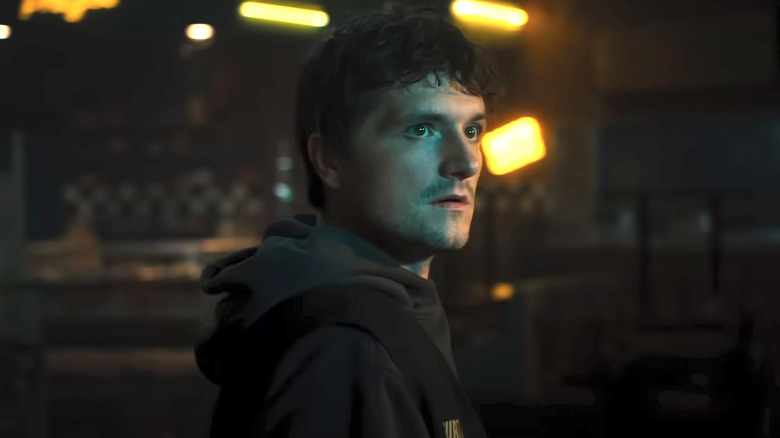 Universal Pictures/YouTube
Like the game, "Five Nights at Freddy's" will follow the story of a maintenance worker assigned to the night shift at a children's play center. In the starring role is actor Josh Hutcherson, who you've almost certainly seen around. If you recognized him right away, it was probably for his role as Peeta Mellark in "The Hunger Games" series where he starred alongside Liam Hemsworth and Jennifer Lawrence. But he actually got his start on television with a guest spot in an episode of "ER" all the way back in 2002.
Following that early work, Hutcherson went to the movies, appearing on the big screen for the first time in "American Splendor" as a little boy dressed up as Robin the Boy Wonder. Leading roles weren't far behind; in 2005, he starred with Jonah Bobo, Dax Shepard, and Kristen Stewart in the sci-fi family film "Zathura: A Space Adventure" directed by Jon Favreau. He followed that up with another fantasy, the 2007 adaptation of "Bridge to Terabithia," before co-starring with Brendan Fraser in "Journey to the Center of the Earth," and its sequel alongside Dwayne Johnson.
Not long after, Hutcherson teamed with Liam Hemsworth's brother Chris in the ill-fated remake "Red Dawn," while famously missing out on playing Spider-Man in the 2012 reboot. Of course, you may also know Hutcherson by his voice, as he starred in the English dub of the anime classic "Howl's Moving Castle."
Theodus Crane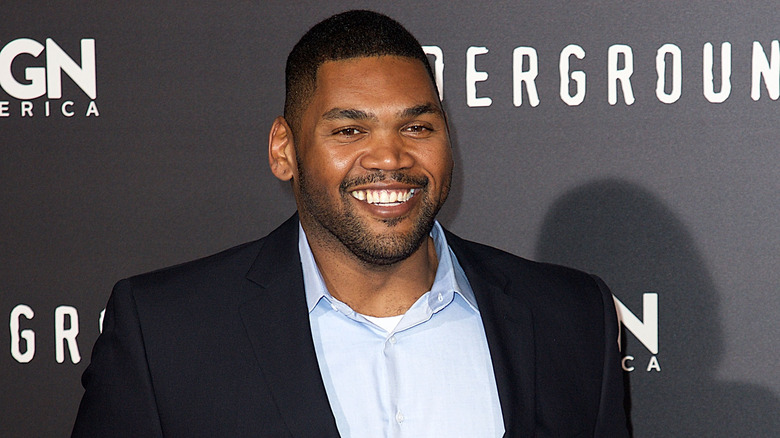 Unique Nicole/Getty Images
Supporting star Theodus Crane is one of those actors you may have seen around, but probably have trouble identifying. That's because most of his roles have been background characters, though he's been in some pretty major productions. One of his earliest was in "Breakout Kings" in 2012, where he appeared in a single episode of the short-lived prison drama. That same year he played another prisoner on a much more beloved and long-lived show, "The Walking Dead." His two-episode stint as Big Tiny in Season 3 may still be his biggest and most recognizable role to date.
Still, the popular zombie drama isn't the only place you've seen Crane — he also had single episode appearances in "Timeless" in 2018, and another in the Marvel series "Cloak and Dagger" a year later. Most recently, Crane did a 2023 episode of the revived "Law & Order." In addition to "Five Nights at Freddy's," Crane is also due to star in the horror-comedy movie "Off Ramp: Juggalo Road," about a group of fans of the rap-rock group Insane Clown Posse as they take a trek to a Gathering of the Juggalos.
Matthew Lillard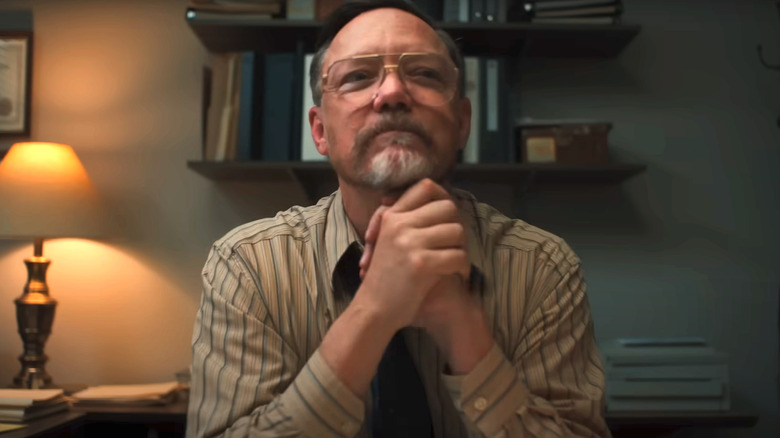 Universal Pictures/YouTube
You'd be forgiven for thinking that the mascot monsters are the biggest villains in "Five Nights at Freddy's," but there's actually a vile schemer even more dangerous than the homicidal animatronic animals. His name is William Afton — a deranged madman and genius robotics expert who created the family fun center to use as his own personal slaughterhouse. In the film, Afton is played by Matthew Lillard, who's played several beloved roles that you might know him from.
The first major movie to make him a star was the 1996 Wes Craven classic "Scream," where he played the loudmouthed Stuart. Some audiences already knew him from the cult favorite "Hackers," though, where he starred alongside a young Jonny Lee Miller and Angelina Jolie. But after his breakout in "Scream," Lillard became something of a teen icon, showing up in "She's All That," over-hyped horror remake "Thir13en Ghosts," and quasi-underground comedy "SLC Punk!" Known for playing quirky, eccentric oddballs, Lillard took on his biggest role in 2002, winning the coveted part of Shaggy in the live-action adaptation of "Scooby Doo." He reprised the role a couple of years later for the sequel.
If you recognize him from TV, it could be from the 2013 series "The Bridge" or from his way-against-type turn as high school principal and amateur paranormal investigator William Hastings in 2017's "Twin Peaks: The Return."
Elizabeth Lail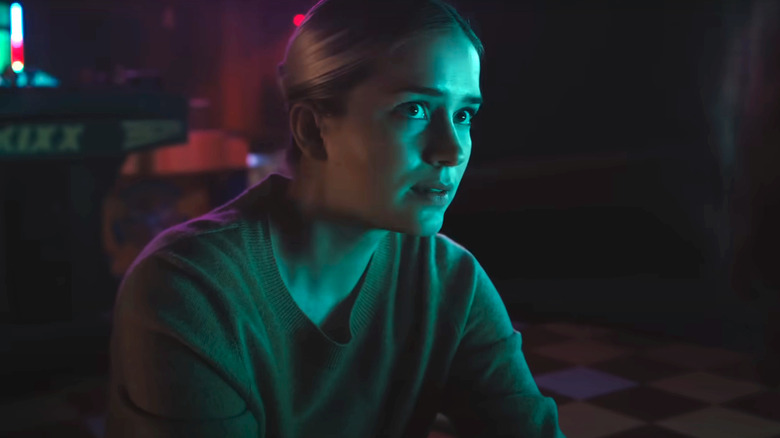 Michael Kovac/Getty Images
Also starring in "Five Nights at Freddy's" is a face you've seen, though the majority of her work has been on television. Elizabeth Lail received her first Hollywood casting call for a major network TV series in 2014 when she joined the ABC fantasy drama "Once Upon a Time" in a recurring role. The show takes animated Disney characters and weaves them into a live-action adventure. In Season 4, Lail shows up as a live-action version of Princess Anna from "Frozen."
Just two years later, Lail took a leading role, co-starring with Elizabeth Mitchell in the short-lived Freeform series "Dead of Summer." Following a couple one-off guest appearances in "The Good Fight" and "The Blacklist," Lail was cast as Lola Morgan in the 2021 "Gossip Girl" revival. She next starred in the NBC drama "Ordinary Joe," a series that follows three parallel timelines in the life of Joe Kimbreau (James Wolk) after he's faced with making a critical life choice. 
On the movie side, you might have seen Lail in some indie films, including 2022's "Mack & Rita" with Diane Keaton, and the Justin Dec horror movie "Countdown." Let's face it though, if you know Lail, it's most likely for her role in Season 1 of the critically acclaimed Netflix series "You," where she essentially played the title character — the object of affection for series lead Penn Badgley.
Mary Stuart Masterson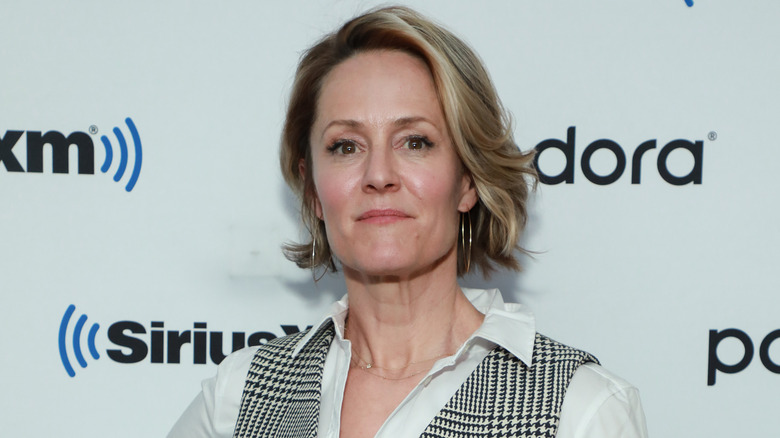 Jason Mendez/Getty Images
Even a low-budget horror-slasher needs a well-known veteran actor to add prestige, and "Five Nights at Freddy's" gets it with the presence of actress Mary Stuart Masterson, whose distinguished career brings a gravitas to the proceedings. Though you might not recognize her from her earliest work considering she was a child at the time, Masterson made her big-screen debut back in 1975 in the now-iconic psychological thriller "The Stepford Wives." But while she took a decade off before returning, the '80s were a major turning point in her career where she had a number of key roles. 
That decade, Masterson had her breakout performance in the teen romance flick "Some Kind of Wonderful" written by John Hughes, where she starred alongside Eric Stoltz and Lea Thompson. Before the decade closed, she appeared in "Chances Are," another romance, this time with Robert Downey Jr. as a man reincarnated after his death who dates his previous self's daughter. In 1991, Masterson starred with screen icons Jessica Tandy and Kathy Bates in "Fried Green Tomatoes," but it was her turn as a lovelorn outcast Joon opposite Johnny Depp in "Benny and Joon" that gave her another cult classic.
Though she's been in many major movies, Masterson may be recognized from TV, too. This includes a recurring role on "Law & Order: SVU" as Dr. Rebecca Hendrix," and as FBI Director Hirst in "Blindspot." In 2020, she took a lead role in Season 1 of the ABC legal drama "For Life."
Grant Feely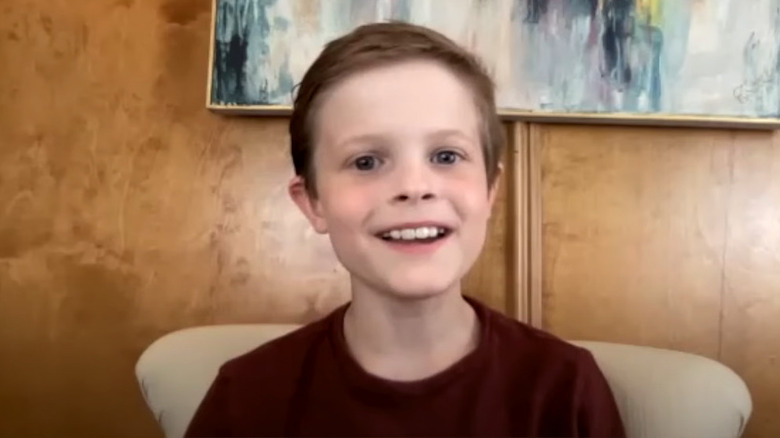 Young Entertainment/YouTube
In addition to the adult cast of "Five Nights at Freddy's," there's also a roster of child actors in the film. After all, the movie is set at a family fun center ... albeit one where the mechanical mascots turn violent and go on a killing spree. One of these young actors is Grant Feely, and while the name might not ring a bell at first, if you're into science fiction, you've very likely seen his face. That's because Feely played a small role in the 2021 Disney+ series, "Obi-Wan Kenobi."
In the prequel series, which brought back Ewan McGregor and Hayden Christensen as Kenobi and Darth Vader, respectively, Feely made a brief appearance as the young Luke Skywalker living with his Uncle Owen Lars on Tatooine. In the series finale, Obi-Wan visits him and presents him with the same model starship that Mark Hamill is seen playing with in "A New Hope." But while Feely may be immortal for playing one of cinema's greatest heroes, Luke Skywalker isn't his first role. That came about in the reboot of the horror anthology "Creepshow" a year earlier, where he made an appearance in the segment called "Time Out."
Kevin Foster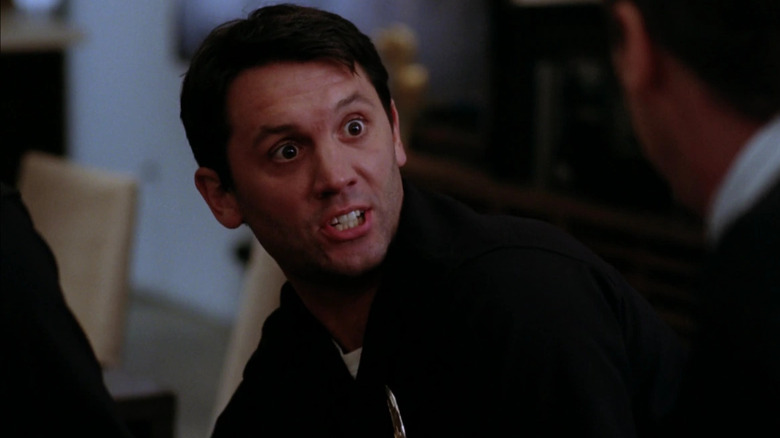 ABC
The mascots in "Five Nights at Freddy's" may be psychotic killer robots, but to make the movie, they needed dedicated actors willing to hide beneath the bulky suits and play their parts. Leading the way as Freddy Fazbear is Kevin Foster. It's a near-certainty that you've seen his face, whether you realize it or not. That's because in 2008, he had a minor but pivotal role in the MCU's first entry, "Iron Man," playing a soldier who takes a photo with Tony Stark in the military Humvee at the start of the movie. The moment is even in the film's first trailer, making him perhaps as widely seen, albeit very briefly, as anyone else in the movie.
Beyond that iconic outing, Foster — who's also known for his stunt work — has mostly played comparably small roles in big films, appearing often as similar military types, too. He showed up as an unnamed marine in "Jarhead," played ACU Gunner in "Jurassic World," and made single-episode appearances in "The Mentalist," "Private Practice," and "Veronica Mars," and "Castle," among many other shows.
On the big screen, you may have seen Foster in the Sam Raimi horror movie "Drag Me to Hell." In more recent years, he's popped up in "S.W.A.T." and "Sneaky Pete," and even returned to the MCU as one of the townspeople in "WandaVision."
Kat Conner Sterling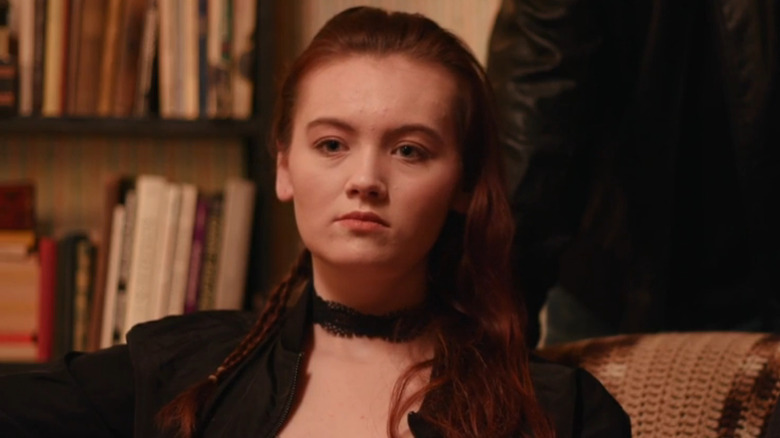 Netflix/YouTube
You might not recognize Kat Conner Sterling at all, as most of her roles at this point in her career have been both very small and in lesser-known indie projects. Her biggest part up until "Freddy's" seems to be a supporting role in a Christian teen summer camp musical on Netflix titled "A Week Away." A big part in a Blumhouse video game IP movie alongside Matthew Lillard and the one of "The Hunger Games" guys will certainly raise her profile quite a bit; so, if "A Week Away 2" ever goes into production, Conner Sterling may find herself too busy to reprise her role. Hopefully fans of religious summer camp movies will be able to cope and move on.
Conner Sterling has also appeared briefly on a few recognizable TV shows, such as a 2019 episode of "The Gifted," a Season 4 installment of "9-1-1," and a Season 5 episode of "The Resident." She also played a small part in the 2023 supernatural family comedy "We Have a Ghost," also from Netflix, starring David Harbour and Anthony Mackie.
Jade Kindar-Martin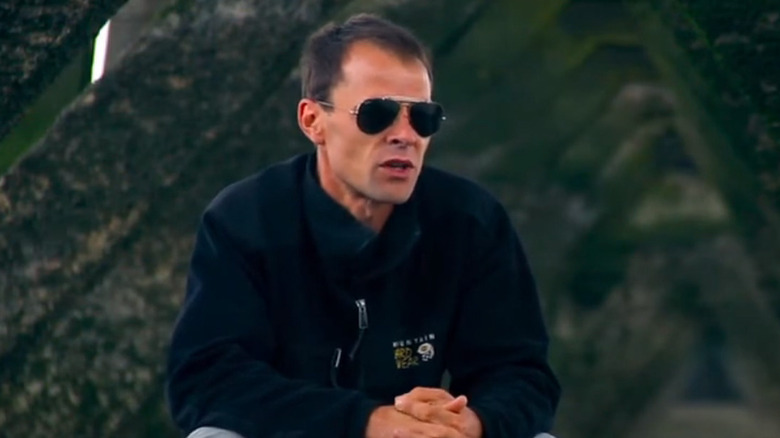 Karine Mauffrey/YouTube
We've already met the man playing Fazbear, and now we meet the actor under the mask of the robotic killer Bonnie: Jade Kindar-Martin. While he's not a full-time actor, it's very likely that you've seen him before, or at least the results of his handiwork. Jade isn't typically playing on-screen roles in film and television, but he does play a key part in bringing them to life. His work as a stuntman has been all over the map. 
In 2019, Martin performed stunts for "NCIS," and he worked extensively on the TV adaptation of "The Purge." He then worked behind the scenes as a stunt rigger on the 2020 legacy sequel "Bill & Ted Face the Music," and was a stuntman on the Bryan Cranston drama "Your Honor" for Showtime. If you do recognize Martin, however, it means you've probably been an avid viewer of "America's Got Talent: Extreme" where he appeared as a contestant. Because in addition to being a stuntman, Martin has a long career as a high-wire artist, beginning when he was just 14 when he began performing for a youth circus. Later, his work brought him to renown in France, London, and beyond, eventually making his way to working with Cirque du Soleil.
He put his abilities to good use in 2015 when he worked as the stuntman for Joseph Gordon-Levitt for the Robert Zemeckis film "The Walk." In the film, the "Inception" star played a high-wire artist who performs a daring feat — walking across a rope between the World Trade Center towers in 1974.
Christian Stokes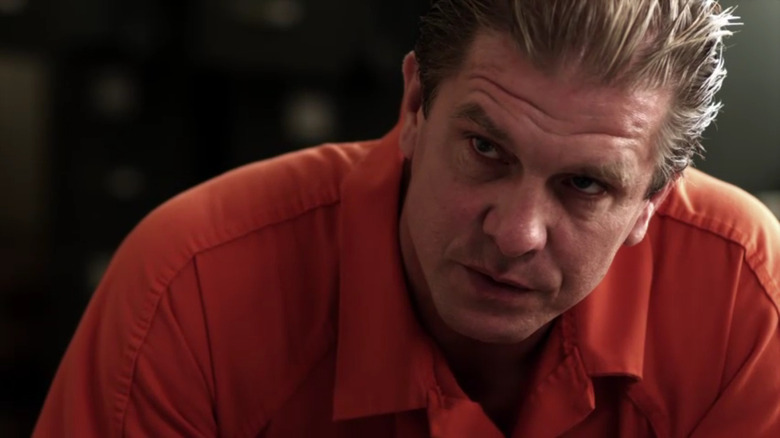 Showtime
Christian Stokes plays Hank in "Five Nights at Freddy's." He's another actor who has mostly played smaller roles in films and TV shows; however, he's been in some very major projects. As it happens, his first on-screen role was as an undercover cop in the 2003 biopic "Monster," written and directed by future "Wonder Woman" helmer Patty Jenkins that tells the true story of convicted serial killer Aileen Wuornos, played by Charlize Theron. From there, Stokes moved to TV, getting background roles in episodes of "Charmed," "Alias," and "Passions," before making an appearance in the 2008 military movie "Stop-Loss."
In 2013, Stokes appeared in "Escape Plan," the first movie to ever pair Sylvester Stallone and Arnold Schwarzenegger. Stokes' role saw him playing a prison security guard responsible for making sure that the two heavyweight superstars don't escape from prison. Needless to say, he fails miserably.
In 2021, Stokes appeared in an episode of "Leverage: Redemption," and a year later took a recurring role in the web TV series "A House Divided." Stokes has also turned up in offshoot media for a pair of major HBO franchises. If you're a diehard "Game of Thrones" fan, you may have spotted Stokes as the warrior Donrik in a promotional video produced to encourage blood donations for the American Red Cross, and as Carl Jenkins in the "Westworld Interactive Experience" on the show's website.
Piper Rubio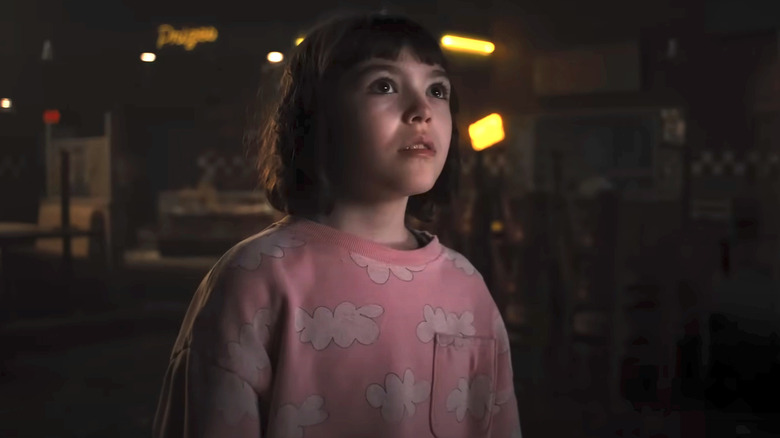 Universal Pictures/YouTube
In "Five Nights at Freddy's," it's not just the new security guard who gets trapped inside the family fun center with a group of crazed, blood-thirsty animatronic robots. There's also young Abby, a little girl played by actor Piper Rubio, for whom the film marks her big-screen debut. Prior to this, Rubio had appeared in only streaming films, usually in much smaller parts, and often for Disney productions. 
Rubio made her screen debut in a 2019 episode of the Disney Channel sitcom "Coop & Cami Ask the World," playing a 4-year-old version of Olivia Sanabia's character Charlotte. A year later, she'd turn up in a Hallmark Christmas movie playing one of the two title roles in the special "Holly & Ivy" opposite Sadie Coleman. You may have noticed her in an episode of the Pete Holmes comedy "How We Roll" in 2022, or for a small part in the Disney+ science fiction film "Crater" in 2023.
Jess Weiss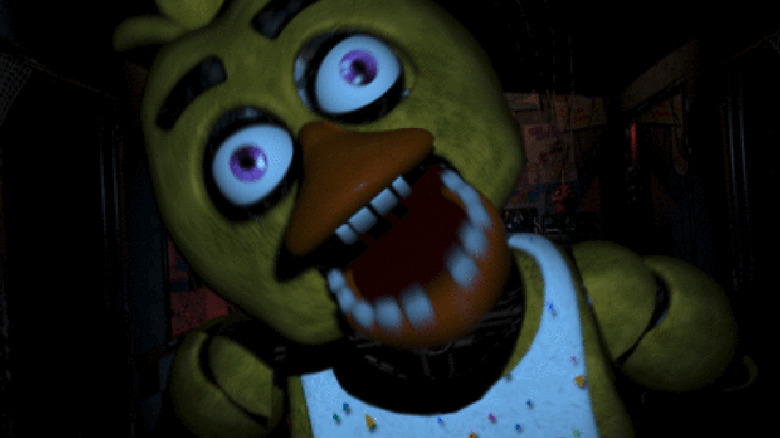 ScottGames
Playing the unhinged robot bird Chica is Jess Weiss. Like others on this list, you may have seen her work, but probably won't recognize her face, because Weiss has mostly worked behind the camera during her career, serving in any number of roles to help get movies and TV shows made. Most recently, she was a production assistant on the Adam Driver action movie "65," but she's been in the industry since as far back as 2006, when she worked in the same capacity for the reality-based cop show spin-off "America's Most Wanted: America Fights Back." She's also been a support specialist for years on news programs like "Larry King Live," "State of the Union with Jake Tapper," and CNN's "The Situation Room."
Weiss will be making her on-camera debut with "Five Nights at Freddy's," though under the mascot costume, we still may never get a glimpse of her. No matter, though, because she's already proven herself behind the scenes.