Asteroid City: Scarlett Johansson Started Filming Just 8 Weeks After Giving Birth
Any talented actor can tell you that creating onscreen magic is sometimes akin to giving birth. And for some actors, those experiences can arrive close together.
In Scarlett Johansson's case, her son and filming for her latest role — that of fictional Hollywood star Midge Campbell in the Wes Anderson sci-fi comedy "Asteroid City" — arrived within weeks of one another. The actress told Entertainment Weekly in May 2023 that she started filming eight weeks after giving birth to Cosmo Joost. Having agreed to appear in the film during the COVID-19 quarantine and done a lot of work sculpting Midge into a full-blooded being with Anderson, she wasn't ready to cede the role when she discovered that she was pregnant as the film headed into production. Johansson resultantly helped Anderson shoot around any delays her pregnancy might impose on the production.
Anderson started by taking Johansson's close-ups first, then later filming two-shots, group shots, and wide shots featuring her character. It turns out that she also had a little on-set help from one of her co-stars, who was more than happy to offer her a friendly shoulder while she got her post-delivery bearings and tried to keep her focus while filming.
Scarlett Johansson leaned on a co-star to help her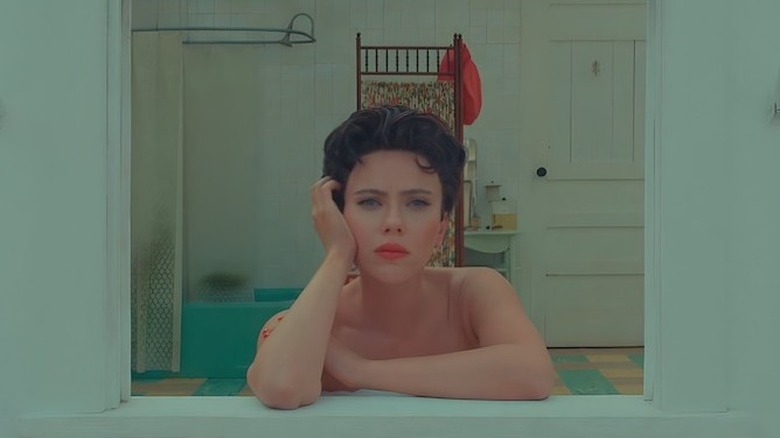 Focus Features
To help her through the shoot, Scarlett Johansson turned to one of her fellow stars to get her through those first few weeks on the set — fellow actor Jason Schwartzman, a longtime collaborator of Wes Anderson's, who has appeared in many of the director's films such as "Rushmore," "Moonrise Kingdom," and "The Darjeeling Limited."
"Jason was so helpful. It was just so quick, and also I had a little baby, so there was a lot going on," Johansson admitted. Schwartzman was apparently very helpful to her performance and was willing to help her run through the film's dialogue at the drop of a hat. "He was constantly present and supportive, and I needed him very much," Johansson continued. "I would say 'Please don't go too far away from me.' I was trying to stay alert, but he was just great. We work very similarly." She also praised Schwartzman's ability to think quickly on his feet as an actor, which she thinks might come from his theatrical background. 
Viewers will soon find out if Johansson's sacrifice and Schwartzman's sharpness pay off. "Asteroid City" opens in theatres worldwide on June 16 after playing at the 76th Cannes Film Festival on May 23.