Whatever Happened To Rent-A-Grandma After Shark Tank?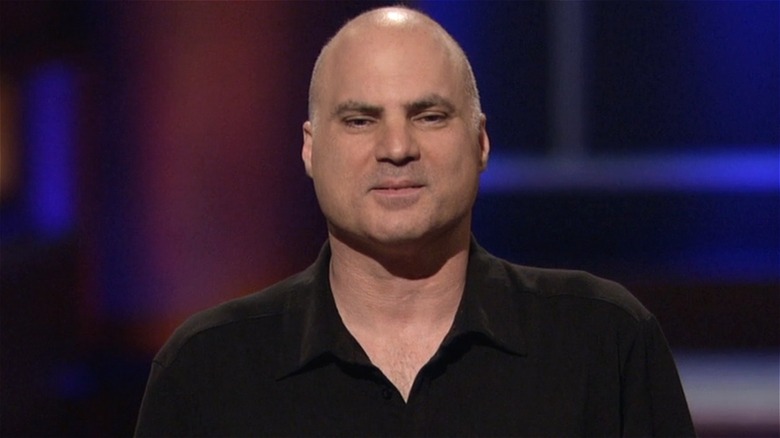 ABC
Developing a business into a successful endeavor can be a tricky thing to manage. Even the greatest ideas and concepts may have a hard time getting off the ground without proper investment, which is probably why the reality television show "Shark Tank" has proven to be so popular. 
One of the more interesting business pitches to come out of "Shark Tank" is from Episode 8 of Season 3, and it involves a company that rents out grandmothers. Called Rent-A-Grandma, this business was created by Todd Pliss, a former tutor. One of the biggest issues that Pliss came across during his tutor job is that many parents lamented about finding reliable help for their children, often complaining that the younger generation simply doesn't have the heart for it or lacks any sort of consistency.
Making his pitch to the assembled Sharks, Pliss brought a teenager with headphones on who spent the entire pitch looking at their smartphone, and contrasted this with a loving grandma that went so far as to offer freshly baked cookies to the "Shark Tank" investors. As cool as Pliss' pitch was, the Sharks somewhat scoffed at his presentation when he noted that Rent-A-Grandma had only generated $25,000 in sales since its inception, with the company only taking a 12% to 15% cut of whatever the rented grandma would earn. At the time, Rent-A-Grandma was based in and around Los Angeles, California, and counted around 50 grandmas in their ranks.
Considering that the Rent-A-Grandma episode took place in 2012, audiences might be wondering whatever happened to the company. Here's a look at Rent-A-Grandma and how it has fared since its initial appearance on television.
Rent-A-Grandma failed to get any investment from Shark Tank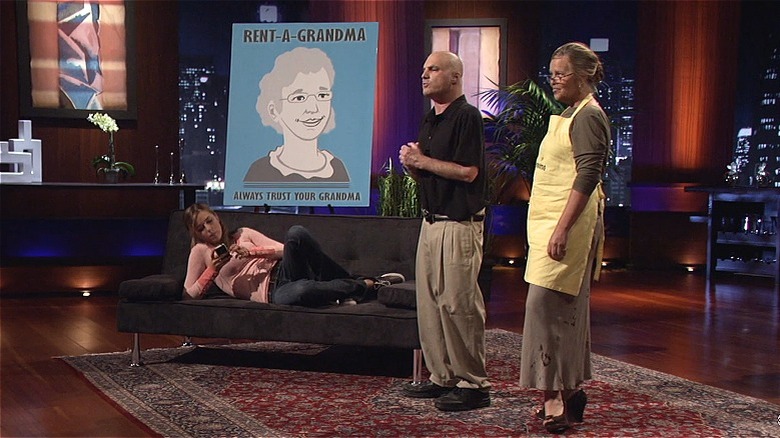 ABC
Todd Pliss' ultimate hope for Rent-A-Grandma was to franchise out the business and turn his company into a resource for exhausted parents across the United States. Asking for a $150,000 investment for 20% of the business, the investors of "Shark Tank" weren't exactly keen on Pliss' business model and overall vision. Robert Herjavec was interested in what kind of money the grandmothers, and by extension Rent-A-Grandma, make an hour, and Pliss replied that the grandmothers usually make around $14 to $20 an hour. Although a few Sharks thought Pliss may have had a novel business that would eventually turn into something, the thought was that it would take quite some time and a huge investment, which caused all of the Sharks to decline Pliss' pitch.
Despite complete rejection by the Sharks, it seems as if Rent-A-Grandma has not only continued to operate, but has rebranded since its appearance on "Shark Tank" in 2012. Instead of attempting to create a franchise, Rent-A-Grandma became a service more akin to something like Angie's List. This means that the grandmas are essentially independent contractors that simply pay to be listed and for a background check to be completed.
Rent-A-Grandma turned away from the franchise model and became a contractor service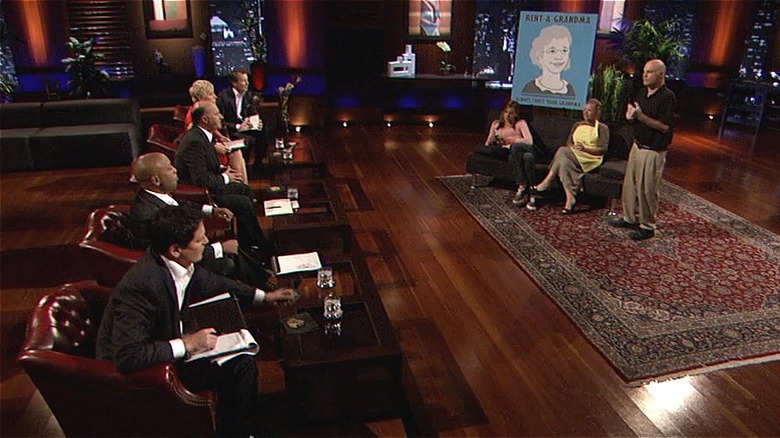 ABC
Now anybody who wishes to procure a grandmother for a set amount of time just has to mosey on over to rentagrandma.com, and from there, simply put in their address to see who is available. The website notes that there is a multitude of tasks that can be completed, depending on the grandma, which includes babysitting, special needs caretaking, housekeeping, senior care and companionship, cooking, tutoring, pet sitting, and personal assistants. Judging by this spread of tasks and duties, it seems as if Rent-A-Grandma became much more than simply a babysitting service.
Besides the above-mentioned website, a Rent-A-Grandma app is also available on Apple's App Store, which makes finding a grandma that much easier. Checking out the FAQ, Rent-A-Grandma says that it is only a $25 fee for grandmas to list their services, which is a fairly low bar of entry. This is probably a smart move on behalf of Rent-A-Grandma, because even their own site says that they have more clients than grandmas. 
This means that, despite failing to secure a deal during the company's appearance on "Shark Tank," Rent-A-Grandma has survived, though in a different format than what was originally imagined.