Why Bill Pullman Wanted Nothing To Do With Singles At First
Bill Pullman may be known for his recent role as Detective Harry Ambrose on the Netflix series "The Sinner," but three decades before that he played a doctor in a big-screen film he initially wanted no part of. In 1992, Pullman played Dr. Jeffery Jamison in the Seattle-set Cameron Crowe flick, "Singles." In a memorable scene, Pullman's kind-hearted plastic surgeon character told Bridget Fonda's Janet Livermore that she was perfect as is –- as in, he didn't feel she needed the breast augmentation that he consulted her on.
At first, Pullman took a hard pass on the role of the surgeon with a heart of gold. In an interview with The A.V. Club, he revealed that Crowe and Fonda pressured him to take the role but he told his agent that he had to turn it down. "But they kept asking, 'Why?' So I finally explained that it's because he was a plastic surgeon," Pullman said of the character. "And my father was a doctor, and he'd been a blood-and-guts doctor all his life, and he'd always talked about the 'vanity surgery' and that it was people making a lot of money off of medicine in a way ... He really deeply abhorred the kind of wealth that came to those doctors. So I said, 'That's why.'"
But Pullman's spiel actually caused Crowe to rework the script. He told the actor that he would add everything his father said about the plastic surgery business into the movie, and a kinder, gentler Dr. Jeffery Jamison was born. In the end, Dr. J. admitted he wanted out of the vanity business too.
Bill Pullman thought about his dad when he starred in another project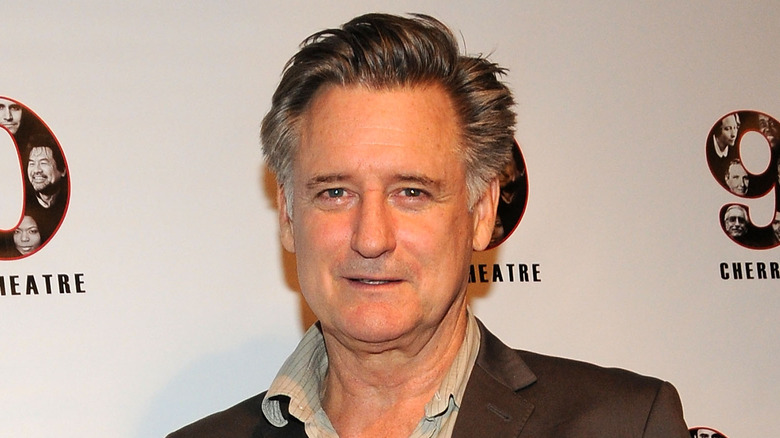 Desiree Navarro/Getty Images
"Singles" spawned a wave of hit 1990s movies for Bill Pullman. He went on to log roles in big films like "Sleepless in Seattle," "While You Were Sleeping," and "Independence Day" before focusing on more TV-related projects in the 2000s. But in 2014, he took the stage for a theater project in Washington D.C. which once again had him thinking of his father. The play was called "Healing Wars", and Pullman played a composite of wartime surgeons from the Civil War through the war in Iraq.
"What personally got me intrigued [to do the play] was my father was a Navy doctor in World War II on a destroyer," Pullman said in an interview with Politico. He added that his father didn't open up about his wartime experiences until later in life, but that he had some memories of him making hospital calls at all hours when he was a physician. "So I thought I'd get a chance to think about him and caregivers and what their service is," he added of his decision to do the stage play.
And just as his father influenced some of his career decisions, Pullman went into influence his son, Lewis, who also decided he wanted to get into acting. The younger Pullman made his mark as Lt. Robert "Bob" Floyd in the 2022 Tom Cruise film "Top Gun: Maverick." In an interview with Us Weekly, Lewis Pullman revealed that he always turns to his father for career advice. "With every project, I go to him," he said. "I'm just lucky to be able to have him not only as an incredible dad but as a great mentor."