A Better Call Saul Season 5 Shootout Scene Has An Interesting Connection To Breaking Bad's Pilot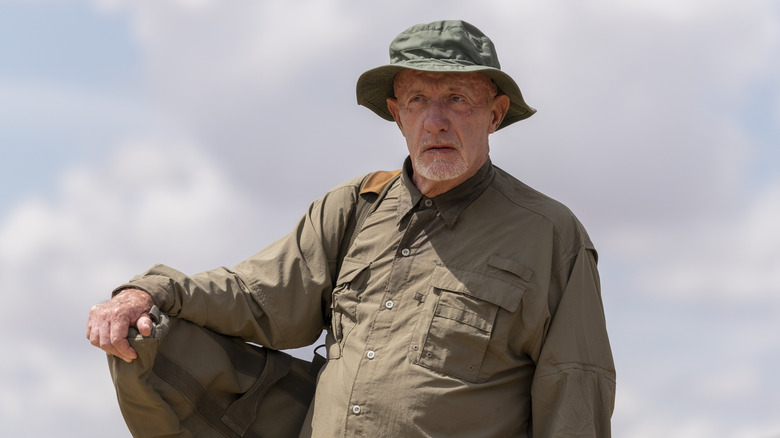 Greg Lewis/AMC
Season 5 of the prequel series "Better Call Saul" raises the stakes with the volatile antagonist Lalo Salamanca (Tony Dalton) for an explosive batch of episodes. One, in particular, holds a special connection to the very first episode of the original series "Breaking Bad," as revealed by series co-creator Vince Gilligan. In Episode 8 titled "Bagman," Jimmy McGill (Bob Odenkirk) is tasked with transporting a large duffle bag stuffed with cash through the deadly desert in order to bail Lalo out of prison. 
In the middle of his mission, Jimmy is ambushed by a group of criminals resulting in a harrowing and violent shootout that puts the slimy lawyer's life at risk. Luckily, his reluctant accomplice Mike Ehrmantraut (Jonathan Banks) swoops in to save the day with several masterful shots from his sniper rifle. This startling sequence is reminiscent of Walt's (Bryan Cranston) and Jesse's (Aaron Paul) first hair-brained scheme to cook methamphetamine in the desert, which they begin in the pilot episode.
A video behind-the-scenes exclusive from AMC+ with Gilligan himself reveals that the two episodes actually share a shooting location, giving them a similar look and backdrop. The unforgiving setting even elevates the threat the characters are under, which also presents a difficult challenge on set that the director declared the hardest moment of his career.
The two dangerous scenes share the same filming location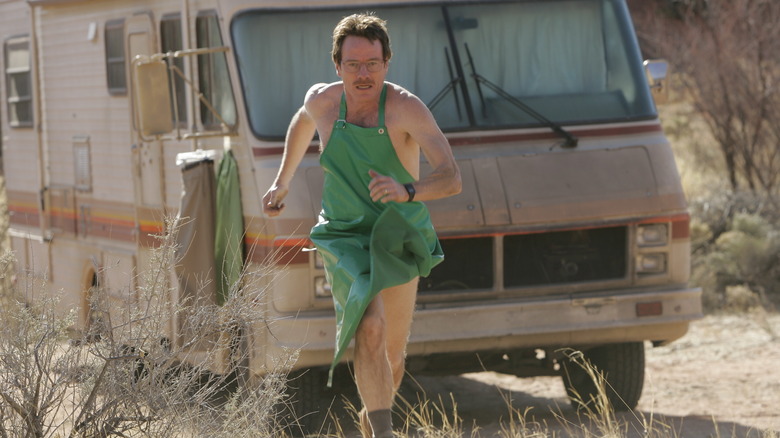 Doug Hyun/AMC
"Breaking Bad" fans may recognize the location from the prequel series' daring and exciting episode. Gilligan told AMC, "We are in To'hajiilee, which is an Indian reservation, the Canoncito Indians. This is the same reservation that Walt and Jesse first cooked meth in the pilot episode of 'Breaking Bad.' This is the same land but we're in a whole different corner of it." If that name sounds familiar, that's because it's also the same location where Walt hid his inordinate amount of cash that drives the titular episode "To'hajiilee" from "Breaking Bad" Season 5, Episode 13.
The exhaustive efforts of the cast and crew paid off immensely in this riveting and memorable scene. Fans agree it's easily the most interesting scene to revisit, which makes the shoot-out the most pause-worthy scene of Season 5. The connection to the pilot also gives it a nostalgic feel that leaves viewers ready to rewatch "Breaking Bad" following the excellent spin-off.
The New Mexico desert is emblematic of the esteemed franchise. It threads the world together in a bold way that heightens the suspense and makes the episode even more engaging for diehard fans. It's even a fitting way to pay homage to the original series while beginning to send "Better Call Saul" out on a rousing bang.