The Better Call Saul Episode That Includes The Hardest Moment Of Vince Gilligan's Career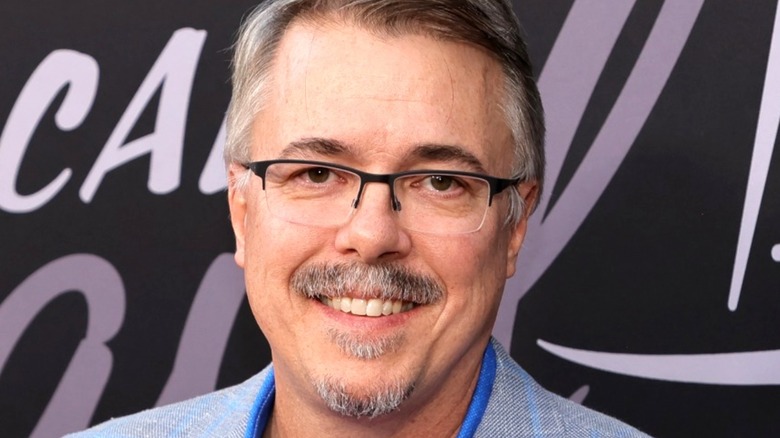 Kevin Winter/Getty
Vince Gilligan's work on "Breaking Bad" and "Better Call Saul" has always dealt chiefly with survival. In "Breaking Bad," Walter White (Bryan Cranston) and Jesse Pinkman (Aaron Paul) constantly fight for their own survival on multiple fronts as they rise and fall through the underground meth distribution industry. In "Better Call Saul," main characters Jimmy McGill, aka Saul Goodman (Bob Odenkirk), Kim Wexler (Rhea Seehorn), Mike Ehrmantraut (Jonathan Banks), and Nacho Varga (Michael Mando) have their own battles across both the legal world and a simmering minefield of violent cartel conflicts. 
Albuquerque, New Mexico winds up serving as the perfect backdrop for the tense, intricately designed style of both shows. Characters set off into the remote desert semi-frequently, whether it's Walt and Jesse cooking meth far from watchful eyes or Nacho and Tuco Salamanca (Raymond Cruz) kidnapping Jimmy in one of the first episodes of "Better Call Saul." Of course, many "Breaking Bad" fans will remember the series' most climactic moments in the desert during Season 5's "Ozymandias," in which Walt's actions finally come back to haunt him permanently with Jesse's imprisonment and Hank's murder.
Gilligan's characters venturing into the desert usually forebodes an intense journey ahead, both for the characters themselves and the real-life people who make these shows.
Bagman took twice as long to film as a normal Better Call Saul episode
In a 2020 round-table interview with TV Guide, "Better Call Saul" cast and crew members dished on just how difficult it was to shoot the Seaton 5 episode "Bagman." A significant amount of the episode takes place far out in the desert, and the show filmed it exactly that way in real life, leading Vince Gilligan to call it the single most difficult episode of television he's ever made.
"If I had been in the writers' room, I would've said, 'No, this is way too hard, this episode you intend to give me,'" Gilligan said, joking that he'd prefer to shoot scenes nearby a pool or indoor air conditioning.
Complications added by filming the episode so far out in the desert resulted in a significantly longer shoot than usual. Gilligan told Variety in 2020 that the episode's memorable shootout sequence was among the most complex and difficult scenes he has ever directed. Jonathan Banks, for his part, referred to the episode's shoot as a painful endeavor during the TV Guide interview. In a similar conversation with the show's cast presented by the Screen Actors Guild, Bob Odenkirk called the episode the most physically demanding production he has ever been part of. Odenkirk said that the episode took 18 days to film, compared to the nine-day timeline of most others; he asserted that the production could not have pulled the episode off if Gilligan had not directed it.
"Thanks to Vince directing, we were able to give it the time it needed, and it was an adventure," Odenkirk said.