Fear The Walking Dead's Season 8 Swamp Was Fake, But The Discomfort It Caused Was Real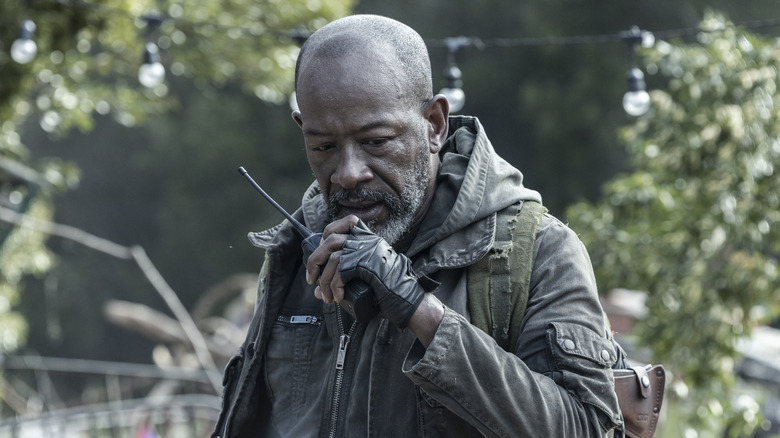 Lauren "Lo" Smith/AMC
One of the more tense scenes from the premiere of the final season of "Fear the Walking Dead" was a swamp fight, complicated of course by those pesky zombies who never seem to go away. In the episode, titled "Remember What They Took From You," Morgan Jones (Lennie James) is introduced to a mysterious new group called Padre. In the time-jumping episode, Morgan is asked to become a Collector, meaning a follower of Padre who kidnaps children. 
In one tense scene involving a once-thought-dead Madison (Kim Dickens), Morgan, and Morgan's daughter Mo (Zoey Merchant), the three are battling zombies in the dead of night through a thick southern swamp. According to James, the swamp was a set that was built, but it came with its own discomforts. The water used was warm at first, but later, it was cold for the cast when they needed to shoot some pick-ups. 
"We were shooting, in parts, in the middle of the night. In fact, we actually shot at one point when it was quite warm, and then we had to do some pick-ups later on in shooting, and at that point it was very cold. I'm not sure which one I preferred, because they were both very wet. It tested everyone," James told TV Line. The actor said that despite the difficulty, there were at least moments where the experience almost felt like fun.
Lennie James is done with Morgan Jones
Lennie James likely won't have to worry about cold swamps in the future, as he's said the end of "Fear the Walking Dead" is most likely also the end of his time as Morgan. 
"This is it for me. He's been around long enough. For me to pick up the stick again, it would have to be an amazing storyline. It would have to be a situation where I couldn't look back on all the episodes that I've done so far and go, 'No, I did that in episode such and such in season such and such,'" James told CBR, adding he doesn't want to damage the legacy of one of the only characters to jump from "The Walking Dead" to "Fear the Walking Dead." However, he did leave the door slightly open, saying a great script could perhaps convince him to return.
That being said, James has also kept the window open to working with "The Walking Dead" star Andrew Lincoln again. Lincoln will be reprising his role as Rick Grimes for a six-part miniseries. Morgan and Rick are closely tied in the series, so the potential of some kind of cameo is at least a possibility, especially with how eager James is to reunite with his co-star.
"I would work with Andy any day of the week on any planet, anywhere in the universe," James told Comic Book in 2022. "I still speak to Andy, I saw him when I was last in London, we hung out for a minute. he's a friend for life, and there's a few friends for life on this job, which is why I'm so grateful for it."