Who Plays Sydney In The Bear?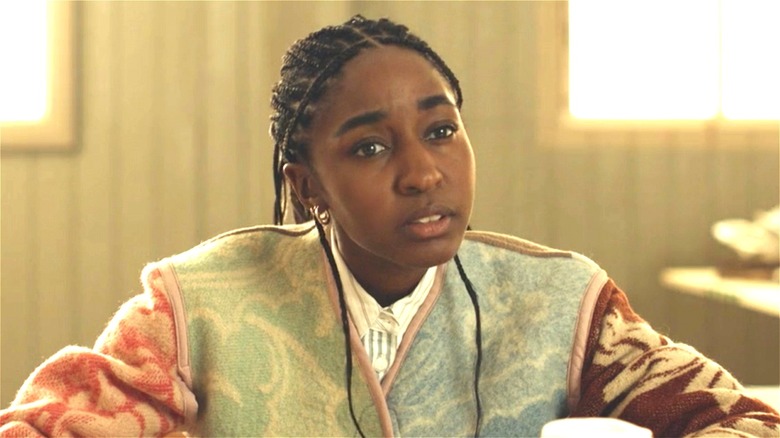 FX
Half comedy, half devastating drama, FX's "The Bear" puts new meaning to a restaurant television series. Carmy's (Jeremy Allen White) attempts to turn his brother Michael's neighborhood sandwich shop into an efficient local spot has its laughs, but also moments of pure anxiety — many chefs struggled to finish "The Bear" for that very reason, but that is also what makes it brilliant. 
Consumed with grief over Michael's (Jon Bernthal) suicide, Carmy would be unable to execute his plans without his ambitious sous-chef, Sydney. Portrayed by Ayo Edebiri, Sydney is the partner that Carmy needs, though it isn't always easy. Her arc in "The Bear" consists of trying too hard at times and even being disrespected by the kitchen staff around her. When speaking to Variety, Edebiri noted that being a woman in a restaurant is as hard as it seems onscreen.
"When you're in a woman in a male-dominated industry, in an industry that's not built for you to have a sustainable life, when your vocation is your passion, then you have to reconcile the thing that you love and then, turning that thing into capital, into money and to rent, how crazy that can all feel," Edebiri reflected. This gives even more context to the role of Sydney, who wants nothing more than to do something that matters.
If you or anyone you know is having suicidal thoughts, please call the National Suicide Prevention Lifeline​ by dialing 988 or by calling 1-800-273-TALK (8255)​.
Ayo Edebiri has had a great time on The Bear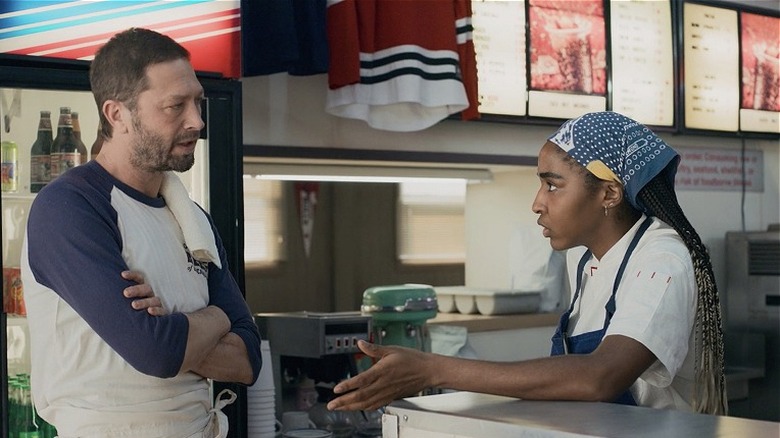 FX
Ayo Edebiri's impressive resume prepared her for the world of "The Bear." Not only has she practiced her comedy chops with roles in "Big Mouth" and "Abbott Elementary," but she has also had her fair share of experiences in the kitchen. Edebiri shared with Stephen Colbert on "The Late Show" that her first job was working in a nursing home restaurant, which probably prepared her for the tension in the FX series, to say the least.
"The Bear" has wowed audiences with its impressive filmmaking — like its infamous 18-minute shot that made audiences extremely stressed out. But these tense set pieces are only one part of the touching story about relationships. Carmy takes on the brunt of the emotional heavy lifting as he comes to terms with his brother's addiction and death, but Sydney is just as instrumental in the storytelling. The brief look at her interior life and struggles is just as solitary as the rest of the chefs in the kitchen. And because of her, Carmy can get the infrastructure to open The Bear, teased at the end of Season 1. She is just as important to the ingredients of "The Bear," and Edebiri isn't ready for it to end.
"I'm enjoying it. Don't take me off the rocket, please," she joked to Colbert. Based on fan reception to an anticipated Season 2, it's unlikely that will happen any time soon.