The Bear Season 2 - What We Know So Far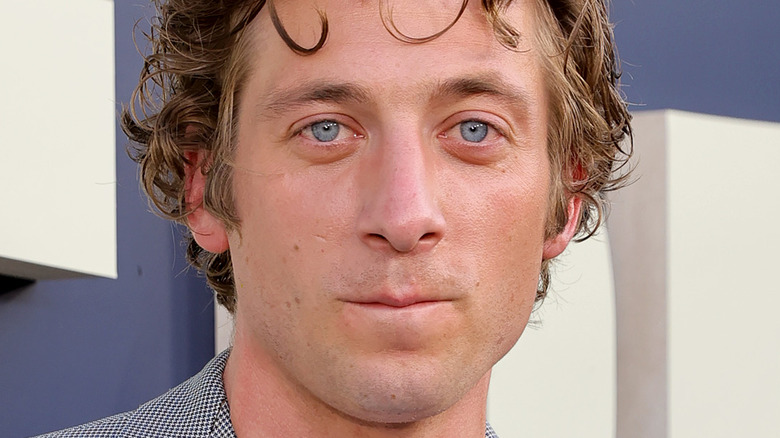 Amy Sussman/Getty Images
Summer's hottest and most exciting series, "The Bear" on FX, was an immediate hit with both critics and audiences. The intense restaurant dramedy series stars "Shameless" alum Jeremy Allen White in another foul mouthed Chicago setting. After his brother's tragic death, the high strung but brilliant chef Carmy (White) inherits his family's beef sandwich shop in the heart of the Second City. But there's a tragic history that led both Carmy and his family to this moment, and that's just the beginning.
"The Bear" is certified fresh on Rotten Tomatoes with a perfect 100% score and a comparable audience score of 91%. The anxiety-inducing series accurately portrays the stresses of working in blazing hot and crammed kitchens where the entire crew is constantly moving a-mile-a-minute. On top of that, "The Bear" is a gripping family drama capping off Season 1 with a jaw-dropping and life-changing finale. 
The series incorporates interesting elements that starkly contrast the grimy sandwich shop "The Beef," such as Carmy's pristine chef training, Sydney's (Ayo Edebiri) progressive innovations, and Marcus' (Lionel Boyce) decadent donuts. These details set "The Bear" apart from other kitchen nightmares and they elevate the program to a prestige level. With such unique qualities, it's no surprise that it was quickly renewed for Season 2 (via The Hollywood Reporter).
What is the plot of The Bear Season 2?
The Season 1 finale of "The Bear" raised more questions than it answered in a shocking turn of events. After painfully struggling to provide financially for his family's restaurant, Carmy found wads of cash plastic wrapped and sealed within several cans of tomato sauce, left behind by his late brother who previously ran the restaurant. The rapid change in fortune prompted the shutting down of the original establishment to promise "The Bear" would be "coming soon" in a new restaurant. 
The overarching theme of "The Bear" repeatedly returned to the irreplaceable value of family, which we can expect to continue in Season 2. Hopefully Carmy's family will be further explored, including his sister Natalie (aka Sugar, played by Abby Elliott) and deceased brother Mikey (played by special guest star Jon Bernthal). As Carmy properly realizes his family's dream of running a restaurant, this will probably trigger more memories in the form of flashbacks like in Season 1. 
Series star Ayo Edebiri (Sydney) also shines some light on what we can expect in the upcoming season like a possible romance with Carmy. The co-star told TV Line, "I don't want to rain on anybody's parade, but I don't think so." Jeremy Allen White gave W Magazine a similar answer prompting Edebiri to instead label the sexiest relationship as being "between Marcus [played by Lionel Boyce] and the donuts. So I'm rooting for that." 
Who is starring in The Bear Season 2?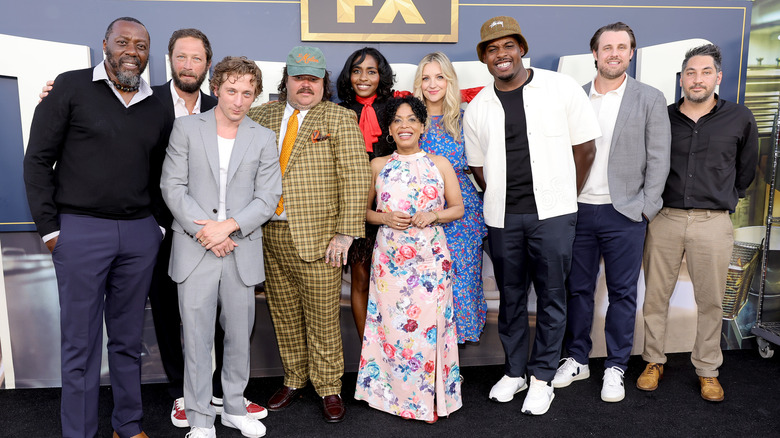 Amy Sussman/Getty Images
Season 2 will likely feature many returning faces, especially series star Jeremy Allen White as Carmy and Ayo Edebiri as Sydney, who recently returned after quitting "The Beef" following Carmy's explosive outburst. We'll also probably see more of Lionel Boyce as Marcus and his mouth-watering donuts when "The Bear" opens in 2023. And, we can expect several other familiar characters like Carmy's cousin Richie (Ebon Moss-Bachrach), formidable and lovable chef Tina (Liza Colón-Zayas), and goofball repairman Neil (Matty Matheson).
Season 1 also treated viewers to a surprising guest spot from Jon Bernthal as Carmy's deceased brother Mikey, who tragically committed suicide. As Carmy realizes their shared dream of opening a successful family restaurant in Season 2, it's entirely possible this will bring on more flashback sequences featuring Bernthal. Critics and audiences agree the beloved actor's performance was nuanced, touching, and authentic, which left them hungry for even more of him in the role. 
Season 2 will probably also feature new cast members, particularly if the IRS comes for an audit. Maybe someone outside the kitchen crew finds the cliffhanging last can of tomato sauce. Maybe another seasoned chef from Carmy's past is recruited to join "The Bear." We may even be treated to more of Joel McHale's terrifying and towering performance as Carmy's former New York City chef via more flashbacks. 
If you or anyone you know is having suicidal thoughts, please call the National Suicide Prevention Lifeline by dialing 988 or by calling 1-800-273-TALK (8255)​.
Who is directing The Bear Season 2?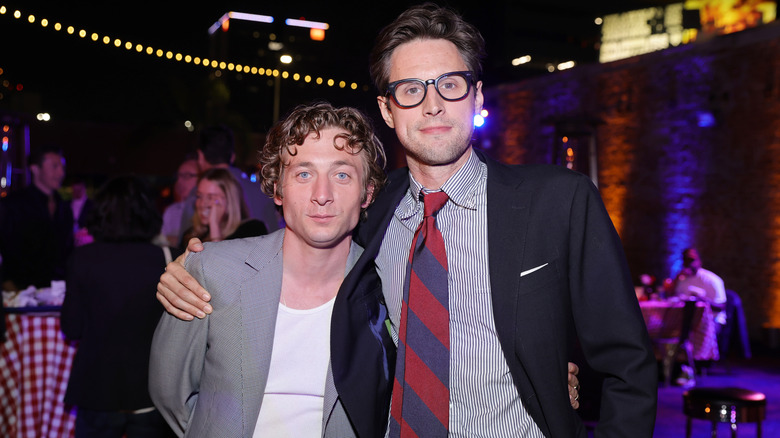 Amy Sussman/Getty Images
"The Bear" Season 1 was helmed by series creator Christopher Storer, who meticulously directed each dish and episode with exquisite precision. With Esquire, he dives into his real life experiences that inspired the "The Bear," giving the series its singular flare." Anyone who's ever worked the line during a brunch service knows that it's just hell on Earth. But it also shows Carmy's struggle and where his mindset is. As he noted, "When I lost my friend, I just buried my head in work."
Storer also teased what's to come in Season 2, now that things are finally looking up for "The Beef." The creator said, "We're going to deal with this in season two. It's more like: How can we do this and maybe make some money? And maybe make it easier?" The unexpected cash flow will certainly impact the new season while further developing the multifaceted characters of "The Bear." Season 2 may feature Storer's unified vision again, however, it's possible he may collaborate with other directors this time too. This would give them a turn to cook in his kitchen while respectfully referring to others as "Chef."
Where to watch The Bear Season 1
"The Bear" joins an impressive collection of several acclaimed FX on Hulu series including the nightmare-inducing episodic anthology "American Horror Stories," gripping serial killer drama "The Patient" starring Steve Carell, and the critical hit comedy "Reservation Dogs" with a 99% fresh score on Rotten Tomatoes. These standout programs showcase the dazzling collaboration between the streamer and network with riveting episodes unavailable anywhere else. 
"The Bear" Season 2 will likely follow this trend and premiere on FX on Hulu. It's not yet know whether the second season will drop in full on Hulu or follow a more traditional weekly release model.
What will The Bear Season 2 be rated?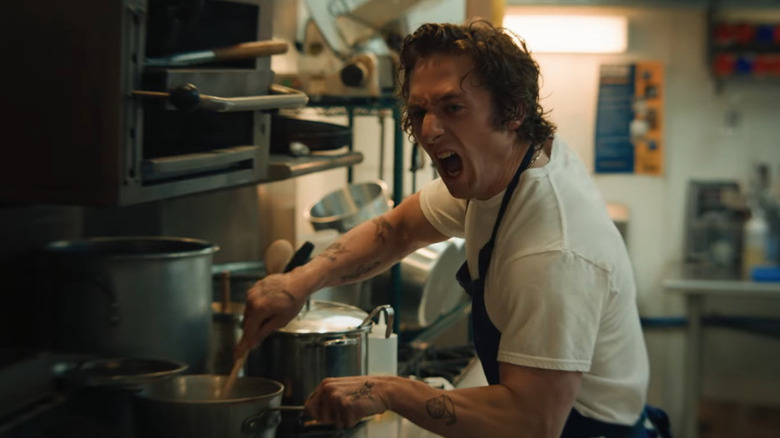 FX on Hulu
One compelling aspect of "The Bear" is the high intensity, short episodes that run just over 20 minutes. This not only creates a breezy watch for a dramatic series, but it also conveys the fast and fierce atmosphere typically observed in these fiery and fast moving kitchens. "The Bear" showrunner Joanna Calo reflected on this aspect with The Hollywood Reporter, "It's like, would you really want to be in that kitchen for more than half an hour at a time? I think you need a little credit break to get you through."
This tone will continue in Season 2 and could even be heightened as the crew opens the new restaurant. While a blank slate can be refreshing, starting over can also be extremely stressful which may lead to even more volatile moments in Season 2. Carmy's drive towards perfection coupled with his sentimental interest in the "The Bear" will definitely lead to more expletive language being hurled about in Season 2. These will assuredly grant the next installment a TV-MA rating to authentically portray this sandwich-slinging world.