TWD: Rick's Appearance In The Walking Dead's Finale Took A Long Time To Lock In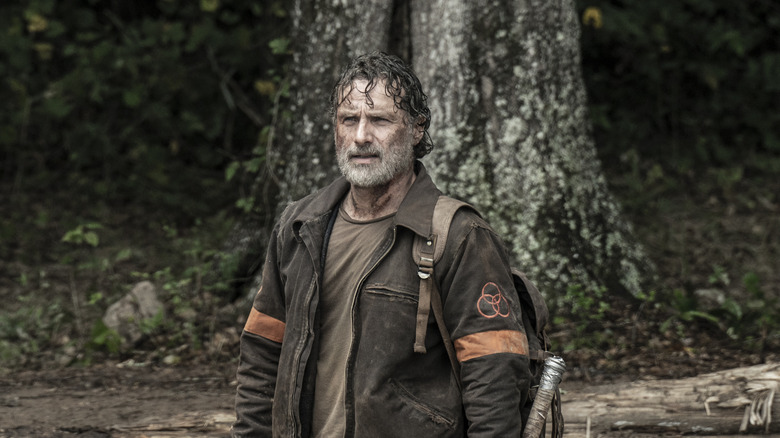 Curtis Bonds Baker/AMC
By far one of the most exciting moments from the series finale of "The Walking Dead" was the surprise return of former series lead Rick Grimes (Andrew Lincoln) — reuniting longtime fans with the grizzled survivor more than four years after his mysterious departure in Season 9. In the finale Rick can be seen musing over his past while sitting around a campfire, and later we get a brief scene in which he surrenders to a CRM helicopter on Bloodsworth Island.
Although this important cameo is relatively brief, showrunner Angela Kang says that bringing Rick back for the finale was actually a massive undertaking that required multiple meetings and an enormous amount of work before it could be set up. "From the time that I first kind of put it out in the universe to when we actually locked them in was a very, very, very long time," Kang admitted during an interview with Insider. "And I wasn't sure until very late in the game that we were gonna be able to lock them down 'cause there's so many moving pieces with the universe and business deals and their schedules and all of that. Even work visa stuff. It was a whole situation."
While Kang did not give a specific time frame for how long it took to lock in Rick's final "The Walking Dead" cameo, her comments make it clear that she always intended for Rick and Michonne (Danai Gurira) to appear in the finale from her first conversations with AMC, and the process of achieving that goal was incredibly long.
Kang had a different sort of cameo in mind for Rick originally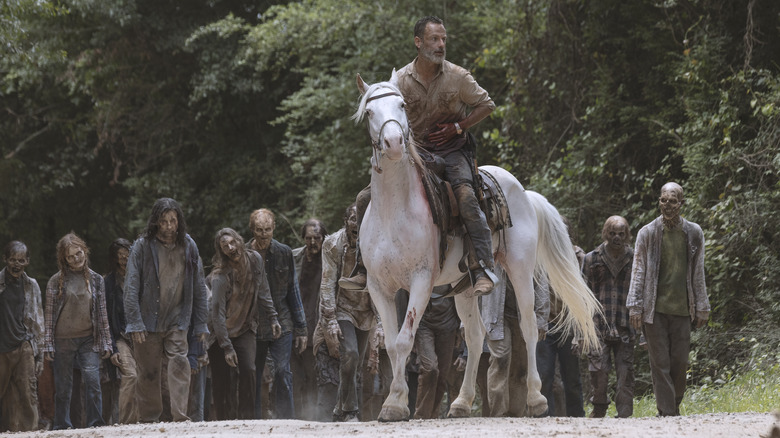 Jackson Lee Davis/AMC
While it was certainly always Angela Kang's intention to bring back Rick Grimes and Michonne for the finale of "The Walking Dead," in that very same interview she also admits that she originally had a different type of cameo in mind for the characters, one which apparently related to the Rick and Michonne movie that was rumored around the time of production.
"I had a different wish for what we could see, but that's so dependent on universe things," Kang explained. "At that time, the movie was still possibly being made and so it was complicated and everybody's like, 'Yep. We hear you. That's cool. We don't know if it's gonna happen.'" Because this alleged film has since been scrapped and replaced with an upcoming Rick and Michonne-focused spinoff series (an epic love story according to Danai Gurira herself), one has to wonder whether or not these original plans from Kang will make their way into the upcoming series — and what those plans might have entailed.
Kang elaborated that she also had a different end point in mind for "The Walking Dead" as a whole, though this too was changed in the final cut of the series finale. Although we may never know what Kang's original plans for "The Walking Dead" finale may have been, it's clear that the story for Rick and Michonne is far from over. Fans will no doubt hope that both characters receive a satisfying ending to their journey in the upcoming spinoff.