TWD's Rick & Michonne Spinoff Will Be An Epic Love Story According To Danai Gurira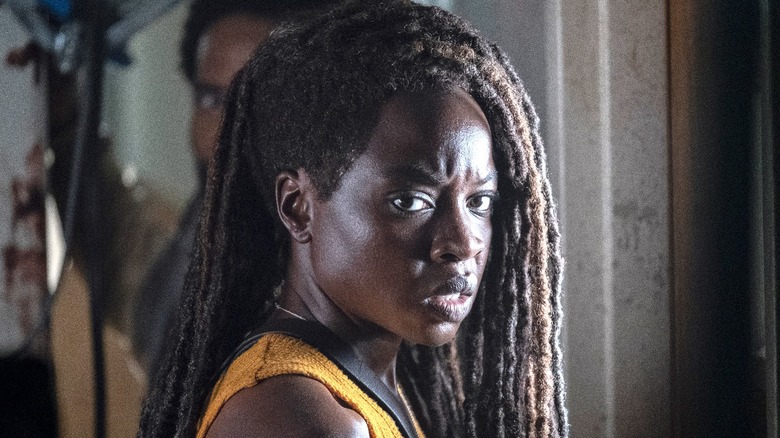 Eliza Morse/AMC
Love stories and zombie dramas might seem worlds apart, but they're closer than viewers think; after all, love, lust, and the thrill of survival are not that far apart when it comes to emotions. "The Walking Dead" once again proved that a great romance can come from the worst of conditions. Rick (Andrew Lincoln) and Michonne Grimes (Danai Gurira) overcame the odds to find each other — in the process, creating a memorable pairing for "Walking Dead" fans.
An upcoming spin-off featuring the couple is currently on track for a 2024 debut. Little is known about what it will mean for Rick and Michonne, but Gurira is offering a hint. The actress mentioned the project while speaking with Deadline. "It's definitely an epic love story. It's very much rooted in the world we know of, and then and then another world that we don't know yet," the actress said.
She went on to praise "The Walking Dead" as excellent viewing before saying this new series has much of the same traits — especially when it comes to the characters and survival-based action. Viewers looking for the connection between Rick and Michonne shouldn't be disappointed. "Simultaneously, it's, you know, deeply intimate and really hones in on an intimate story. So yeah, I think it'll be very satisfying. I hope so."
Early production photos are beginning to creep up online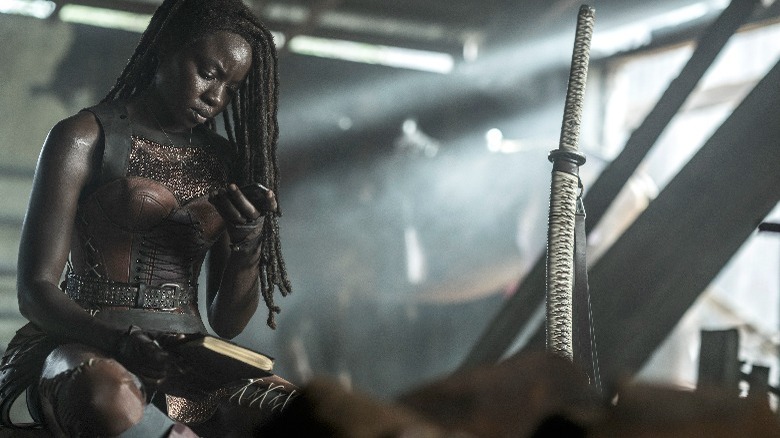 Curtis Bonds Baker/AMC
Fans may not know what's to come for Rick and Michonne Grimes, but they're getting some early glimpses. The official Twitter account for "The Walking Dead" revealed in February 2023 that Danai Gurira and Andrew Lincoln were filming — images showed the couple's hands intertwined and director's chairs featuring character names. Gurira built-up excitement by adding her own post a week later. "Have you seen this man? #TheWalkingDead #Richonne Spinoff," she tweeted. It accompanied a picture of Lincoln covered in blood — presumably from the production; that is in addition to her January Instagram post featuring photos of them together from pre-production.
Of course, none of those images showed Lincoln and Gurira while filming. Glimpses of the pair during production are also starting to show up as Twitter users are sharing the first photos from the set. @DeadCityAMC linked a photo from @TWDUfilming. The somewhat blurry image features both Michonne and Rick running. Walkers in various states of decay can be seen in the background. It's not a lot to go on, but just one unofficial still is enough to get fans psyched up.