Andy Serkis Would Definitely Do Another Lord Of The Rings Movie
New Line Cinema
Peter Jackson's "Lord of the Rings" trilogy is amazing for many, many reasons, but chief among them is Andy Serkis' stunning motion capture performance as Gollum, the artist formerly known as Smeagol). Serkis' vital performance as a creature that was once a hobbit who has been corrupted by Sauron's ring for so long that he becomes something inhuman is beyond important to the trilogy, and the special effects created by Weta are so top-notch that, decades after the movies were released, Serkis' performance underneath the CGI still holds up.
Fans of the trilogy can — potentially — rejoice, because Serkis is definitely down for another round as Gollum, especially if Jackson and his team are involved. "I adore those guys and they are a second family to me," Serkis told The Hollywood Reporter. "I've spent so many years making films with them. I love their sensibility and their take; it's filmmaking on a different kind of level. You live and breathe it. And so, yes, if some opportunity were to come up, it would be an amazing thing." Not only did Serkis appear in Jackson's original trilogy, but he also popped up in "The Hobbit" trilogy, so he's no stranger to working with Jackson — and he clearly loves the experiences he's had so far.
A new take on the original Lord of the Rings story is in the works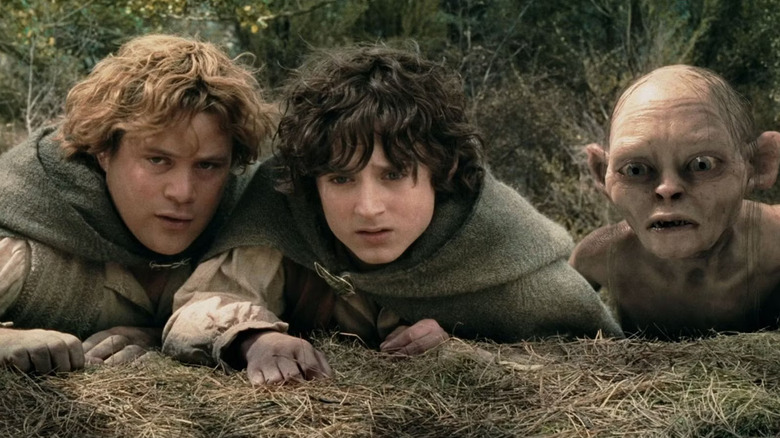 New Line Cinema
Serkis could be in luck — in February, Warner Bros. and New Line Cinema did confirm that a remake of Jackson's groundbreaking films was on the way. Jackson and his team, as of this writing, are said to be "in talks" to come on board, but nothing's been confirmed just yet. Of course, Amazon also has its own take on Tolkien with their series "The Rings of Power," adapted from the author's expansive appendices.
While it's been twenty years since "Return of the King," the final film in Jackson's trilogy, hit theaters, it still seems impossible that anybody could do a better job than mega-fan Jackson (and it's still possible he'll be involved). While Serkis seems ready to jump on board pending Jackson's involvement, other original trilogy stars seem apprehensive about the remake. Speaking to GQ in April during a press tour for the Showtime series "Yellowjackets," Elijah Wood, who starred in the three epic films as the reluctant hero Frodo Baggins, had some caveats about the do-over.
"I'm fascinated and I'm excited. I hope it's good," Wood said. "I'm surprised—I don't know why I'm surprised because, of course there would be more movies. Obviously at the core of that, is a desire to make a lot of money. It's not that a bunch of executives are like, 'Let's make really awesome art.' And, again, not begrudging anybody because, of course, it is commerce. But great art can come from commerce. So those two things are not mutually exclusive."
Andy Serkis has been pretty busy since Lord of the Rings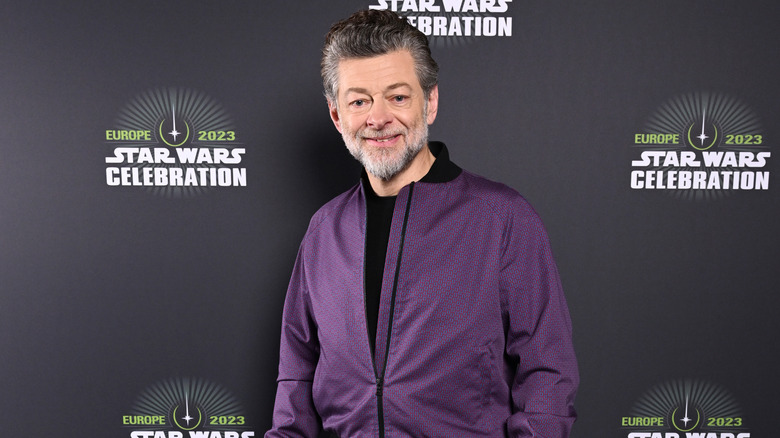 Jeff Spicer/Getty Images
Whether or not Serkis gets involved with a new "Lord of the Rings" series, he'll likely keep booking high-profile roles at a solid rate — between live-action appearances and motion capture work, he's been in demand for years. In fact, he's been a major part of several enormous franchises, between his mo-cap role as Caesar in the "Planet of the Apes" trilogy and his live-action turn as Ulysses Klaue in the Marvel Cinematic Universe.
Lately, though, Serkis has journeyed to a galaxy far, far away not just once, but twice. In the new "Star Wars" trilogy, he appeared in both "The Force Awakens" and "The Last Jedi" as Supreme Emperor Snoke before dying in the second film, and in the 2022 series "Andor," he had a pivotal and acclaimed role as Kino Loy. In the show's tenth episode during its first season, Serkis' Kino reluctantly works alongside Cassian Andor (Diego Luna) while they're both incarcerated in the high-security lock-up Narkina 5... and once Kino realizes all the inmates will be killed eventually, he leads a rousing revolution, losing his life in the process. Serkis is a seriously prolific actor, and it's entirely possible he'll return to one of his biggest roles in a new version of "Lord of the Rings."