Why The Croat From The Walking Dead: Dead City Looks So Familiar
With AMC's "The Walking Dead: Dead City" set for its premiere on June 18th, viewers eager for a glimpse of the series had their appetites whetted on May 11 with the release of a trailer showing Negan (Jeffrey Dean Morgan) and Maggie (Lauren Cohan) battling their way through the barren streets of Manhattan among hordes of walkers. "The Walking Dead: Dead City" will consist of just six episodes, and will be followed later this year by another six-episode series, "The Walking Dead: Daryl Dixon."
One of the humans in the trailer is a Croatian man with close-cut grey facial hair and a haircut to match, who appears to have taken Maggie prisoner, whispering menacingly, "I think you're gonna like it here." 
The Croat is played by Zeljko Ivanek, an actor with more than 100 credits in television and film stretching back more than 40 years. Ivanek was born in 1957 in Ljubljana, Slovenia, known then as Yugoslavia. His family immigrated to the United States when he was three years old, and he spent much of his childhood going back and forth between California and his homeland.
Zeljko Ivanek started his acting career on television in the 1980s and 90s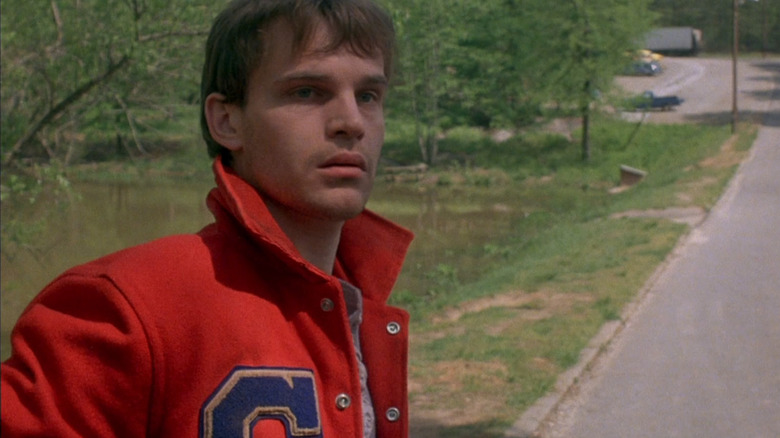 Paramount Pictures
Zeljko Ivanek began his acting career on the long-running CBS crime drama "The Edge of Night." Ivanek made 13 appearances on "The Edge of Night" as Sammy Wheaton in 1981 and 1982. 
In one episode, Sammy is punched in the face by Eddie Lorimer (Raymond Serra) after making crude remarks to Eddie's secretary (Poppy Johnson). In another, Sammy files police brutality charges against Officer Damian Tyler (Christopher Jarrett). In Ivanek's final episode on the show, which aired in June of 1982, the charges are dropped, but Sammy is later found murdered.
Later that year, Ivanek made his feature film debut, starring in the horror flick "The Sender." He then returned to television, making guest appearances on "St. Elsewhere," L.A. Law," and "The X-Files" between 1987 and 1994. He also appeared in several TV movies in the early 1990s, including as Mr. Cleary in "School Ties" in 1992, as Larry Fishkin in "New Year" in 1993, and Eddie Jacobson in "Truman" in 1995. 
Zeljko Ivanek played Ed Danvers on Homicide: Life on the Street
Between 1993 and 1999, Zeljko Ivanek appeared on 37 episodes of "Homicide: Life on the Street" as ASA Ed Danvers. His first appearance was on the series' second episode and his final one came in the Season 7 finale, "Forgive us our Trespasses." 
In an interview about his career with The AV Club, Ivanek spoke fondly of his time on the Baltimore-set procedural. "Homicide, though, that was a recurring role, but it was the first time I was really on a series semi-regularly for a while," he said. "I'd go down to Baltimore, and again, it was just an amazing ensemble of actors, but shooting it down there really was a case of a city becoming a character in the story, which was really cool. I commuted; I wasn't there a lot, so I can't really say I have many true Baltimore experiences to relate." 
After "Homicide" ended, Ivanek stayed busy in both television and film, soon finding himself with a role in another highly regarded television drama.
Zeljko Ivanek played Governor James Devlin on Oz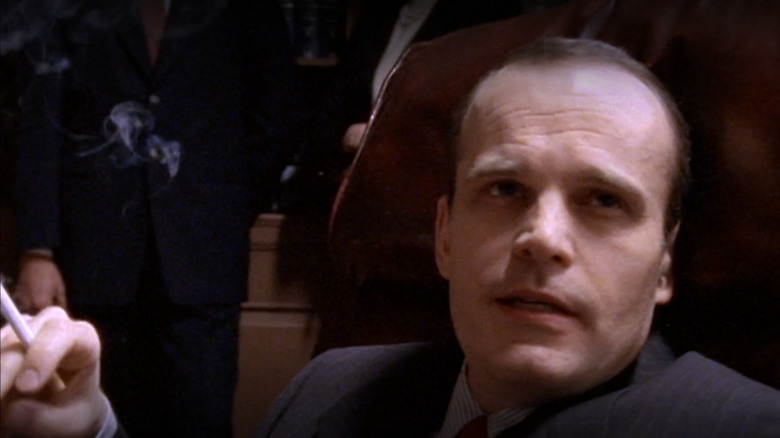 HBO
As the 1990s gave way to the 2000s, Zeljko Ivanek's star began to shine brighter. 
In 1997, he was cast as Governor James Devlin on the HBO prison drama "Oz." Governor Devlin appeared in 28 of the series' 56 episodes, and Ivanek's presence contributed to the show's 1999 Emmy nomination for Outstanding Casting for a Series. 
Ivanek told The AV Club that executive producer Tom Fontana served as a link between "Homicide: Life on the Street" and "Oz," and he owed Fontana a debt of gratitude for the two big opportunities. "He helped me get started in so many ways," the actor said. "The first thing I did for him was 'Homicide,' and then 'Oz,' which was an incredible collection of actors ... But it was just the most incredibly satisfying acting experience. Also, I got to be home in New York, roll out of bed, and show up at the set 10 minutes later, because we shot nearby for a while."
After his time on "Oz" was done, Ivanek landed a spot in one of the strongest casts in television history, an experience he still holds dear to his heart.
Zeljko Ivanek played a lawyer on Damages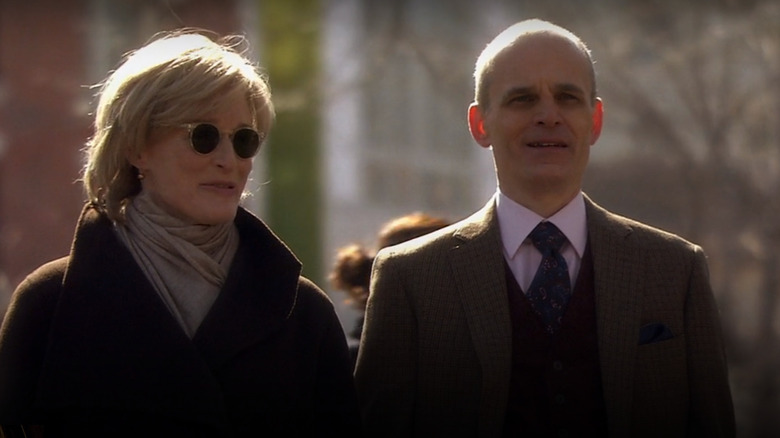 FX
From 2006 until 2010, Zeljko Ivanek appeared on "Damages" as Ray Fiske, the attorney representing billionaire Arthur Frobisher (Ted Danson). Fiske appears in 16 episodes in the first three seasons of "Damages" and helps Arthur secure a verdict of not guilty in his criminal trial. 
Ivanek explained to The AV Club that when he was first handed the script for "Damages" he knew his character would be an important one.
He added that his co-stars and the creative team behind "Damages" also made working on the show a career highlight, as did the ability to work close to home. "There was the cast, obviously, and getting to work with those people, Ted and Glenn Close," he said. "Then there was the writing, also... by the end of it, it just felt like the words were going straight out of the page and in and out of your mouth. That was the first major taste of feeling so completely at home in something. Part of it was that we were shooting in New York; part of it was that I was in it as much as I was and that the story was so personally engaging. I think whatever else I do, it'll still be one of the most gratifying work experiences ever."
After he left "Damages," Ivanek had a handful of other memorable recurring parts on television, then moved on to a starring role on another small-screen drama.
Zeljko Ivanek played Russell Jackson on Madam Secretary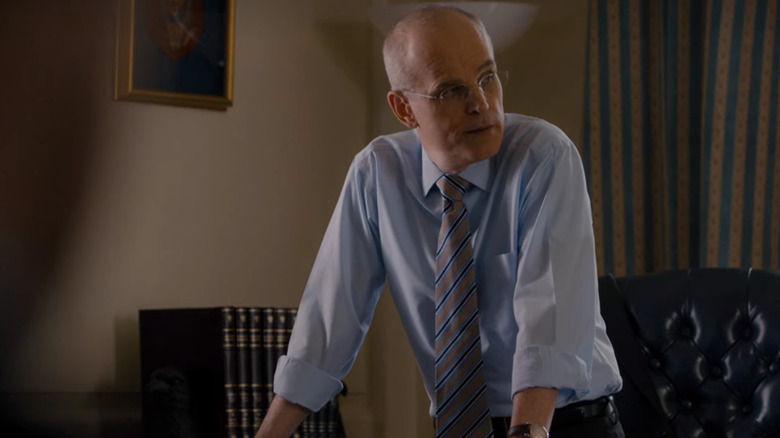 CBS
From 2014 until 2019, Zeljko Ivanek played Russell Jackson on the CBS political drama "Madam Secretary." Jackson serves as White House Chief of Staff under two presidents and appears in all 120 episodes of the series. 
Ivanek compared the tough-minded Jackson to his characters on "Oz" and "Homicide: Life on the Street," even admitting that he may have fallen victim to a bit of typecasting. 
He told StarryMag, "I think people get an image in their head and they think, "Who's the go-to guy for hardnosed suits?" That just comes as kind of a niche, but it is also very enjoyable and they are usually smart, powerful, ambitious, manipulative people." 
He credited the popularity of "Madam Secretary" to his co-star and the subject matter, saying, "First and foremost, to a great extent, once people tune in, it is Téa Leoni. They know her tone, humor, attitude and her brains. I think that is a large part of what will bring people back week after week. She, herself, is such an engaging actress and such an engaging character. In the overall sense, I think it is the mix of foreign policy and the bigger issues that are dealt with."