Whatever Happened To Ten Thirty One Productions After Shark Tank?
On "Shark Tank," most pitches fall into familiar categories, like household goods, technology, childcare products, or food. It's relatively rare for the sharks to consider pitches in the entertainment realm. Yes, there have been a few exceptions, like the inclusivity-oriented comics company Black Sands Productions. There's also Drive Suits' robotic car-themed strolling performance venture. However, companies like Ten Thirty One Productions are a relative anomaly. On top of that, it set a record for one shark's largest investment at that point.
The brainchild of entrepreneur Melissa Carbone, Ten Thirty One Productions is a company that stages live horror-themed events. Their most popular attraction is the Los Angeles Haunted Hayride, a terrifying nighttime trip through several scary tableaus set up in the city's famed Griffith Park.
Carbone went into the tank to pitch her company in October 2013, with her episode airing six days before Halloween. She asked for an eyebrow-raising $2 million in exchange for a 10% equity stake in her company. Kevin O'Leary and Robert Herjavec didn't believe in her financial projections for the following year, while Lori Greiner didn't see the investment as worth her time, so all three bowed out. Daymond John offered $2 million for 40%, but when Carbone countered with the same dollar amount for 20%, Mark Cuban swooped in and took the deal, making it his biggest investment in his first five seasons on the show.
Was this a good idea? In short, yes. 
Ten Thirty One Productions is a bona fide Shark Tank success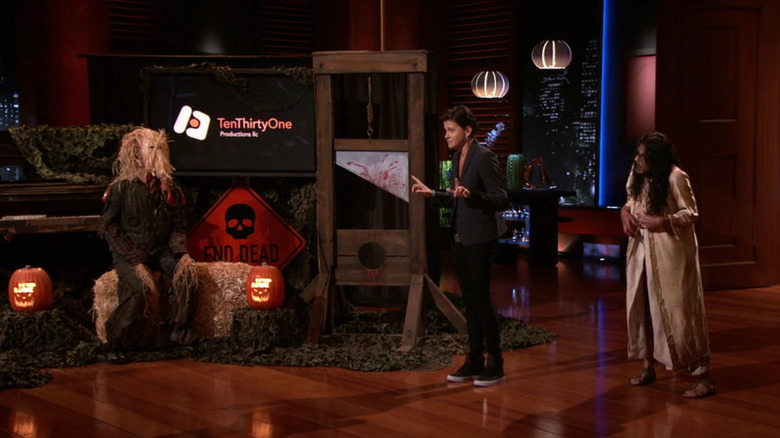 ABC
First, a little backstory. Melissa Carbone and her business partner and ex-spouse Alyson Richards launched Ten Thirty One Productions in 2009. By the time of her "Shark Tank" pitch, Ten Thirty One Productions' most lucrative revenue stream came from the Haunted Hayride. Each October, the Haunted Hayride was operational for the 17 days leading up to Halloween. It consistently sold out, adding up to about $1.8 million in revenue in that period alone.
Ten Thirty One had big plans for expansion, including a New York-based haunted hayride as well as a "Great Horror Campout," an immersive 12-hour camp-a-thon filled with scares. Bigger picture, Carbone wanted to have a Ten Thirty One attraction in every major city in the U.S.
The first New York Haunted Hayride was a success. In its first year, it made 36% more than its Los Angeles counterpart's second-year performance, even if bad weather meant that it fell short of its $5 million goal. This, plus Cuban's investment, allowed Ten Thirty One to branch out. As of May 2015, it offered two hayrides, the camping attraction, a haunted cruise called the "Ghost Ship," several Great Horror Movie Night outings, and even a film production company that aimed to make movies related to its attractions.
In January 2018, Carbone sold Ten Thirty One to event company Thirteenth Floor Entertainment Group. Cuban bet big on Ten Thirty One, and it looks like it paid off.