What Is The Most Successful Product On Shark Tank?
No one comes onto "Shark Tank" with the intention of failing. While not all businesses come out with a deal at the end, those that do succeed in impressing one of the show's wealthy investors can reap some serious rewards. But which business has seen the most success after securing a "Shark Tank" deal? 
One need only look at the show's Season 6 premiere to find the answer. The episode sees entrepreneurs Randy Goldberg and David Heath step onto the carpet to pitch their athletic sock company Bombas. The specially designed socks are not only made with the comfort of athletes in mind, but the company itself has greater ambitions, with a pair of socks donated to homeless shelters for each pair sold. While many of the sharks are wary of the business, Daymond John decides to try Bombas on for size and makes a deal to invest $200,000 in return for 17.5% of the company. 
To say the other sharks missed out would be an understatement. Bombas literally cleared out its stockpile of product as the company's sales rocketed to $1.2 million within two months of the episode's airing. But that's chump change compared to their future earnings, as Bombas would go on to bring in $250 million by 2022, making it the show's highest earning business. Yet such extreme wealth has done little to stop Goldberg and Heath from their true mission.
Bombas continues to give back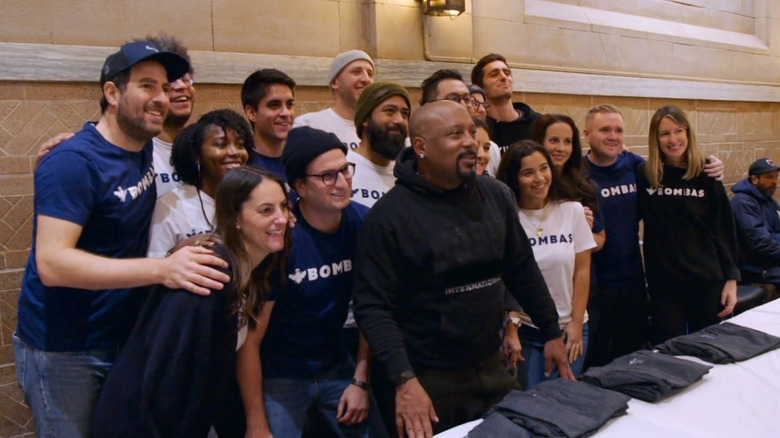 Sony Pictures Television
The immense success of the Bombas athletic sock company has not only made "Shark Tank" history, but has also allowed its creators to give back to the community. On a Season 8 update segment, the company, which had made over $14 million in sales at that point, was working alongside Veterans Affairs to donate socks to homeless veterans. "Every time I'm involved with events like these it reminds me what entrepreneurship really is," investor Daymond John said during the event. "It's about paying it forward, it's about empowering. This is absolutely one of my most successful 'Shark Tank' investments, they're making money and they're changing lives." 
Bombas would be featured in another update segment in Season 11, where they presented a new line of comfortable T-shirts, with the same mission of donating a shirt for each one sold. By this time, the company had raked in $225 million in sales and managed to donate over 30 million socks to those in need. 
The immense success of Bombas is perhaps the most well-earned in the history of "Shark Tank." Not only is the company on track to become a billion dollar brand, but their mission to improve the world one pair of socks at a time is one that will ensure the business' legacy remains priceless.