Daniel Radcliffe Wasn't Sure How The Daniels Would Pull Off Swiss Army Man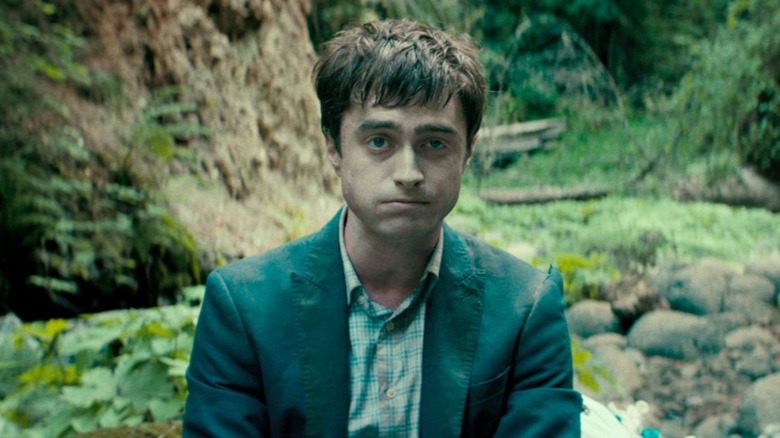 A24
Most actors would balk at the idea of playing a bloated, farting corpse in a movie. To be fair, it seems like a raw deal to be dragged around, used as a sort of Jet-Ski, and make everyone around him totally uncomfortable save for his best friend Hank (Paul Dano). Most actors aren't Daniel Radcliffe, though.
After coming of age as the title character in the "Harry Potter" film franchise, Radcliffe has worked steadily by making sure that he distances himself as far from The Boy Who Lived as possible. One of his more bizarre choices was starring in "Swiss Army Man" as the aforementioned corpse for directing duo The Daniels (who went on to win an Oscar for directing 2022's "Everything Everywhere All at Once").
Radcliffe revealed to Vanity Fair in 2016 that he had some serious doubts about "Swiss Army Man." While he loved the script, he was worried it might not translate: "My concern over it was, 'Okay, I get how this is going to be funny; I'm not assured of it being epic in the places that it wants to be,'" he explained. "But it is. That's what amazed me about it. It's beautiful and epic ... And that's where, frankly, these directors are like no others that I've worked with."
Daniel Radcliffe completely trusted the Daniels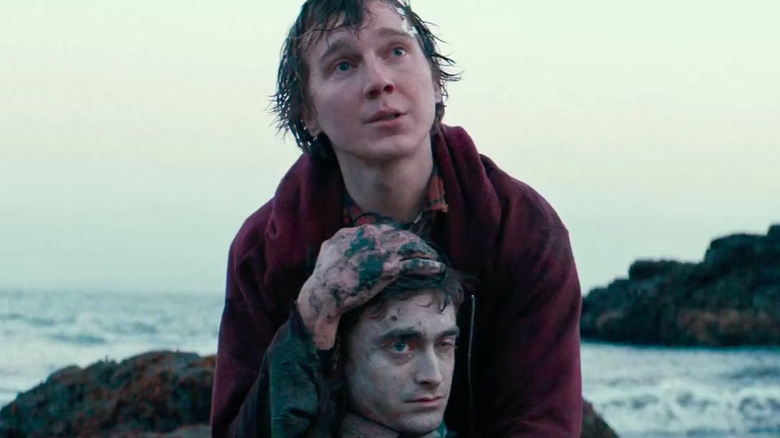 A24
Daniel Radcliffe said that he came to trust the Daniels implicitly, because if anyone could make this insane concept work, it would be them. "You know, there'd be a scene where Paul punches me in the face, and I swallow his fist and his arm, and then he punches me in the stomach to project his arm back out," Radcliffe elaborated. "I read that and was like, 'How are we going to do that?' And then they'd just do it with camera angles and editing. They're really clever."
He's not wrong. Take "Everything Everywhere All at Once" as an example, just to prove that the Daniels haven't slowed down one bit since "Swiss Army Man." Not only did this mind-bending multiverse movie put Michelle Yeoh's Evelyn Wong into a million different situations as a million different versions of herself, but it completely swept the 2022 awards season. Are there any other Best Picture winners that feature a kung-fu fight involving a sex toy, a giant ominous everything bagel, and Short Round from "Indiana Jones" eating chapstick? Definitely not. The Daniels are insanely bold directors, which is how they also made "Swiss Army Man" work — and Radcliffe learned that firsthand.
Daniel Radcliffe has made fascinating career choices in his post-Potter years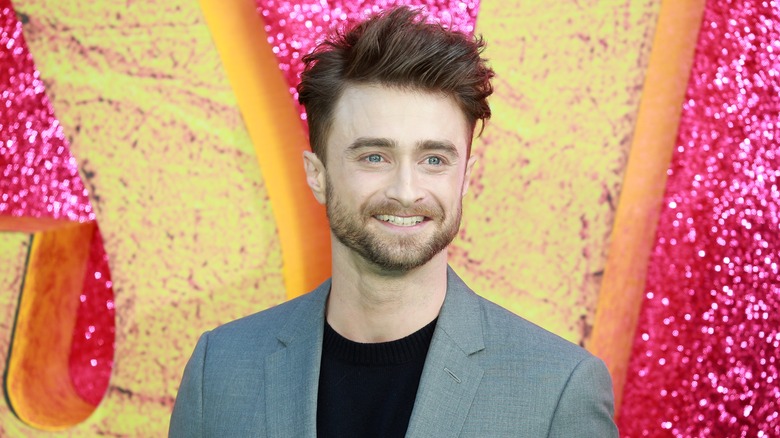 Fred Duval/Shutterstock
"Swiss Army Man" is just the tip of the iceberg when it comes to Radcliffe's wonderfully weird choices in his post-"Potter" career. He kicked things off before the franchise even ended, appearing nude onstage in "Equus" alongside his "Harry Potter" co-star Richard Griffiths on both Broadway and in London's West End, and things have only gotten better for the former child star since then.
Radcliffe showed off his romantic and comedic side in 2013's "What If" alongside Zoe Kazan and Adam Driver, following that with a cameo in Amy Schumer's "Trainwreck." The weird stuff really got going in recent years, though, as he played a man with guns for hands in 2019's "Guns Akimbo," an absolutely ridiculous villain in 2022's "The Lost City," and song parody king "Weird Al" Yankovic in that same year's "Weird: The Al Yankovic Story." 
He's also a regular on the anthology series "Miracle Workers," where he's portrayed everything from a nervous angel to a spoiled medieval prince to a preacher on the Oregon Trail (and in that last one, doing a truly incredible dance number). Clearly, Radcliffe's career, thanks to his strong start in a franchise as big as "Harry Potter," is whatever he wants it to be — and sometimes, what he wants it to be is a movie where he plays a flatulent corpse.