The Marvelous Mrs. Maisel Season 5: Who Is Danny Stevens Based On?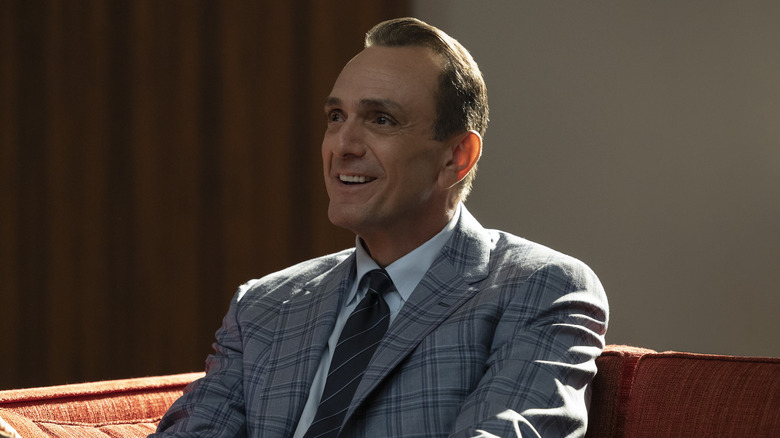 Amazon Studios
Contains spoilers for "The Marvelous Mrs. Maisel" Season 5, Episode 7 — "A House Full of Extremely Lame Horses"
"The Marvelous Mrs. Maisel" powerhouse Midge Maisel (Rachel Brosnahan) is finally in demand. When stand-up comic, television and film star Danny Stevens (Hank Azaria) appears on his old friend Gordon Ford's (Reid Scott) talk show, he rejects the staff's initial spate of contemporary jokes. Midge is the one who tells Stevens to leave the schtick at home and tell jokes related to his life. Stevens initially balks at the notion, but when the material based on his life kills, Stevens offers Midge a job writing for him. That puts him in direct conflict with Ford, who is tired of Stevens welching on his dime and thinks he's flirting with Midge. The two men nearly come to blows, and Ford raises Midge's salary to keep her.
Who does Danny Stevens appear to be based on? He may have been partially inspired by comedian and sitcom star Danny Thomas, while the conflict between womanizing Stevens and the resentful Ford seems to at least be partially built around the real-life antipathy between Johnny Carson and Bob Hope. Thomas headed up the long-lived "Make Room For Daddy," which later became "The Danny Thomas Show." The sitcom, from which "The Andy Griffith Show" spun off, featured him as an entertainer trying to raise his brood of three with the help of his occasionally-resentful wife and maid. The sitcom's tone is at least partially reflected in the short scene which plays unobstructed over the credits for Episode 7. 
The real Danny Thomas built a television empire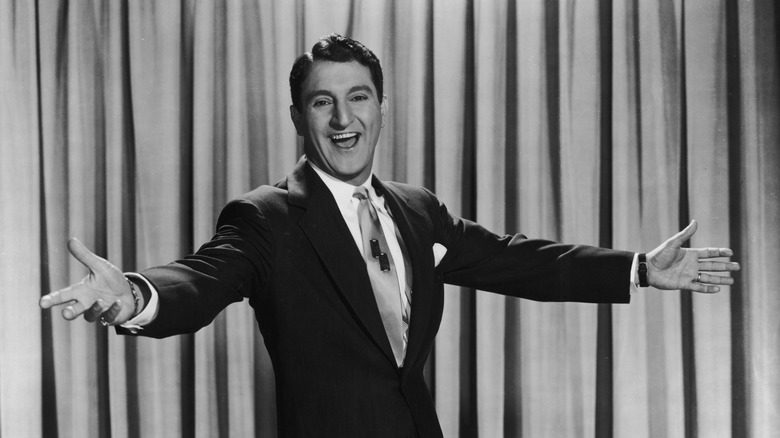 Hulton Archive/Getty Images
While the real Danny Thomas wasn't known for poaching talent from other comics or womanizing, the set of his titular sitcom was not without backstage conflict. "Make Room for Daddy" pitted Thomas as Danny Williams against his fictional children, Terry (Sherry Jackson and Penny Parker) and Rusty (Rusty Hamer). Danny Williams has a hard time with Terry's attempts at growing up, and "The Danny Stevens Show" reflects this dynamic neatly, having the fictionalized version of Stevens fretting about letting his daughter go to her first big dance. Additionally, the dynamic between Stevens and his sitcom wife (Sutton Foster) resembles the one between Danny Williams and his sensible second wife, Kathy (Marjorie Lord).
Speaking of Kathy, "The Danny Thomas Show" did go through quite the unique change between Season 2 and Season 3, killing off Danny's wife and the children's mother, Margaret (Jean Hagen). The switch came after Hagen quit the program, expressing her dissatisfaction with the writing for her character and the direction of her role on the show. After a season of being single, Danny marries Kathy, who brings a daughter from her first marriage, Linda (Angela Cartwright), into the family. It's worth noting that Margaret often expresses anger and frustration with Danny's nonstop touring and time away from home, while Kathy is a wise, gentle picture of strength and guidance for the family. The fact that Midge Maisel does battle with such stereotyping within her own life shows that some things never change.