Who Plays Gordon Ford On The Marvelous Mrs. Maisel?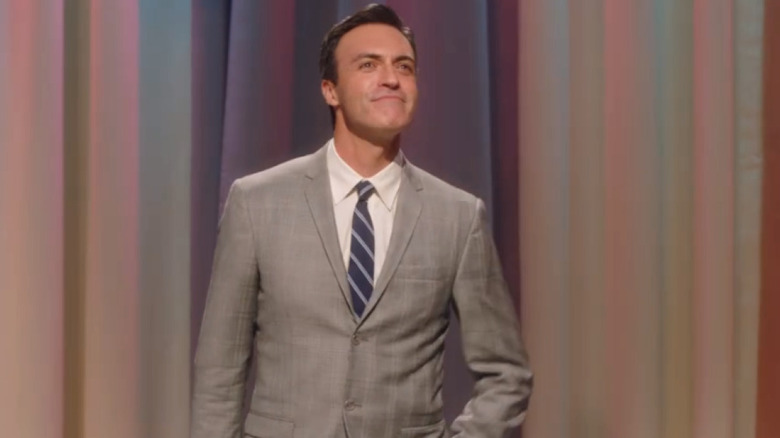 Amazon Studios
Contains spoilers for Season 5, Episodes 1-3 of "The Marvelous Mrs. Maisel"
The funnyman that's taking over the talk show world. In "The Marvelous Mrs. Maisel," that's Gordon Ford (Reid Scott), the star of "The Gordon Ford Show." Ford is first spotted on a small television screen interviewing Alfred Hitchcock in Season 4, Episode 3, "Everything is Bellmore." Fast forward to Season 5, Episode 1, "Go Forward," and his role has expanded with Gordon enjoying a night out on the town while watching Miriam "Midge" Maisel's (Rachel Brosnahan) comedy routine. By the end of the episode, he's asking Midge to become a writer at "The Gordon Ford Show," following some convincing from Midge's agent and best friend Susie Myerson (Alex Borstein).
But Midge and Gordon's relationship is full of twists and turns after that. Four weeks after joining the writer's room, Midge's first joke airs on the show during Season 5, Episode 3, "Typos and Torsos." But her big moment goes awry when Gordon flubs the joke and Midge gasps loudly during the show. Gordon later states that he made that flub because he thought the joke was flat, but Midge begs to differ. Shortly after their big fight, Gordon starts pining for Midge while the crew celebrates a big ratings win for the show. Midge turns down his romantic advances, citing their working relationship and his marriage.
And this is not the first time Scott has stolen scenes in a popular TV show or movie for that matter.
Scott became a staple character on a popular HBO political comedy
Reid Scott spent much of the 2000s making brief appearances on popular shows like "That '70s Show," "CSI: Crime Scene Investigation," and "Bones." But 2012 found Scott showing off his comedic talents while working with Julia Louis-Dreyfus on the hit HBO comedy "Veep," which follows a day in the life of Vice President Selina Meyer (Louis-Dreyfus) and her staff.
Scott plays Dan Egan, Vice President Meyer's Deputy Director of Communications, who later becomes her 2016 presidential campaign manager before becoming a morning news anchor after he is fired multiple times from Meyer's staff roster. Egan would rejoin Meyer's team during her 2020 presidential campaign, taking over the post of deputy communications director. 
When talking about his character's growth, Scott told The Wrap, "I don't know that he's evolved much. Evolution, at least emotional and intellectual evolution, is sort of passing Dan by. I rather like the idea that he's learned nothing, except for more tricks along the way." Scott would take his final bow as Dan in Season 7, Episode 7, "Veep," which is also the series finale. But Scott doesn't want to put those days behind him. In 2019, he told Newsweek that he thought the ending of "Veep" was satisfying, but he told KTLA in February of 2023 that would love to reboot the political comedy if the opportunity ever presents itself.
While making people cringe and laugh on the small screen, Scott has also been busy putting his mark on Marvel.
The role that finds Scott in a love triangle with Eddie Brock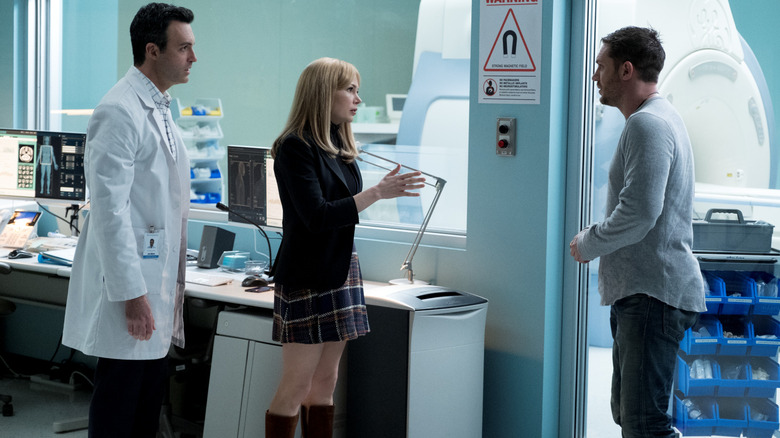 CTMG, Inc./Sony Pictures Entertainment Inc.
As journalist Eddie Brock (Tom Hardy) tries to make sense of the symbiote that has latched onto him, he watches his dream romance with Anne Weying (Michelle Williams) slip through his fingers in the 2018 film "Venom." Following their breakup, Eddie finds Anne dating Dr. Dan Lewis, played by Reid Scott. Eddie wishes that things would change, but Anne is still setting her sights on a life with Dan. 
Scott told Screen Rant Plus that the show's writers wanted to take a different approach to the love triangle storyline. "[Director] Ruben Fleischer and I talked about the character in the early days of shooting. I was like, 'What if he just loved Eddie? What if he thought Eddie was just cool? And almost couldn't help himself around Eddie a little bit and that would... in and of itself, would sort of put Eddie on the back foot, assuming that they're gonna sort of square off and it just doesn't happen," he said, adding that Dan ends up helping Eddie by trying to conduct an MRI to figure out the sudden changes that Eddie is experiencing.
In the 2021 sequel "Venom: Let There Be Carnage," Dan and Anne announce their engagement as Eddie and Venom work to track down serial killer Cletus Kasady (Woody Harrelson). Dan soon finds himself relying on Eddie, calling him and Venom for help after Cletus and his love interest Shriek (Naomie Harris) kidnap Anne. Anne is brought to safety and reunited with Dan.