Succession: Why ATN Called The Election For Jeryd Mencken, Explained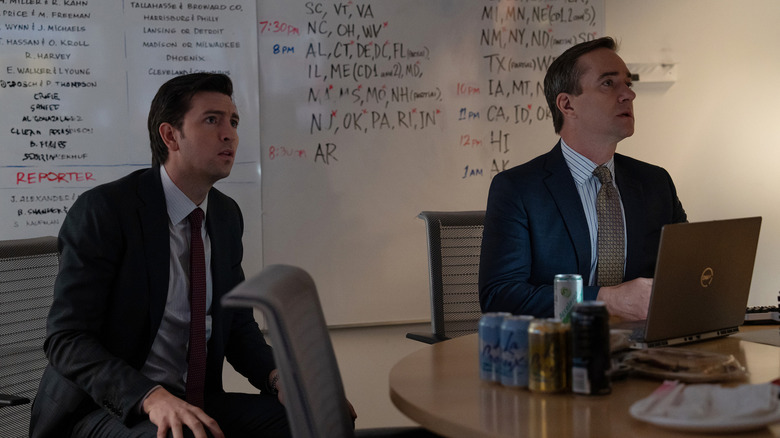 Macall Polay/HBO
Contains spoilers for "Succession" Season 4 Episode 8 — "America Decides"
"Succession" has been ramping up to a national election for basically its entire run — though you'd be forgiven if you forgot about that entirely amidst the intrigue surrounding the messy, uber-wealthy Roy family. In the eighth episode of the show's final season, titled "America Decides," America decides their next President... kind of.
The two candidates, after seasons of squabbling, are Jeryd Mencken (Justin Kirk), a far-right near-fascist, and Daniel Jimenez (Elliot Villar), about whom not much is known except that he is presumably not a far-right fascist. Shiv Roy (Sarah Snook), the youngest of the Roys, is firmly against Mencken, despite the fact that her late father Logan Roy (Brian Cox) all but endorsed the man thanks to Mencken's outright support of the family's television network ATN. ("Support" here means that he pays for them to run ads.) Her brothers, however, aren't exactly with her. Kendall (Jeremy Strong), though he's hesitant about the effect someone like Mencken could have on the futue of his children, is definitely leaning towards the candidate, while Roman (Kieran Culkin) is all in. Ultimately, they convince Tom Wambsgans (Matthew Macfadyen) to force ATN to call the election for Mencken, despite the vote count in Wisconsin still being in question. So why do the Roy brothers do that?
It's simple. They want to utilize Mencken as President of the United States and effectively control the capitalist narrative through him.
What does this call mean going forward?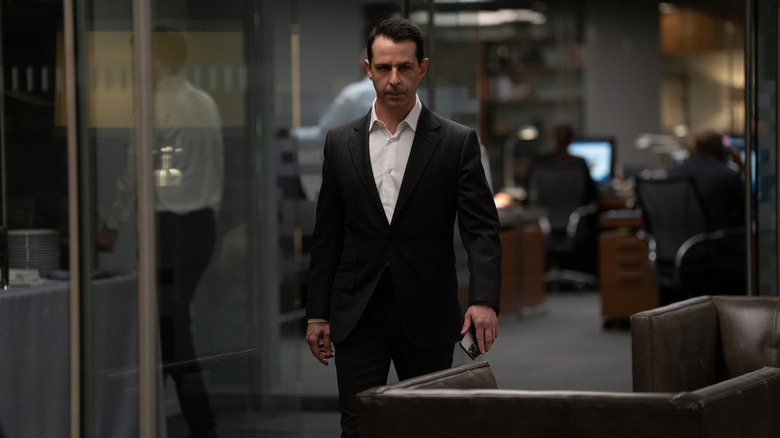 Macall Polay/HBO
So what is it that Kendall and Roman want specifically? The larger picture remains to be seen, but in the immediate future, they want Mencken to basically use the office of the President to block the impending deal that would sell ATN and Waystar Royco to GoJo, owned by the Swedish billionaire Lukas Matsson (Alexander Skårsgard). After Logan literally died on the way to make sure the deal went through — specifically, on his plane on the way to Sweden to talk with Matsson directly — his two sons want to keep every single thing their father ever touched, which could, perhaps, be viewed as a symptom of their grief as they try and hold on to their dad through his legacy. Shiv, meanwhile, has been working with Matsson in secret... a fact which is revealed to both Kendall and Roman in this episode, which seems to push them into their decision even further.
As for Tom, he faces immediate pushback and potentially will face some legal action when word comes from him, through Kendall and Roman, that ATN is calling the election for Mencken. The issue here is that they're calling it despite a fire at a polling place that resulted in lost votes in Milwaukee, a predominantly Democratic city, which could swing the election to Jimenez if they were. Instead of holding off, ATN calls both Wisconsin and the ensuing election for Mencken, and it certainly doesn't seem like this will all end well.
What's going on with Jeryd Mencken?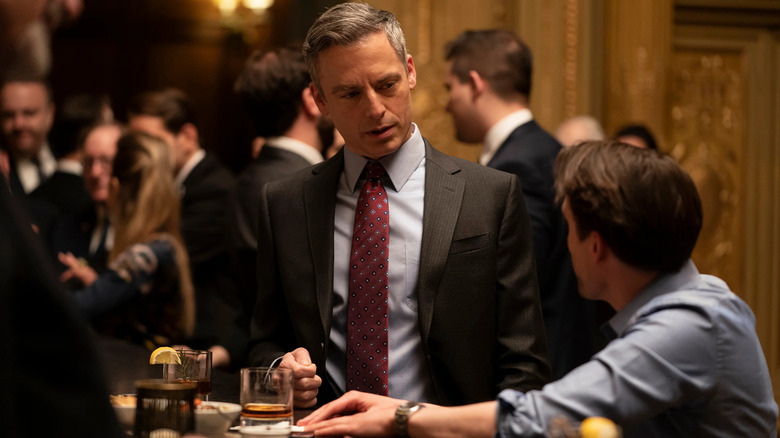 When it comes to specifics about Jeryd Mencken, they're not particularly clear, besides the fact that Shiv and others keep calling him a "fascist" and that Kendall's family is gutted when ATN calls the election for the candidate. His supporters, though, are clearly pretty racist and are definitely prone to causing trouble, setting off firecrackers at polling places and harassing people — including Kendall's young daughter — on the street.
The clearest picture we get of Mencken comes at the end of "America Decides," where he gives a truly ominous, foreboding acceptance speech that feels like a sure sign of things to come. Not only is he jumping the gun as well — he basically says that ATN is the country's only reputable news source, an "authority of known integrity." From there, he declares that the country needs to "beware" of democracy, as it can be transactional... which definitely doesn't feel like a good thing. As he says, he believes in a democracy where a leader is "willed" by the people (referring, bizarrely, to himself) and calls the country "polluted land" and compromise "grubby." Kendall, watching the speech, says, "This is a guy we can do business with," while Roman says, "We just made a night of good TV. Nothing happens."
The Roy brothers are insulated and protected by their wealth, and now, they feel as if they own the President-elect. What could possibly go wrong during the series' final two episodes?