Actors Who Starred In Back To Back Hit TV Shows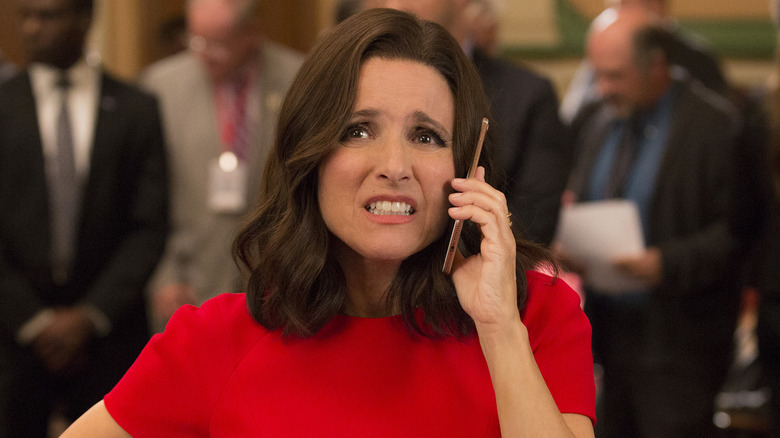 HBO
There's a lot of chatter about the end of the era of the movie star these days, and many arguments supporting whichever side of the fence a particular fan may be on are rooted in validity. But while our criteria for determining a movie star's influence is pretty much set in stone, the things that define a TV star are a little bit more complicated. For an actor to be considered a TV star then they have to be the lead actor in a show that's critically acclaimed and attracts a lot of fans. Depending on the nature of the actor and the show, a few awards could make a difference. 
As such, the bar for being a TV star, especially in this era, which might still qualify as "The Golden Age of Television," is high. But some TV stars manage to go beyond a single career-making part and have more than one leading role in hit TV shows; once in a while, they'll get two in a row.
Let's take a deep dive into such unicorns in the TV world and how they managed such a feat. Here are the actors that managed to pull off back-to-back hit shows.
Donald Glover (Community and Atlanta)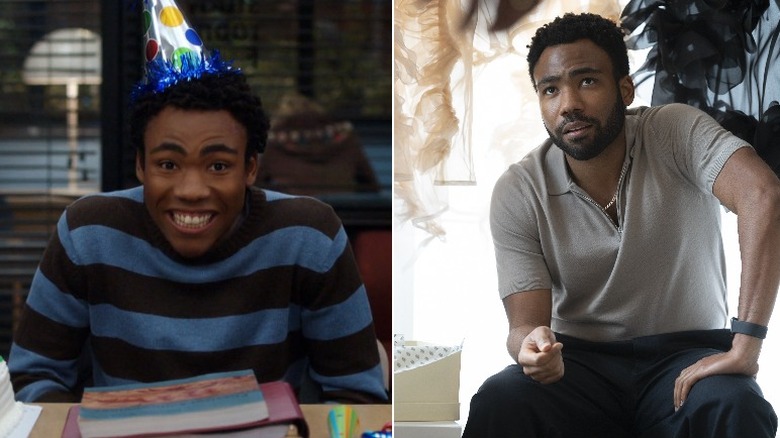 NBC/FX
In the artistic community, Donald Glover is referred to as a renaissance man. He began as a writer for "30 Rock" and then demonstrated his talents as an actor, singer, and stand-up comic, succeeding to varying degrees in all of these creative forms. Despite his career highlights in a wide range of disciplines, Glover would not have been the star he is today if it hadn't been for his breakout performance as Troy in Dan Harmon's "Community."
In GQ's breakdown of Glover's acting roles, he reminisced about his time at the show and said a lot of skills he found useful later in his career, such as improvising, he learned on the set of "Community." Everyone on the set caught on to just how talented Glover is, and Harmon even admitted the writers on his show just started ending scenes without actual lines, figuring it was best to leave them blank and assume "Donald will say something, and sure he would."
Glover eventually felt that his role on "Community" had become too much like a job, so he left the show in Season 5. He took a break from television to concentrate on music under the name Childish Gambino, which he obtained via the Wu-Tang name generator. He returned to TV two years later with "Atlanta," which he created, wrote, and directed. The show's distinct take on race, culture, and the American dream has earned Glover nearly universal acclaim from fans, critics, and award shows.
Julia Louis-Dreyfus (The New Adventures of Old Christine and Veep)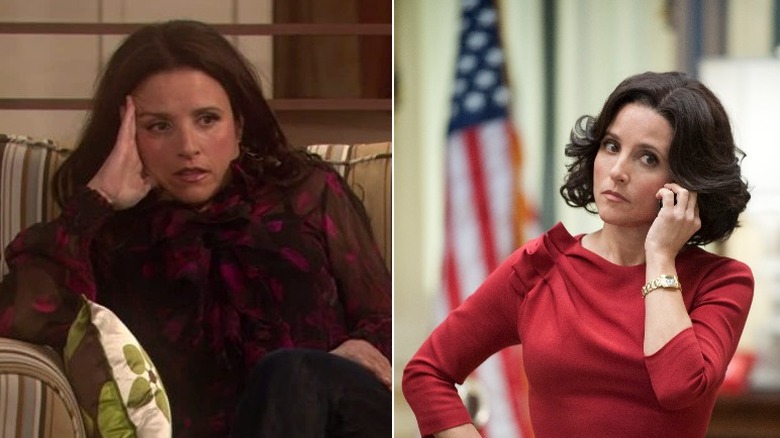 CBS/HBO
Julia Louis-Dreyfus' popularity was at an all-time peak in the 2000s, following a nine-year stint on "Seinfeld." When the show's eventual ending aired, it cracked the top three most-watched finales of all time, putting Louis-Dreyfus' influence at its peak. Understandably, she was spoiled for choice when deciding on her next project.
In an interview with Vanity Fair, Louis-Dreyfus stated that she was handed a script for "The New Adventures of Old Christine" by Warner Bros., and after liking what she saw, she met with the show's creator, Kari Lizer, who used to be a writer on "Will & Grace," and they clicked immediately. Louis-Dreyfus remembers the show's set fondly since it was mostly run by women, and she considered that working environment pleasant. In the show, Christine, a recently divorced mother, hilariously struggles to reintegrate into society. Louis-Dreyfus was recognized as one of the funniest women in television and went on to win another Emmy for the series.
However, it was Louis-Dreyfus' next show that introduced her to a whole new generation. She portrayed Selina Meyer, a perennial presidential candidate, in HBO's political satire "Veep." For nearly a decade, the show's succinct portrayal of political corruption and incompetence was a force in pop culture. Louis-Dreyfus has been consistent throughout her career, and it would not be surprising if she had another television smash sometime in the future.
Kristen Bell (House of Lies and The Good Place)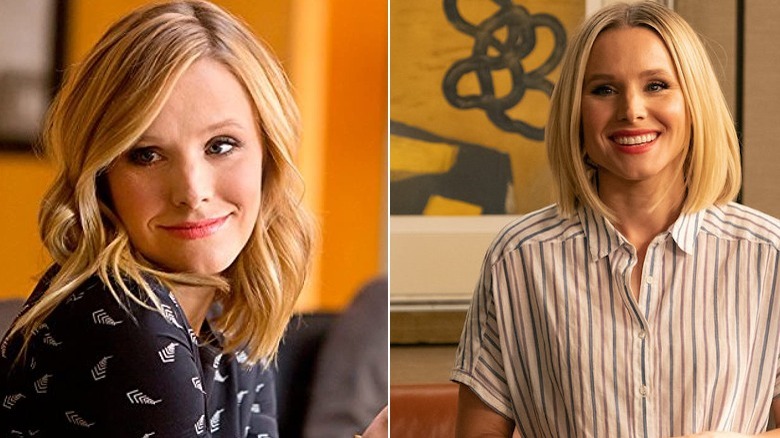 Showtime/NBC
Kristen Bell began her acting career as a child appearing in commercials. But as she grew older, she earned her big break as the star of "Veronica Mars" — a cult favorite amongst the flurry of teen-focused dramas that dominated network TV in the 2000s. The fame she gained from that led to appearances in other films and television shows, and from that point on in her career, Bell was in the coveted position of cherry-picking her next TV job.
Bell's desire for something more adult prompted her to take up a role in Showtime's "House of Lies." The plot follows Bell's character as Marty's (Don Cheadle) number two in a cutthroat world of commercial deals and white-collar criminality. Kristen Bell used the series to show fans facets of her skillset that she hadn't gotten the chance to showcase before. Critics were blown away; TV Guide crowned it the funniest show of the year and praised Bell in particular for demonstrating her range. 
Despite all of Bell's accomplishments to that point — including a foray into voice acting as one of the leads in Disney's "Frozen" — it was her performance as Eleanor Shellstrop on "The Good Place" that drew the attention of TV award committees. Bell has had the desire to work with the show's creator, Michael Schur, since meeting him when he was still the head writer of "Saturday Night Live." When the stars finally aligned, Bell got the call from Schur and her already illustrious career was rewarded with yet another hit TV show.
Joshua Jackson (Fringe and The Affair)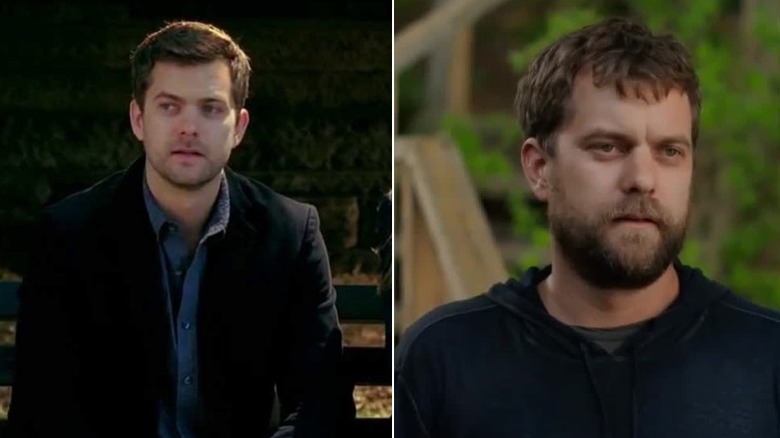 Fox/Showtime
Joshua Jackson benefited from the rise in popularity of teen-focused television in the 2000s when he was cast in the WB's megahit "Dawson's Creek." But after the series ended, he managed to land a part in the J.J. Abrams-produced "Fringe." The show followed the father-son scientist team of Peter (Jackson) and Walter Bishop (John Noble) as they worked with FBI agent Olivia (Anna Torv) to solve mysteries involving a parallel universe.
Later, Jackson stated that the father-son relationship was what drew him to the role. The study of that dynamic was initially subtle, but as the show progressed, it became increasingly overt, culminating in the final season when Walter admits that his son, Peter, is his greatest achievement. By the time Season 3 premiered, the New York Times had already named "Fringe" one of the top 10 shows on television.
Jackson stayed in the television medium after "Fringe" concluded and followed it up with Showtime's drama "The Affair." The show was notable for its effective use of the Rashomon effect in depicting two middle-aged couples dealing with unfaithful spouses. When asked about his time on the show, Jackson stated that now that he's a father in real life, he'd struggle to play a father who had lost his child. Seemingly, Joshua Jackson's trick for consistently securing these renowned roles appears to be growing with the roles he chooses.
Mindy Kaling (The Office and The Mindy Project)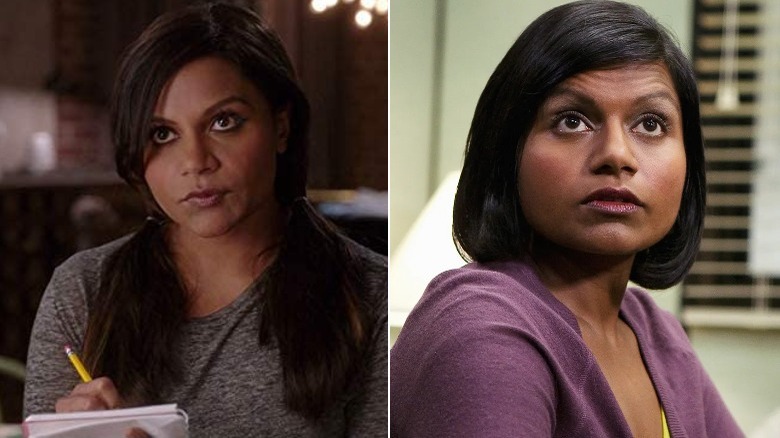 Mindy Kaling has made a lot of TV. Not everything she's done is going to connect with everyone, but maybe that's okay since pretty much the only show that has connected with everyone in recent decades is "The Office." After graduating from Dartmouth College, Mindy Kaling did stage plays, stand-up comedy, and ran a blog where she pretended that she was a long-lost sister of legendary film director Nora Ephron. Somewhere along her journey, she wrote a spec script for the producer of "The Office" and was hired to join the show's writer's room.
She went on to make her acting debut on "The Office" as Kelly Kapoor in the famed episode "Diversity Day" and quickly became a fan favorite. Her stormy, off-kilter romance with B.J. Novak's character remains one of the most depraved relationships in network sitcom history.
While "The Office" is noted as an all-time great ensemble series, Kaling went on to be the primary force behind "The Mindy Project," in which she acted, wrote, and produced. The plot revolves around a doctor in New York who is looking for the love of her life. The series is fantastic, and at its peak, she was named one of Time magazine's "100 Most Influential People in the World."
Edie Falco (The Sopranos and Nurse Jackie)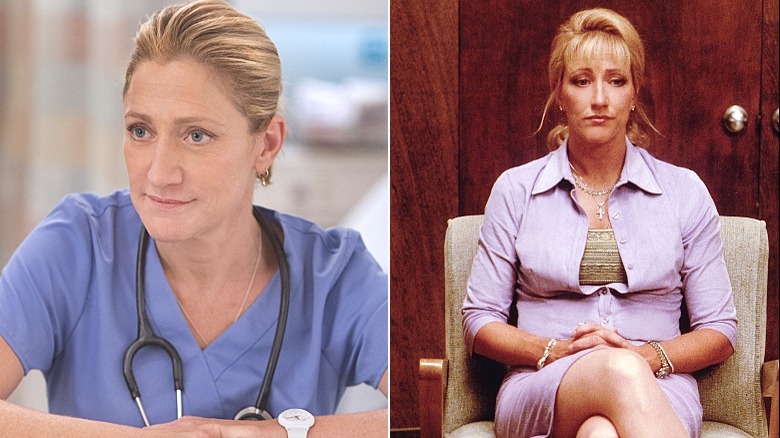 Showtime/HBO
Edie Falco spent the majority of her early career as a struggling actor. Even back then, she drew the attention of powerful Hollywood producers, such as Tom Fontana, who said of Falco's natural approach to acting, "She's an actress unadorned by embroidery." She landed a role in Fontana's HBO prison drama "Oz," and caught the eye of David Chase, who was about to reshape the television landscape forever with "The Sopranos." Throughout the landmark series, Carmela Soprano revels in the lifestyle provided by the monstruous, nihilistic actions of her husband Tony (James Gandolfini), but occasionally struggles with the ethical and moral implications — especially when Tony's infidelity becomes a factor. After winning a whole bunch of awards with "The Sopranos," Falco — who has characterized herself as a "worker bee" – jumped into her next job as the title character in "Nurse Jackie." Jackie is a nurse whose struggle with addiction is the focus of the show. Falco immersed herself in the material with great success, earning her yet another Emmy for her efforts.
Gillian Anderson (Sex Education and The Crown)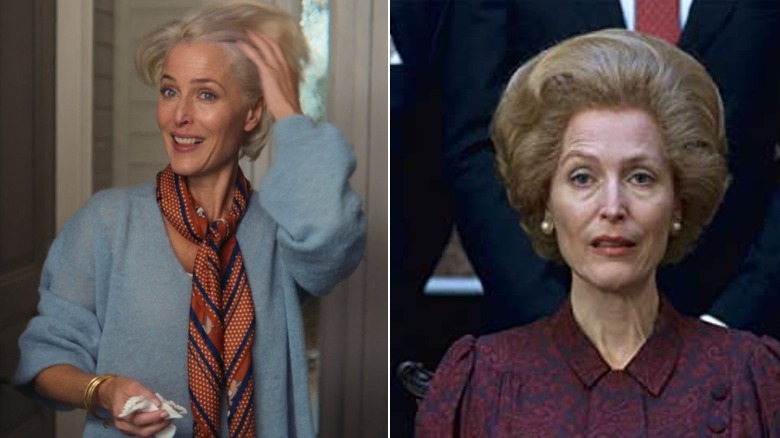 Netflix
Gillian Anderson rose to prominence in the 1990s as a star of "X-Files." She went on to experiment with various mediums such as theater, television, and film when the show ended. She relocated to London in the early 2000s, which influenced her career choices. Sometime around the late 2010s, she was cast in the British Netflix dramedy "Sex Education."
"Sex Education" follows Otis (Asa Butterfield), a high school student, as he explores his sexuality. Jean (Anderson) is a sex therapist, and her career motivates her son to pursue a similar vocation on the side at his school. Anderson's razor-thin humor catapulted her to the attention of a whole new generation who primarily know her through "Sex Education." Throughout its duration, the show consistently ranks in the top 10 of Netflix's most-watched shows and has yet to fall below a Rotten Tomatoes rating of 90%.
Despite the positive response to the show, Anderson decided to return to her origins as a dramatic actor in Netflix's royal family-centered series "The Crown." She played the enigmatic former Prime Minister Margaret Thatcher in the drama, and her performance astounded both critics and her peers. Her performance against the equally commanding Olivia Colman helped the season become the show's highest-rated season, and Anderson went on to win an Emmy and a Golden Globe.
Keri Russell (The Americans and The Diplomat)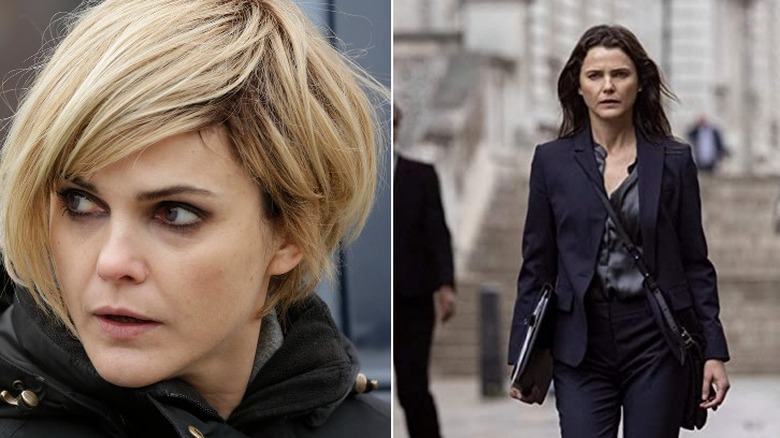 FX/Netflix
Keri Russell burst onto the scene with "Felicity," a series that was curtailed by a ludicrous reaction to a hairstyle change. So Russell did what any rational person would do with her next major project — make sure it's a show that allows her to alter her hairstyle virtually every week.
"The Americans" stars Russell and Matthew Rhys as two Russian KGB spies disguised as a suburban couple during the Cold War. She stayed in the political arena after the series ended in 2018, but with a somewhat lighter tone than her work on "The Americans." In "The Diplomat," Russell plays Kate Wyler, the U.S. ambassador to the U.K. Wyler's job is high stakes, complicated, and supremely stressful, but she scans a little more down to earth, and commits considerably fewer assassinations, than Russell's character from "The Americans." "The Diplomat" has already been renewed for a second season.
Idris Elba (The Wire and Luther)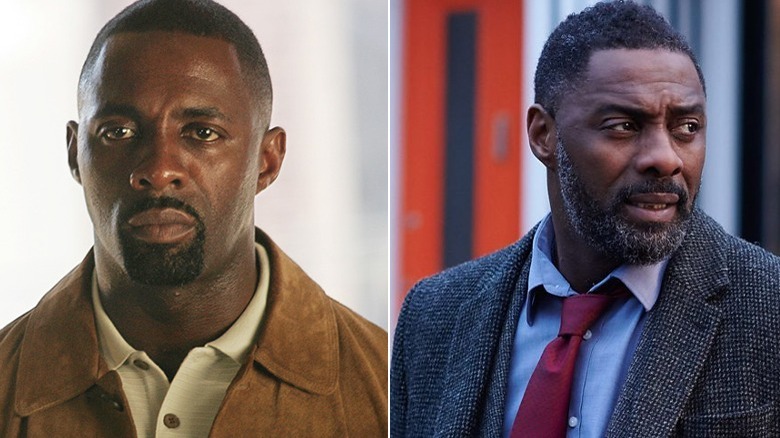 HBO/BBC
Idris Elba began his career as a soap opera actor in the late 1990s in the United Kingdom before coming to America to film a pilot. After that, he began seeking opportunities and eventually scored an audition for the role of Avon in "The Wire," in which, just like a few other actors on the show, Elba pretended to be American to lead David Simon to believe that he could relate to the experiences of a character from Baltimore. Simon initially only wanted American actors to bring "The Wire" to life, although he wound up casting Elba as crime boss Stringer Bell and Dominic West as Detective Jimmy McNulty; apparently, he was open to exceptions.
Stringer Bell went on to draw on every Idris attribute that fans now easily associate with him; he's a tall, looming, knowledgeable leader. However, Elba's next television performance in BBC's "Luther" became the defining role of his career thus far. It's a detective show that is frequently compared to other classics in the genre but has managed to carve out its own identity in the detective genre. The show went on to produce five seasons, a movie, and a Golden Globe award for Elba.
Jeremy Allen White (Shameless and The Bear)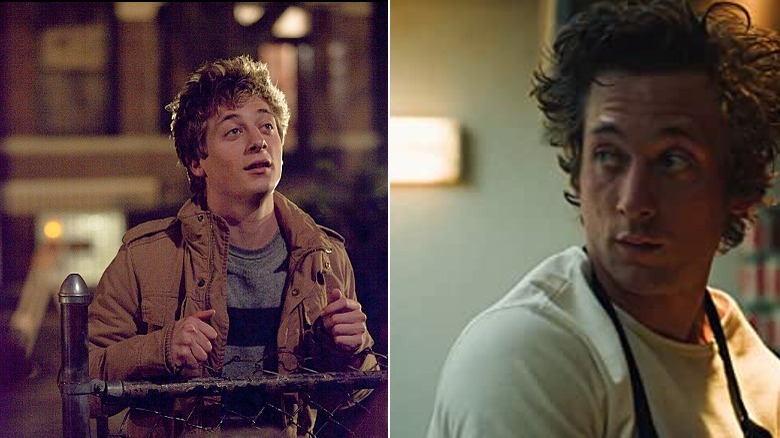 Showtime/FX
Jeremy Allen White began his career as Lip Gallagher in the American version of the British hit drama "Shameless." He honed his skills on the show and quickly became one of its standout performers, but after 11 seasons, he found the show to be stale. "I'm not sure if shows are meant to go that long," he told GQ. "There was a period where I stopped feeling like an actor and I started feeling like I was just here to do this show."
Little did White know that his next role in Christopher Storer's "The Bear" would end his doubts about his status as an actor. The series follows Carmy (White) as he returns home to Chicago to resurrect his family restaurant after creating a reputation for himself as a chef in New York. The show became an instantaneous smash after release. Because of that one-two punch, Jeremy Allen White is now a big-name actor, whereas just a few years ago he was doubting his acting abilities altogether.
Laura Linney (The Big C and Ozark)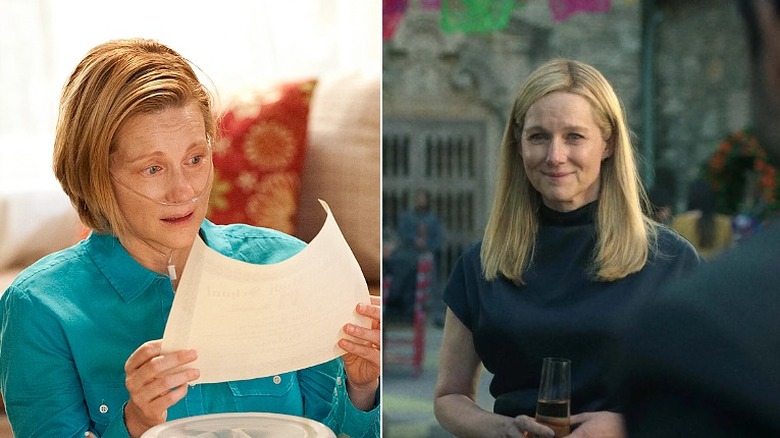 Showtime/Netflix
Laura Linney is an excellent actor who rose to prominence in the 1990s through her work in theater and film, most notably in "The Truman Show." But she became a TV star when she started playing Cathy in "The Big C" — a dark comedy about a wife who finds out she has stage-four cancer. 
In a conversation with CBS, Laura Linney explained that the series drew her since she was thinking about her mortality at the time and having lost her father to cancer during Season 1, it all contributed to her remarkable performance. She went on to win more accolades, and at the height of the series, people even approached her to tell her about their personal experiences with cancer.
She returned to movies after "The Big C," but was quickly pulled back to television by the Jason Bateman-led "Ozark." The show allowed Linney to embrace her darker side playing Wendy, a calculating, morally bankrupt woman. Again, she was showered with compliments on her performance.
Pedro Pascal (The Mandalorian and The Last of Us)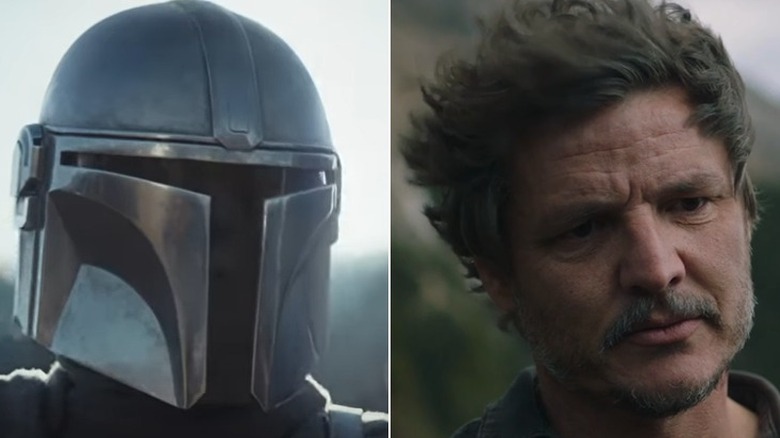 Lucasfilm/HBO
Pedro Pascal is a graduate of New York University's Tisch prestigious School of the Arts, where many other Hollywood heavyweights have studied. He appeared as a guest star in shows such as "The Mentalist," "Buffy the Vampire Slayer," and several other network TV shows before landing a prominent role in "Game of Thrones" and becoming a star in his own right.
After becoming a series regular for the first time in "Narcos," he eventually advanced to being a lead when Jon Favreau offered him the main part in the "Star Wars" universe-set series, "The Mandalorian." The show's creators were enthused about the cutting-edge special effects that would be used in the show, and audiences were equally interested in the Mandalorian's endearing father-figure bond with Grogu.
After astounding excursions through the Netflix and Disney landscapes, it was time for Pedro Pascal to return to HBO in the television adaption of the hit videogame "The Last of Us." The show went on to achieve remarkable ratings and critical acclaim, making Pascal one of the rare performers who have appeared in two popular shows simultaneously.