My Big Fat Greek Wedding: John Corbett Landed The Role Of Ian Miller In A Hotel Bar
Sometimes actors audition for roles and other times they are offered roles outright. In the case of how John Corbett landed his plum role in "My Big Fat Greek Wedding," however, the opportunity came about by mere happenstance.
Corbett, of course, stars as Ian Miller, the non-Greek groom to Nia Vardalos' Greek bride, Toula Portokalos, in the 2002 smash romantic comedy. Now, more than two decades later, the movie world is buzzing again about Vardalos and Corbett with the release of the first trailer of "My Big Fat Greek Wedding 3," which features the return of Ian, Toula, and her very big Greek family.
Since the original "Greek Wedding" was inspired by Vardalos' own family and she wrote the screenplay, the production apparently trusted her casting instincts — a fairly sizeable responsibility to shoulder, considering three of the film's producers were Rita Wilson, Tom Hanks, and his frequent collaborator Gary Goetzman. As such, Vardalos' clout and a bit of serendipity made "Greek Wedding" the "very hard yet the easiest movie I've ever got into," Corbett told entertainment reporter Bobbie Wygant.
"I got the script [for the movie but] I was in Toronto and I couldn't get a meeting with [the production] because my agent said that the part was already cast. That's the hard part," Corbett explained to Wygant in 2002. "So, I went down to the hotel bar to have a drink and drown my sorrows and I was talking to somebody about this script I read — 'My Big Fat Greek Wedding' — and [Vardalos] elbows me and says, 'I wrote that.' She's sitting right next to me at the bar and within 10 minutes offers me the role."
Vardalos says she wanted Corbett for the role from the very beginning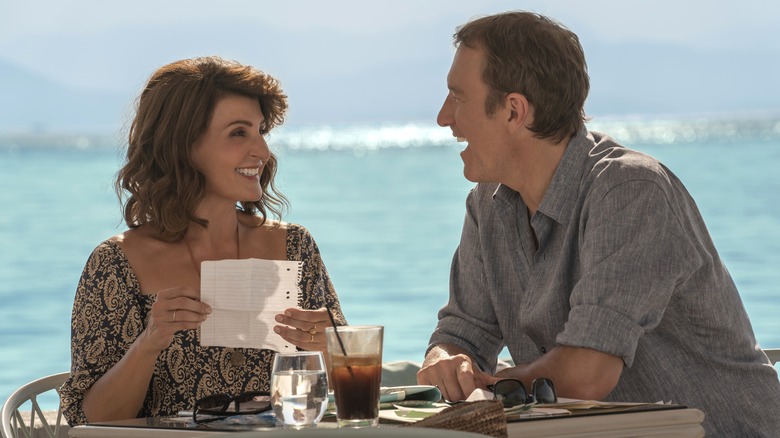 Focus Features
"My Big Fat Greek Wedding" was an enormously successful endeavor for Nia Vardalos. The indie sensation not only earned a whopping $375 million at the global box office against a $5 million budget, but it also scored an Oscar nomination for Vardalos for best original screenplay. Vardalos also penned the film's 2016 sequel "My Big Fat Greek Wedding 2" and for the threequel, the actor-scribe assumes the director's chair as well.
While John Corbett's casting happened in a hard yet easy way, the odd part of the story is Vardalos already had her eye on the "Northern Exposure" star before their chance meeting in a hotel bar. "I wanted him from the beginning, but we heard he was out of town and his agents told him the wrong thing, " Vardalos recalled to Bobbie Wygant. "When he walked [into the bar], I told Gary Goetzman, our producer, 'That's John Corbett!'"
In "My Big Fat Greek Wedding 3," Ian, Toula, and her family venture to Greece to honor the late Portokalos family patriarch Gus, who was played by Michael Constantine in the first two "Greek Wedding" films. Constantine, sadly, died in 2021 at age 94.
With original "Greek Wedding" cast members Lainie Kazan, Andrea Martin, Gia Carides, and Joey Fatone also returning, "My Big Fat Greek Wedding 3" will open in theaters on September 8, 2023.