My Big Fat Greek Wedding 3 - Everything You Need To Know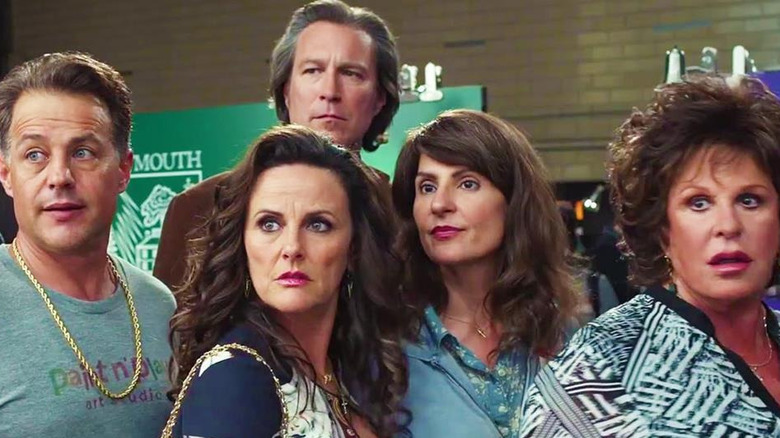 HBO Films/Universal Pictures
Get those Windex bottles ready, "My Big Fat Greek Wedding" fans; the Portokalos clan is headed back to movie theaters everywhere, and sooner than you think.
Fans of the serious, semi-hapless Greek Cinderella Toula Portokalos (Nia Vardalos) have watched her grow from an awkward ugly duckling to a mature mother. They've followed her through one sequel and one season of a television series spin-off. And now they're going to see how she deals with having an adult child. "My Big Fat Greek Wedding 3" promises to take the Portokalos family and the Millers out of Chicago for an entirely different sort of experience.
Fans of the franchise are likely bubbling with questions. Has Toula's romance with her hunky husband, professor Ian Miller (John Corbett) continued to endure? How is her family? And the most important question of all — how will the film deal with the death of Michael Constantine, who portrayed Toula's beloved father, Gus? Here's what we know about "My Big Fat Greek Wedding 3."
When will My Big Fat Greek Wedding 3 be released?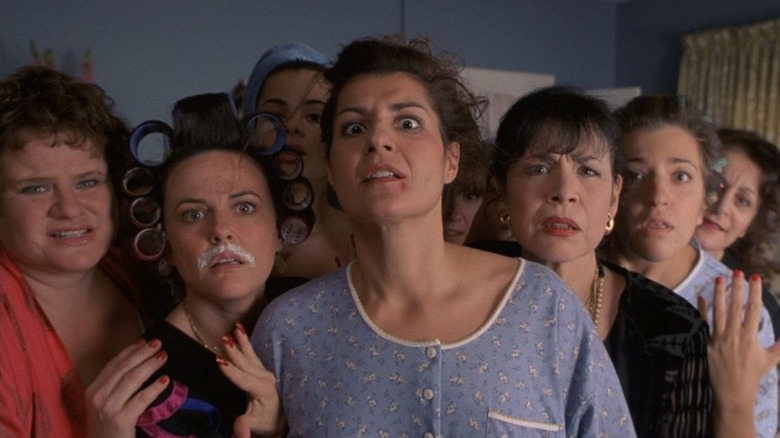 HBO Films
According to a February 2023 interview with Nia Vardalos published by Variety, "My Big Fat Greek Wedding 3" will be released on September 8, 2023. Just after the summer movie rush, but before the inevitable Oscar race, fans will get to spend a cozy early fall with the Portokalos. The film will also notably switch distributors. While the first movie in the series was produced and distributed independently by HBO Films, making it the most successful independently released feature of all time, "My Big Fat Greek Wedding 2" was distributed by Universal Pictures. The third film will be a Focus Features project, a subsidiary of Universal Pictures and Comcast.
Per a post on Nia Vardalos' Instagram, production began in Greece in June of 2022. It wrapped up principal photography on August 10, 2022. The actress has tracked every single bit of the film's production via her social media, including letting her Instagram subscribers in on the film's scoring process.
What will My Big Fat Greek Wedding 3 be about?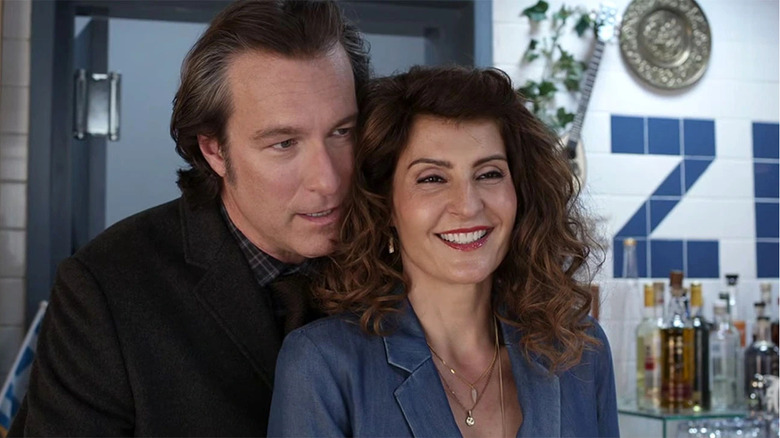 HBO Films/Universal Pictures
Don't worry, "My Big Fat Greek Wedding" fans — the family-orientated plots you're familiar with will continue onward in this third installment. It appears that the entire family will be heading to Greece for a family reunion. Why are they celebrating their roots? Because Gus Portokalos (Michael Constantine) has passed away, and his last wish was that the family go to the village in Greece where he was raised and meet their extended family. There's no further word as to what will occur, or how the film series will fulfill its title and provide its audience with a fresh wedding. But Greece is a pretty romantic country, and Ian and Toula's daughter Paris Miller (Elena Kampouris) remains single ...
In any event, fans can count on three things — romance will be thick in the air, family closeness and loyalty will remain paramount, and Toula will continue to live her wonderful — if complicated — life to the fullest. And so much souvlaki will be dodged by poor Ian. Audiences will have to wait for the film's first trailer to be released to the public to find out what else is afoot.
Who will star in My Big Fat Greek Wedding 3?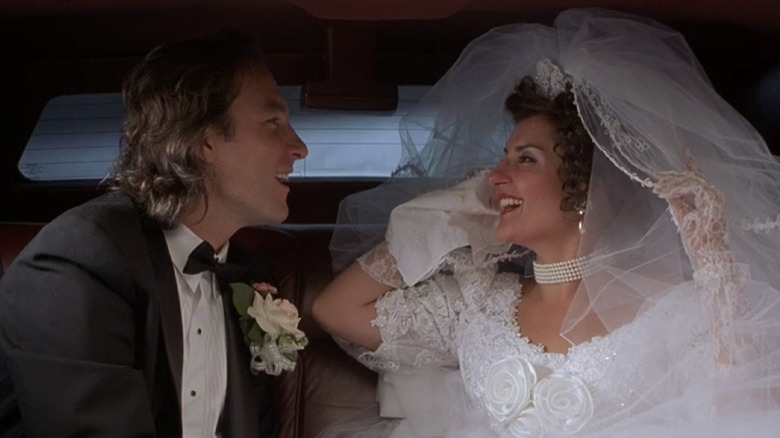 HBO Films
It looks like the remainder of the family will be getting back together for this reunion. This includes Nia Vardalos, naturally, as Toula Miller; John Corbett (Ian Miller), Louis Mandylor (Nick Portokalos, Toula's brother), Elena Kampouris (Paris Miller, Ian and Toula's daughter), Maria Vacratsis (Thiea Freida, Toula's aunt), Andrea Martin (Thiea Voula, another one of Toula's aunts), Gia Carides (Nikki), Joey Fatone (Angelo, Toula's cousin) and Lainie Kazan (Maria Portokalos, Toula's mother). There will also be two brand-new members of the family to celebrate – Elias Kacavas as Aristotle and Melina Kotselou in a thus-far unnamed role.
As we hinted above, the movie will deal directly with the death of Michael Constantine by killing off Gus. Vardalos has vowed to do honor to his memory "He had told me he wouldn't be able to join us for the third film and his wish was that we go on. I wrote the screenplay to reflect Michael's decision and will always treasure his last messages to me," she said on Instagram in 2021.
Who's directing, writing, and producing My Big Fat Greek Wedding 3?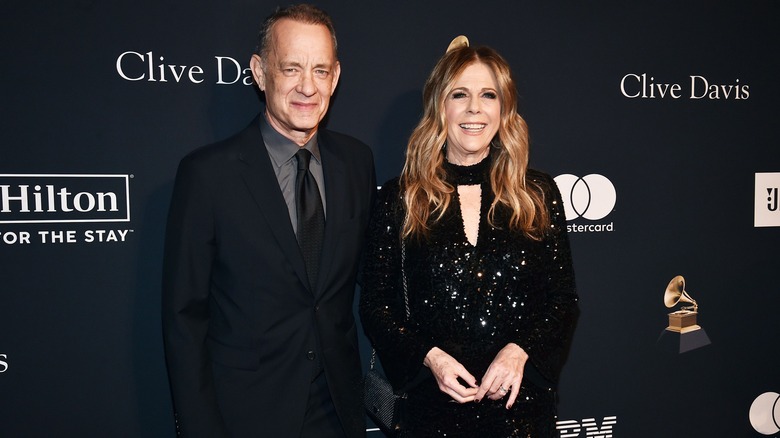 Alberto E. Rodriguez/Getty Images
Nia Vardalos wrote and directed "My Big Fat Greek Wedding 3," marking her second directorial effort after "I Hate Valentine's Day." Also aboard as producers once more? Famous Hollywood couple Tom Hanks and Rita Wilson, who has produced every single "My Big Fat Greek Wedding"-related film and television show through their Playtone Productions company along with Gary Goetzman. They will be joined by other executive producers Paul Brooks, Scott Niemeyer, and Steven Shareshian.
"My Big Fat Greek Wedding" started life as a one-woman show by Vardalos, in which Toula recounted her marriage to a non-Greek man, which was met with surprise by her traditional, Orthodox Greek family. The play is based on Vardalos' real life in Winnipeg, where she fell in love with and married Ian Gomez. The play was very popular and ultimately started performing sold-out shows. One night, Wilson happened to be in the audience and she related well with the show, being Greek herself. When they began to discuss bringing the play to the big screen, producers considered a "name" actress for the role, but ultimately, Vardalos was cast. The rest, as they say, is moviemaking history.
Where can I watch My Big Fat Greek Wedding (and My Big Fat Greek Life and My Big Fat Greek Wedding 2?)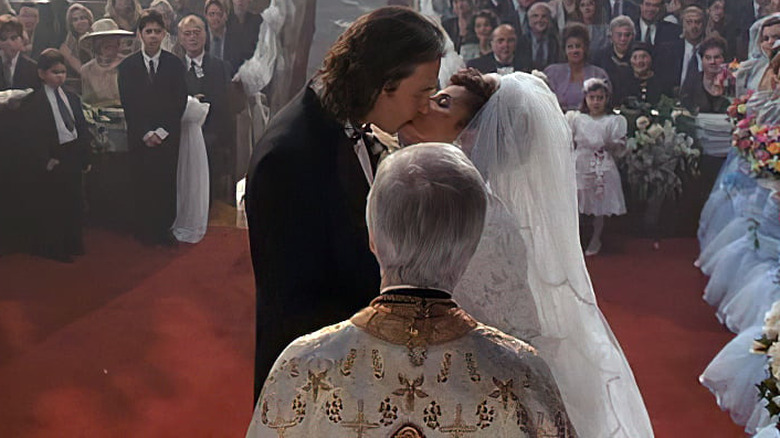 HBO Films
If you're a newbie to the world of "My Big Fat Greek Wedding," there's good news afoot; every part of Toula's saga thus far can be streamed, rented, or purchased. "My Big Fat Greek Wedding" is currently streaming on Max. Subscriptions cost $9.99 a month with ads or $15.99 for an ad-free plan. Want to just rent the movie? YouTube, Google Play, Apple TV, and Vudu have the film for $3.99 to rent and $12.99 to own.
Want to watch "My Big Fat Greek Life," the film's continuation sitcom, which ran for six episodes on CBS? Crackle has you covered — you can stream the whole show for free with ad support.
Why not wash it all down with a big plate of "My Big Fat Greek Wedding 2?"  Max also has the film, and you can rent or buy it from YouTube, Google Play, Apple TV, and Vudu for $3.99 or $12.99, respectively. Take the opportunity to brush up on your Greek, dream of traveling far, and pass the baklava — but whatever you do, beware of those morning-after pimples.