My Big Fat Greek Wedding's Nia Vardalos Refused To Change This Detail About The Family
"My Big Fat Greek Wedding" was a massive success that seemingly came out of nowhere when it was first released in 2002. However, star and screenwriter Nia Vardalos had spent a long time getting this story to the masses. After initially getting her screenplay rejected, she turned the story into a one-woman show, and thanks to some help from Rita Wilson and Tom Hanks, it eventually got made into a movie. It was a massive financial success, grossing $368 million worldwide, and it scored a nomination for best original screenplay at that year's Academy Awards.
It even spawned two sequels — the first of which came out in 2016, with a third installment coming out on September 8. It's safe to say Vardalos knew what she had, which makes it all the more interesting to think of what might've happened had she listened to studio executives. In an interview for Female.com.au, she looked back on the film's legacy and how some people wanted her to change the script to focus on a Hispanic family rather than a Greek one. She stated, "Hollywood producers kept coming up to me and saying my stage show should be turned into a movie. But they wanted to make it into a Hispanic film and I said 'Wait, what?'" However, "My Big Fat Greek Wedding" was obviously a very personal story for Vardalos, who stuck to her guns until she found a place that allowed her to tell this story on her terms.
In the end, Nia Vardalos got everything she wanted for My Big Fat Greek Wedding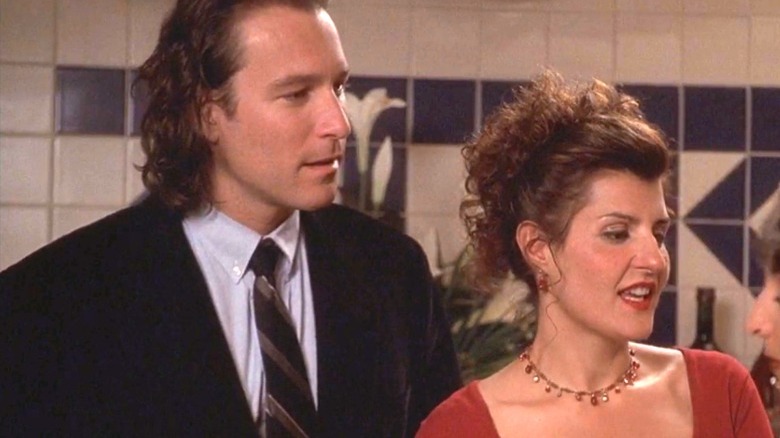 IFC Films
Tom Hanks and Rita Wilson got "My Big Fat Greek Wedding" set up at Playtone, but Nia Vardalos had other offers before that. Unfortunately, those offers came with provisions, as detailed by The Ringer. For starters, they didn't want Vardalos in the lead role, and they wanted the focus on a Hispanic family. Vardalos was quoted as saying, "I was like, 'Listen ... J.Lo would be amazing. I will write something else for her. However, this is a Greek family.'" The kind of big Greek families represented in the movie aren't often seen on-screen, and Vardalos stuck to what she wanted so that the film could adequately represent her experience.
Playtone was not only happy with allowing the movie to center Greek characters but also fine with Vardalos playing the lead, which was a big deal seeing as how she didn't have a ton of major credits at that point. In fact, Vardalos apparently had a clause in her contract saying that she could be replaced within the first three days of filming in the event of gross incompetence. Clearly, that didn't happen, and in fact, on the fourth day of production, they shot the scene where Toula breaks down crying because her father won't allow her to attend night school. Those were real tears as Vardalos was secure in her lead role.
It goes to show how listening to the artists and the people behind personal stories often plays out for the best. And the legacy continues when "My Big Fat Greek Wedding 3" comes out on September 8.