Hallmark's Lacey Chabert Let Out 'Blood-Curdling' Screams While Filming Winter In Vail's Tubing Scene
The 2020 Hallmark Channel film "Winter in Vail" explores the sweet connection between Chelsea Whitmore (Lacey Chabert) and Owen Becker (Tyler Hynes). The successful event planner says goodbye to her busy Los Angeles life after being informed her uncle's Vail, Colorado property now belongs to her. As she struggles to get acclimated to being unemployed and away from California, Owen encourages her to partake in winter activities. Following a heart-to-heart in a gondola lift, the contractor and Chelsea embark on a snow tubing adventure. 
In a 2020 interview for the Hallmark Channel's "Home & Family," Chabert revealed that any screams you might have heard during the tubing scene were genuine. She shared that she intended to have her character keep calm while on the slope. However, she was unable to do so because of the surprising speed of her tube. 
"We were going up to like 40 miles an hour," recalled Chabert. "It was so high, the track was long and I mean I was trying –- there was a camera watching us go all the way down and I was trying to like look cool like I'm having fun and the whole time I am just, like, this blood-curdling scream."
She clarified that she enjoyed her experience tubing. She noted, however, that she was also nervous when filming a scene where Chelsea goes cross-country skiing. "We were on a real lake ... I was honestly terrified because in the movies that never goes well," she said.
Lacey Chabert brought her daughter to share in the snowy fun while filming Winter in Vail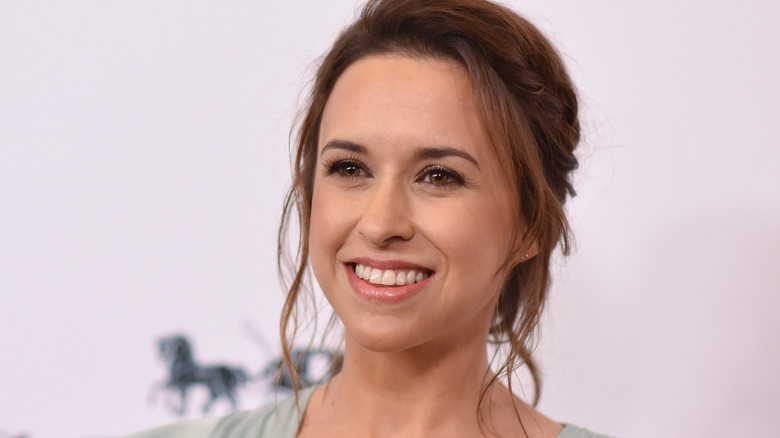 DFree/Shutterstock
During her "Home & Family" interview, Lacey Chabert shared that she brought her daughter, Julia Mimi Bella Nehdar, with her on location to film "Winter in Vail." The "Mean Girls" actor stated that her daughter, like Chelsea, enjoyed being in a snowy environment. She also explained that her child had not previously experienced weather quite that cold (unlike some Hallmark movies, it doesn't appear that the snow was fake).
"She loved it. She loved she got to wear her snow gear, her jacket, her hat — we played in the snow and we attempted to build a snowman but unfortunately, we did this on a day where the snow wasn't sticking. So, it's a little snow mound," said Chabert with a laugh.
Chabert revealed that she and her husband, David Nehdar, will usually bring their daughter to whatever filming location she has to travel to for Hallmark during a January 2023 interview on the "Tamron Hall Show."
"Now that she's in school, it's a little bit harder, but typically she does. And yeah, we shot one in South Africa — 'Love On Safari.' We've been in Rome, Ireland – all of these – and Greece," said the actor.