Hallmark Movies Have A Few Tricks Up Their Sleeves When It Comes To Fake Snow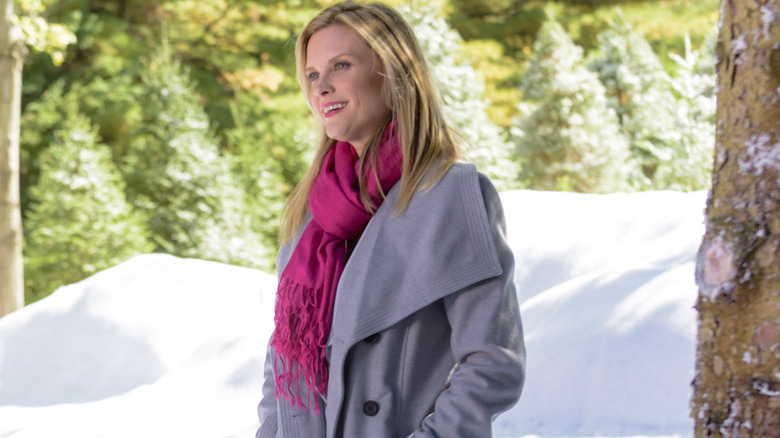 Russ Martin/Crown Media United States LLC
Hallmark Channel movies have a knack for bringing holiday cheer all year long. The company is known for its holiday films that find people building gingerbread houses, falling in love under the mistletoe, and frolicking in the snow. Of course, Mother Nature does not time its snow with the Hallmark filming schedule, especially when they're filming during summer. And that's where some movie magic comes in to make many of the festive movies look like they're being filmed in a winter wonderland that matches the jolly season.
Luc Benning has lent his special and visual effects expertise to Hallmark movies like "Mistletoe Over Manhattan," "Love You Like Christmas," and "A Very Merry Mix-Up." And when it comes to snow, he told Business Insider that it's an element that is non-negotiable when filming a movie in Hallmark's holiday lineup. He has plenty of options to work with, including ice block shavings, snow machines, and fire-retardant foam. "The past couple of years Hallmark's really liked the look of the foam," he said in 2017, adding that a movie's snow budget can hover around $50,000.
While the snow looks gorgeous on screen, two Hallmark actors know that it can create some mishaps while on set.
The fake snow incident that turned into a doctor's visit for one Hallmark actor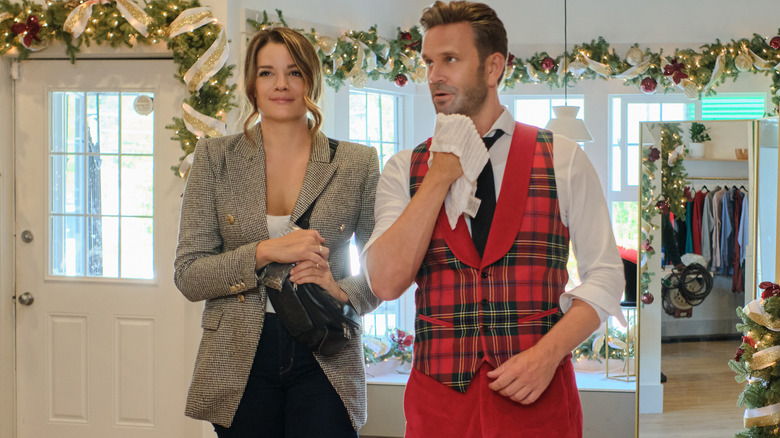 David Astorga/Hallmark Media
Fake snow should be looked at and played with, but not ingested. And that's something that actor John Brotherton accidentally learned while filming 2022's "Lights, Camera, Christmas!" The movie follows thrift shop owner Kerry Devine (Kimberley Sustad), who finds herself working as a costume designer on the set of a holiday movie that is using her hometown as the backdrop. Brotherton plays Brad Baxter, the king of Christmas movies, and he finds a romantic connection while working with Kerry.
While the film was fun to shoot, Brotherton recalled one fake snow mishap during an interview for the Hallmark Channel. "So we're like making snow angels, but then she decides to just douse my face at point blank with a big handful of fake snow ... [I] sort of inhaled. That went into my lungs," he said, with Sustad adding that a doctor had to give him muscle relaxants.
As actors learn to carefully work with the fake snow, they also find themselves creating some on-screen magic that helps to make those wintry scenes very convincing to people watching at home. Hallmark star Lacey Chabert told Entertainment Weekly, "Typically, they are shot in the summer, and you're in coats, scarves, gloves, and cashmere, and it's 110 degrees outside ... It's actually kind of a skill to act cold ..."