9-1-1: Lone Star's Co-Creator Tim Minear Is Satisfied With Marjan's Exit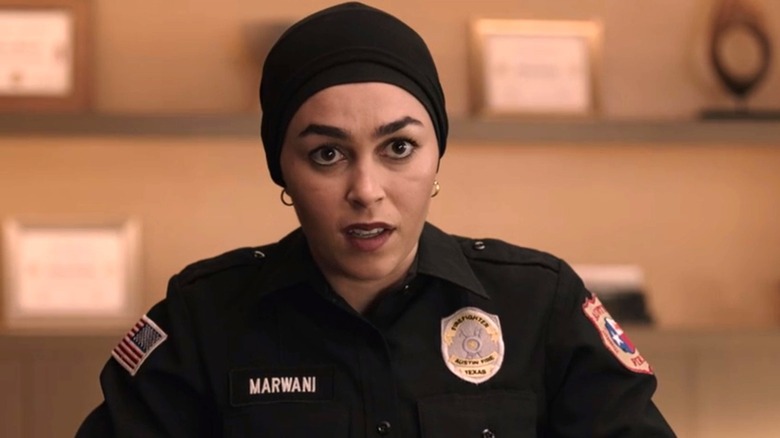 Fox
Contains spoilers for "9-1-1: Lone Star" Season 4, Episode 5 — "Human Resources"
All Marjan Marwani (Natacha Karam) wants to do in "9-1-1: Lone Star" Season 4, Episode 5, "Human Resources," is rescue Lila Geralds (Ashley Rae Spillers) from a stolen mobile home, which is being driven by her husband, Mitch Geralds (Jamison Webb). When Lila refuses to leave and Marwani calls her "crazy," the esteemed firefighter is forced to deal with the consequences. 
The Geraldses attempt to exploit Marwani into posting an apology video and linking it to their GoFundMe page, all of which rattles her. The episode ends with Marwani taking the motorcycle of Owen Strand (Rob Lowe) and leaving Station 126 on her own terms.
It's an emotional, unexpected departure for this original cast member, but "9-1-1: Lone Star" co-creator Tim Minear is satisfied with Marwani's exit. 
"Marjan is completely supportive of the inclusivity, and the culture at the 126, and of HR, and of a safe work environment, all that stuff," Minear told EW, "and the fact that she is in the teeth of it, I think, is something that would really set her back on her heels. And what is the most satisfying conclusion to a story like that? She could get the better of the [Geraldses]. She could take a stand, and everything could work for her, but I think she needed to go away for a moment to explore what her feelings about her own identity as a firefighter are."
Marjan's road trip helps her realize that Station 126 is her home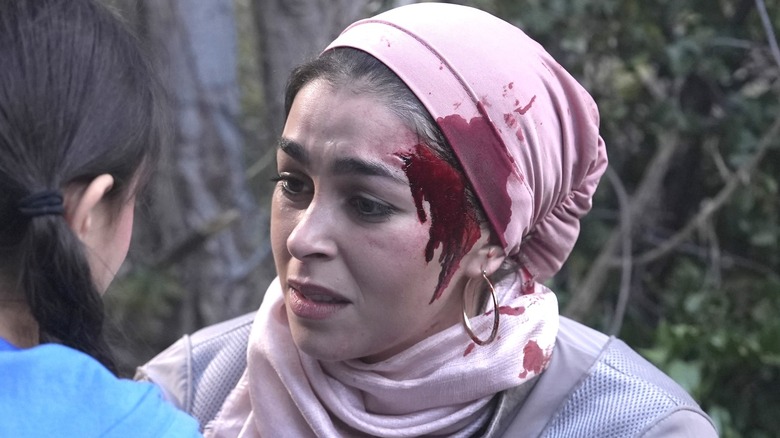 Kevin Estrada/FOX
For any fans distraught over Marjan Marwani (Natacha Karam)'s exit, they didn't have to wait long to see her on screen once again. In Season 4, Episode 8, "Control Freaks," audiences are reunited with Marwani, who is on a road trip. Her adventure gets messy and bloody when she encounters Kiley (Brooke Sorenson), who calls on Marwani to help her escape her abusive boyfriend, Grant (Cameron Cowperthwaite).
Unlike the situation with Lila, Kiley follows Marwani's instructions and is able to flee the abusive relationship. This, in turn, helps Marwani realize two things. Station 126 is her home, and helping people is her passion. 
"I think it was divine timing that there was someone for her to help out on the road because she needed to learn firsthand that that's the thing that she's going to do with her time no matter what," Karam said to TV Insider, "so she might as well go into it where she gets paid for it, where she can put in loads of hours to do it. This is her calling in life."