Spider-Man India Gets Marvel Comics Spotlight Ahead Of Spider-Verse Debut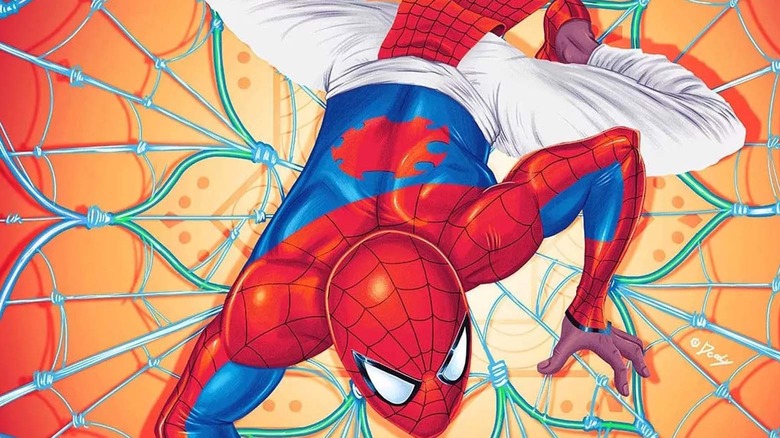 Marvel Comics
Contains spoilers for "Spider-Man: India" #1
Ahead of his big screen debut in "Spider-Man: Across the Spider-Verse," Pavitr Prabhakar is returning to the pages of Marvel Comics in a new "Spider-Man: India" miniseries.
Created by Jeevan Kang, Suresh Seetharaman, and Sharad Devarajan and first appearing in 2005's "Spider-Man: India" #1, Prabhakar hails from Mumbai, where the hero has a similarly tragic origin to Peter Parker. The hero gained his web-slinger powers after an ancient yogi granted him special abilities to take on a demonic new threat facing the people of India. 
Like Parker, Pavitr's refusal to intervene in a mugging resulted in his uncle being killed. He would battle Nalin Oberoi, who became his world's demonic Green Goblin, and also faced off against a demon-inspired version of Doctor Octopus. Prabhakar's adventures continued in the Spider-Verse crossovers from Marvel Comics, as Spider-Man: India appeared in the original "Spider-Verse" title in "The Amazing Spider-Man," joined the Web-Warriors in the self-titled comic alongside Spider-Man Noir, Spider-Gwen, and Spider-Man UK, and appeared in both the "Spider-Geddon" and current "Spider-Man" series. 
Prabhakar is returning in a "Spider-Man: India" miniseries, which sees the hero take the spotlight while facing a new version of a longtime Spider-Man villain.
Spider-Man: India is back to take on big threats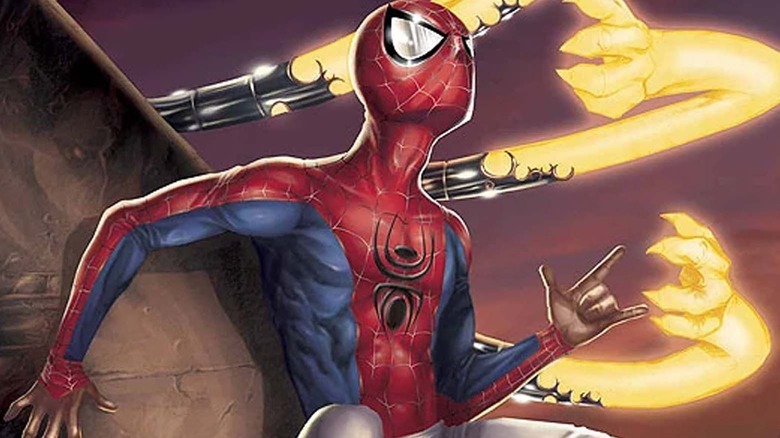 Marvel Comics
"Spider-Man: India" #1 by Nikesh Shukla and Abhishek Malsuni sees Pavitr Prabhakar back on Earth-50101 in Mumbai, where a scientist is promising to transform people's brains into "lizard brains." The text solicitation for "Spider-Man: India #2" teases the villain Prabhakar is about to face, with the experiments going wrong, resulting in a brand-new version of Lizard attacking his home city. 
Games Radar shared new Animation Variant cover art by Doaly for "Spider: Man India" #1 featuring the hero climbing down a web, showcasing his iconic Spider-Man costume.
Only a handful of villains who paralleled the main Spider-Man's rogue gallery appeared in his original four-issue miniseries. Nalin Oberoi (Norman Osborn) was the series's main antagonist, with Doctor Octopus being one of his supernatural creations. A version of Venom also appeared in "Spider-Man: India," who tried to infect Pavitr while trapped inside Oberoi's amulet. However, with a mighty new Lizard being introduced, it's possible more villains could also appear as a result of his scientific experiments.
Spider-Man: India is becoming a bigger character in the Spider-Verse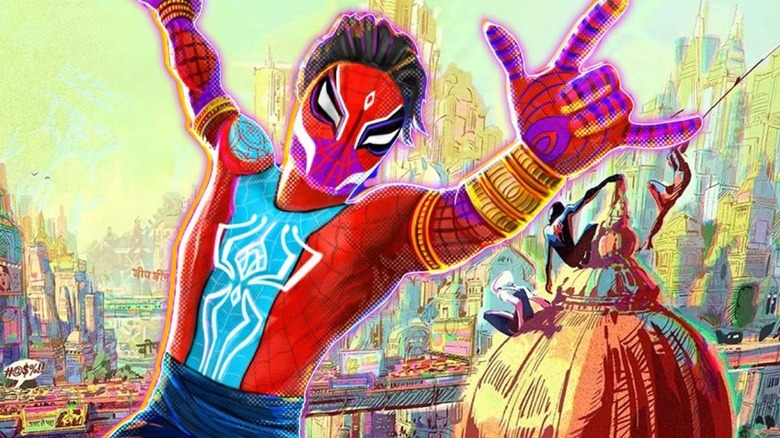 Marvel Comics
Pavitr Prabhakar's new comic book miniseries will expand the hero's world and give Spider-Man: India a more fleshed-out story. His latest comic comes at the perfect time as "Deadpool" actor Karan Soni will voice the character in the upcoming animated film, "Spider-Man: Across the Spider-Verse." The film version of the hero will transform his look and origin. Spider-Man: India gets a much more colorful costume with gorgeous details throughout in the movie. The original Spider-Man: India's design was much closer to Peter Parker's Spider-Man, but he is considerably more unique-looking in teases for his big screen appearance. It wouldn't be surprising to see Spider-Man: India eventually trade in his comic book costume for something closer resembling the adaptation. Prabhakar's city is also getting remixed in the upcoming film, as "Spider-Man: Across the Spider-Verse" will introduce a Multiverse mashup of Mumbai and Manhattan called Mumbattan, which is Spider-Man: India's home. Spider-Man and Spider-Gwen will travel to Prabhaker's universe in the movie.
Readers can see Prabhakar return to his own series in "Spider-Man: India #1" by Nikesh Shukla and Abhishek Malsuni from Marvel Comics on June 14th. Before making his comic book comeback, Spider-Man: India will appear in "Spider-Man: Across the Spider-Verse," which is in theaters on June 2nd.