Spider-Man: Across The Spider-Verse Will Introduce A Multiverse Mashup Of Mumbai And Manhattan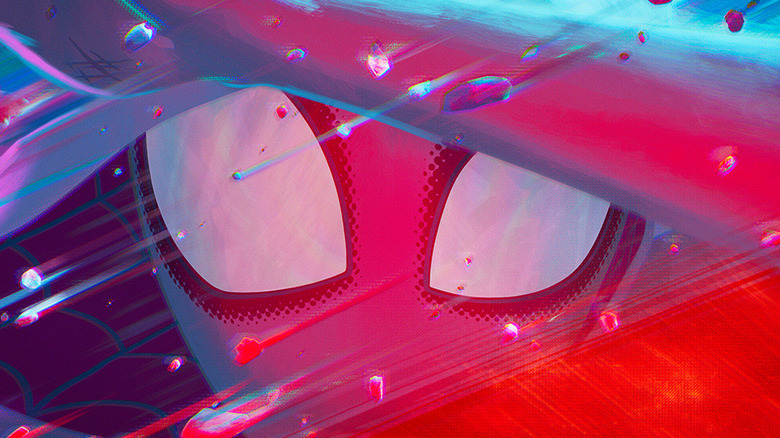 Sony Pictures Entertainment/Marvel Entertainment
Prepare to meet a whole new batch of spider-people. "Spider-Man: Across the Spider-Verse" will continue to expand upon Miles Morales' (Shameik Moore) journey through the spider-verse and introduce him to a bunch of new places and people who also carry the great responsibility of taking care of their chosen cities. 
Among the many spider-folks who will join Miles' adventure include Miguel O'Hara (Oscar Isaac), Jessica Drew (Issa Rae), and Hobart "Hobie" Brown (Daniel Kaluuya). In fact, 200 unique spider-characters were apparently designed for the film. That means Miles is going to be doing a lot of universe hopping himself during the movie, and we're going to get to see a bunch of different corners of the multiverse that branch beyond Miles' version of New York City.
To wit, a recent interview with the film's writers — Phil Lord and Christopher Miller– hints that we're going to go to a brand-new place where Miles has never been before. It's a mashup of Mumbai and Manhattan, where one very special spider-person dwells.
Miles and co will travel to Pavitr Prabhakar's world
Per the Spider-Man: Across the Spider-Verse's YouTube Afterparty, which features "Spider-Man: Across the Spider-Verse" co-writers and co-producers Phil Lord and Christopher Miller along with Gwen Stacy voice actor Hailee Steinfeld, the film will visit Mumbattan. The locale is a blend between Mumbai and Manhattan and is the dwelling place of Pavitr Prabhakar's Spider-Man India. 
Miller explained that they drew visual inspiration for Mumbattan directly from the "Spider-Man: India" series of comics. "The idea for this dimension is that it's Manhattan, but in reverse," Lord added. "Instead of it going up it goes down."
Fans already knew they were going to meet Prabhaker thanks to a bunch of stunning "Spider-Man: Across the Spider-Verse" concept art which was released on December 13, 2022, but this is the first time we've ever gotten a glimpse at the world where he lives. To see more, audiences will have to wait until the film hits theatres on June 2.