Where You've Seen Renfield's Nicholas Hoult Before
Universal Pictures
After a brief run in theaters in April 2023, Universal Pictures' latest horror movie offering "Renfield" has made its debut on digital video. Starring Nicholas Hoult as the title character, "Renfield" is a sequel of sorts to Universal's classic 1931 monster movie "Dracula," starring Bela Lugosi in the title role and Dwight Frye as his servant, Renfield. In "Renfield," the role of Count Dracula is assumed by Oscar winner Nicolas Cage.
"Renfield" takes liberties with the events of the original "Dracula," in which both Count Dracula and Renfield perished. On the flip side, "Renfield" scrubs away that idea, starting the film by inserting Cage's and Hoult's versions of Dracula and Renfield into various classic scenes from the 1931 picture before zooming the action forward 90 years to the present day. In modern times, Renfield, who is slowly but surely nursing Dracula back to full health after a near-fatal attack decades before, realizes that he and his boss have co-dependency issues and he's desperately seeking a way to get out of their toxic relationship.
The biggest departure for "Renfield" is that the material has turned from thrills and chills in the original "Dracula" film to comedy and gory horror in the new film. As such, Hoult has a chance to show off his comedic chops, one of the many talents he's displayed over the years as an actor. Here's where you've seen Hoult on screen before.
Hoult's breakthrough role happened opposite Grant in About a Boy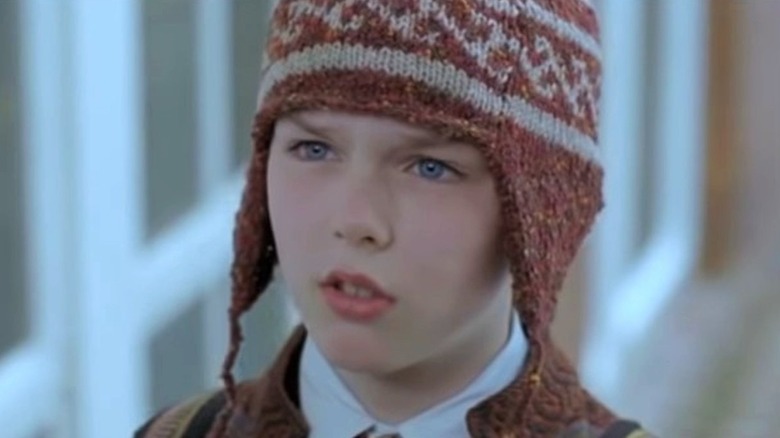 Universal Pictures/YouTube
Nicholas Hoult was born on December 7, 1989, in Wokingham, Berkshire, England, and in 1996, he kicked off his screen career in the British comedy "Intimate Relations." A dozen roles followed Hoult's debut, leading to his breakthrough turn as Marcus Brewer opposite Hugh Grant's Will Freeman in the 2002 comedy-drama "About a Boy," which also starred Toni Collette and Rachel Weisz.
Adapted from the bestselling novel by Nick Hornby, "About a Boy" keys in on the unique bond shared between the freewheeling and somewhat deceptive Will and Marcus — the fragile, socially awkward 12-year-old son of Fiona (Collette), who suffers from bouts of depression.
"About a Boy" was a hit both theatrically and on the awards circuit, earning an Oscar nomination for best adapted screenplay. Grant, Collette, and Hoult earned several nominations from critics groups, including a notice for Hoult for best young actor-actress from the Critics' Choice Association — recognition that no doubt elevated the actor's name going forward.
Hoult first starred opposite Cage in The Weather Man
"Renfield" served as a reunion for Nicholas Hoult and Nicolas Cage since the actors first appeared together in the 2005 comedy-drama "The Weather Man." In the film, Cage plays David Spritz, a popular and very successful news weatherman in Chicago whose personal relationships with his famous father, Robert Spritzel (Michael Caine), as well as his own family, are in shambles because of the demands of his career.
Hoult plays David's son, Mike Spritzel (David shortened his name for professional purposes), who lives with his mother and David's estranged wife, Noreen (Hope Davis), in New York. Seeking redemption for his past family failings, David hopes to relocate to New York to reconcile with his family.
In an interview with VRAI Magazine at the red carpet premiere of "Renfield," Hoult reflected on "The Weatherman" and his work with Cage in the film, saying, "[It's] a movie that I'm really proud of and I think it stands the test of time."
"Renfield," Hoult added, gave him the opportunity to expand upon what he had already learned from Cage at a young age. "To get to reunite with him on this and learn more from him — you know, I learned a lot when I was 14 — but as an adult going back to work with him again and having more of an appreciation of his filmography and the work he's done, and iconic characters he's created, I felt really lucky," Hoult told VRAI.
Playing Hank McCoy brought out the Beast in Hoult in the X-Men films
The original "X-Men" movies that starred the likes of Patrick Stewart, Ian McKellen, Halle Berry, and Hugh Jackman took a look back at the beginnings of the mutant superhero squad in 2011 for "X-Men: First Class." The film examined the origins of Professor Charles Xavier aka Professor X (James McAvoy), Erik Lensherr aka Magneto (Michael Fassbender), and Raven Darkholme aka Mystique (Jennifer Lawrence), as well as Dr. Hank McCoy and his blue-furred alter-ego Beast (Nicolas Hoult). Hank/Beast was previously portrayed on the big screen only once before, as Kelsey Grammer starred as an older version of the character in 2006's "X-Men: The Last Stand."
Hoult reprised the young Hank/Beast for three more "X-Men" films: 2014's "X-Men: Days of Future Past," 2016's "X-Men: Apocalypse," and 2019's "X-Men: Dark Phoenix." In 2018, Hoult made a brief but funny cameo in Beast form with some of "X-Men" stars, including McAvoy, in Ryan Reynolds' superhero comedy "Deadpool 2." The setup was perfect, considering Wade Wilson/Deadpool (Reynolds) was staying at the Professor X estate, aka the X-Mansion.
Holt played a zombie with heart in Warm Bodies
While most zombie thrillers tend to show the dark side of the walking dead, "Warm Bodies" flipped the script by giving some of the flesh-eating beasts — including R (Nicholas Hoult) — beating hearts (eventually), and as such, a chance to revert back to their human selves.
Released in 2013, "Warm Bodies" picks up eight years into a zombie apocalypse, where R encounters Julie (Theresa Palmer), a human on the hunt for medical supplies. The fateful meeting restarts R's heart, but as he moves toward Julie, a battle ensues and the zombie kills the woman's boyfriend Perry (Dave Franco). Zombies, of course, eat brains, and by eating Perry's inner noggin, he begins to retain the dead man's memories, turning him more human. At that point, the zombie thriller turns into a romantic comedy — a zomcom? — accompanied by blood, guts, and gore.
If "Warm Bodies" did anything, it established Hoult as a convincing horror comedy actor, which clearly came in handy a decade later with "Renfield" and the film that preceded it.
Hoult was nuts for Nux in Mad Max: Fury Road
The "Mad Max" franchise originated in 1979 by director George Miller and actor Mel Gibson in the title role, and the film series was given a major upgrade in 2015 with "Mad Max: Fury Road." Miller returned to the director's chair for the post-apocalyptic thriller, which this time starred Tom Hardy as Max Rockatansky, who was joined by Charlize Theron's Imperator Furiosa in a fight along the stretches of desert wasteland against the menacing ruler Immortan Joe (Hugh Keays-Byrne).
Among Immortan Joe's army of War Boys is Nux (Nicholas Hoult), a bald-headed, emaciated pursuit driver raised in Joe's Citadel. Nux, who is struggling to survive his terminal illness, uses the captured Max as a "blood bag" for transfusions to keep himself alive. Also, with a strange desire to worship machinery, Nux has a penchant for spraying chrome-colored paint on his lips, teeth, and mouth, but that's not where the strange happenings end.
Describing Nux as "a bit of an odd-looking fella," Hoult told ScreenSlam in 2015, "He looks like he's been in some weird Shake-and-Bake where he's covered in white clay and then almost looked skull-like because [he and his fellow War Boys] wanted to emulate death. Then there's all of these scars [and] I've got a broken nose piece and scarification-like branding from Immortan Joe on the back of you."
On top of that, Hoult added, his love for machines was represented by a V8 engine block-like scar on his chest, which — combined with all his other body modifications — created a "really strange, cool look."
The Menu served up another horror comedy for Hoult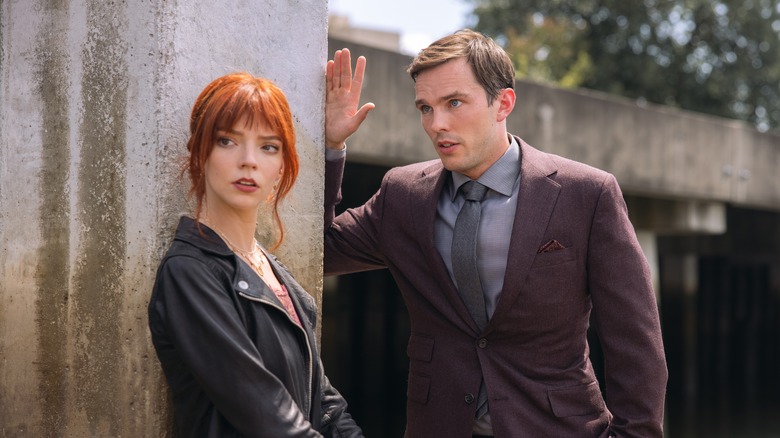 Searchlight/Disney
The foodie culture got a serious skewering in 2022 thanks to the talents of Nicholas Hoult, Anya Taylor-Joy, and Ralph Fiennes in the delicious horror-comedy satire "The Menu." Holt stars as Tyler, a hardcore, rich-kid foodie who brings his date, Margot (Taylor-Joy), to a reclusive island restaurant where a celebrity chef, Slowick (Fiennes), has prepared a special menu for his highfalutin guests.
As each course gets weirder and weirder and shocking incidents start unfolding, Margot and several guests except Tyler desperately try to get the hell out of Dodge. Tyler — a Slowick sycophant — is more intent to brush off all of the madness in favor of his obsession with the famed chef's creations.
"The Menu," not surprisingly, left Hoult stuffed. In an interview with The Hollywood Reporter, Hoult said that since director Mark Mylod shot the film with roaming cameras, he didn't know when he'd appear on screen so he ate constantly. As it turns out, eating all the time wasn't completely out of character.
"I ate tons because Tyler is meant to be someone who is all about the food and a bit of a glutton," Hoult told THR. "He's greedy and just wants to drink in this whole experience. So, I ate so much. I'm not someone who's particularly smart, in general, but also specifically about the idea of pushing food around a plate during a dinner scene and then not actually eating much. With Tyler, I just had to be constantly eating."