Why Lt. Hart From The Tomorrow War Looks So Familiar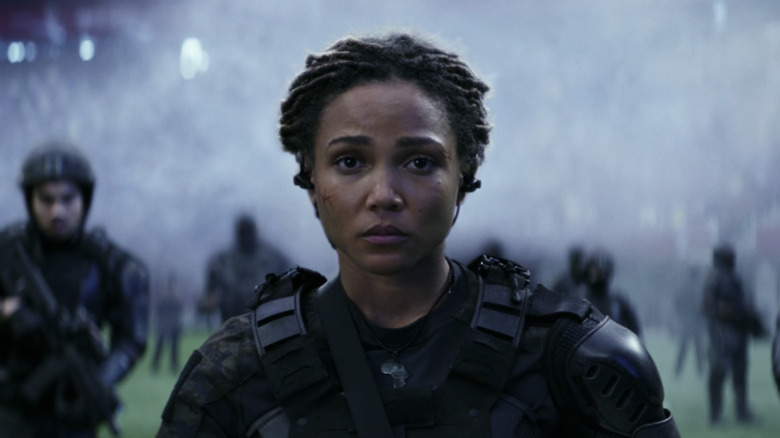 Netflix
The Amazon Prime Video original "The Tomorrow War" is a science-fiction action film that centers around a squad of modern-day soldiers who are transported to the year 2051 in order to fight off an alien invasion – with most of these soldiers being draftees from across the world. The members of this squad include former biology teacher and Green Beret James Daniel "Dan" Forester Jr. (Chris Pratt), a former scientist named Charlie (Sam Richardson), and the terminally ill Dorian (Edwin Hodge).
Earth is originally notified of the impending alien invasion in December 2022, when several future soldiers travel back in time to interrupt the World Cup and deliver the news. These include Lieutenant Hart, who delivers this unfortunate news to the crowd. If you thought this futuristic commander looked familiar when she popped into the middle of the World Cup stadium, it's because she's played by Jasmine Mathews, who has appeared across a wide variety of film and television projects since 2017. Here's where you might have seen Mathews before her appearance in "The Tomorrow War."
She had a main role in Heathers
Jasmine Mathews' first major role came in the 2018 black comedy series "Heathers" – which is based on the 1988 film of the same name, and centers around a high school girl named Veronica Sawyer (Grace Victoria Cox) who joins a clique of popular girls each named "Heather."
The group (which essentially rules over the social sphere of Westerberg High School) includes Heather Chandler (Melanie Field), a social media influencer, social activist, and the most popular girl in school, Heather Duke (Brendan Scannell) a non-binary member of the group who is incredibly narcissistic, and Heather McNamara – played by none other than Mathews. Fans of "Heathers" will know that McNamara is perhaps the most scandalous member of the group, becoming a social outcast after she has an affair with a member of the school faculty — which also outs her as bisexual, having previously identified only as a lesbian.
Although "Heathers" only lasted one season before its cancellation in 2019, there's no doubt that this series helped to launch Mathews' career to new heights – since her only prior role was a brief appearance on the police procedural "Blue Bloods."
She had important roles in two police procedurals
As previously mentioned, Jasmine Mathews' first confirmed acting credit was a short but essential part in a "Blue Bloods" episode from 2017, titled "Brushed Off." In the episode, she played a hotel employee named Darla Vickers, who quickly becomes the prime suspect in the murder of basketball player Roland Jeffries (Sam Moko), who was found dead at Darla's hotel. As the episode unfolds, it's revealed that Darla and Roland had a one-night stand a year prior that left Darla pregnant, and she poisoned him with potassium chloride to get revenge on Roland for walking out on the baby. 
Mathews would return to the police procedural genre in 2019, joining the Nathan Fillion-led ABC crime drama "The Rookie."  Mathews appeared in seven different episodes throughout Season 2 of "The Rookie," playing Lucy Chen's (Melissa O'Neil) old college friend Rachel Hall — who later begins a relationship with Tim Bradford (Eric Winter). Though she would depart for New York City at the end of Season 2, Rachel's ongoing relationship with Bradford was a major storyline throughout the season, and it represented yet another memorable television role for Mathews.
Mathews starred in The Man from Toronto in 2022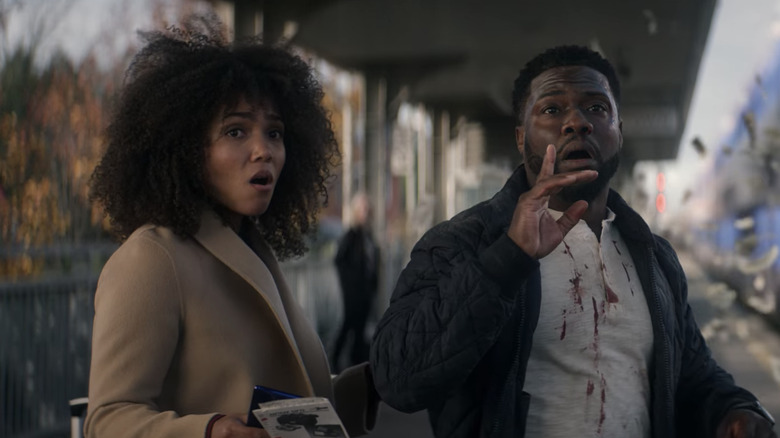 Netflix
Following her aforementioned appearance in "The Tomorrow War" in 2021 (in which she helps to kick off the entire movie with her shocking appearance during the 2022 World Cup), Jasmine Mathews earned a spot in a major Netflix original movie.
2022 saw Mathews starring in the "The Man from Toronto," which starred Woody Harrelson and Kevin Hart as an assassin (Harrelson) and an incompetent entrepreneur (Hart) who are mistaken for one another and subsequently wrapped up in an international adventure. Mathews plays Lori, the wife of Hart's character Teddy. The mix up between Teddy and the legendary hitman known as "The Man from Toronto" actually only happens because Teddy tries to take Lori on vacation to Onancock –- arriving at the wrong cabin and being captured in an FBI raid on the premises.
Lori ends up leaving Teddy later on in the film after realizing that he lied about his job and the entire ordeal at the cabin, though thankfully, the two reconnect in the film's final moments when he races to the train station to confess his love, destroying The Man from Toronto's car in the process. Although her screen time is minimal, Jasmine Mathew is once again an essential part of the film; having a major impact on both the story and the lead character.