White Men Can't Jump Review: No Person Should Watch
The original "White Men Can't Jump" is hardly an unimpeachable classic that can't be remade, but it remains one of the high-water marks of the sports comedy genre more than 30 years after its original release. Woody Harrelson and Wesley Snipes share an infectious screen chemistry, the financial strife of the characters helps it resonate beyond its core audience of basketball obsessives, and quite crucially, it's very funny. Even Stanley Kubrick included it within his list of favorite films. It feels like a product of its era without feeling particularly dated, something which unfortunately can't be said of this long-in-the-works remake courtesy of director Calmatic.
The mononymous filmmaker has carved out something of a niche for himself directing lame remakes of early 1990s comedies, with this being his second of 2023 so far, following his swiftly memory-holed take on "House Party." However, the blame can't be laid entirely at his feet for this uninspired romp, which bears all the tired comic hallmarks of its co-screenwriter, "Black-ish" creator Kenya Barris.
More dated than the '90s version
The original narrative may have been grounded within the subversion of expectations that a white guy could be good at shooting hoops, but there was more to those characters than the differences between their cultural backgrounds -– and, crucially, the comedy didn't solely rely on this for laughs. This time around, not a single sequence goes by where down-on-his-luck hustler Jeremy (rapper Jack Harlow) and former basketball protégé Kamal (Sinqua Walls) aren't bickering about the stereotypical way one views the other. If it weren't for cultural references name-checking everything from Ed Sheeran to OnlyFans, you'd assume this was a script from the 1970s that had been dusted off by accident.
Kenya Barris has been called out several times — so much so that he responded to the criticism in an interview with Essence — for his "obsession" (in his critics' words) with writing about interracial relationships in a manner that resorts frequently to tired clichés, something which hit a fever pitch with his directorial debut "You People" earlier this year. Perhaps the most noteworthy thing about his take on "White People Can't Jump" is that it shows this recurrent theme in his work isn't restricted to how he depicts romantic partnerships.
The broad bones of the story are the same as before, although some of the specifics have changed. Walls' character is a near-professional who gets recognized in the street like Wesley Snipes' equivalent never was, for example. Harlow's character hews far closer to the one Woody Harrelson played, although he's sketched more thinly — his personal financial struggles are the singular defining factor in his relationship with his partner Tatiana (Laura Harrier), who consequently feels underwritten in comparison to her counterpart played by Rosie Perez in the 1992 original. 
But even as she's defined entirely by telling her boyfriend to get a job, and her dream to work as a dancer, she feels like a richly fleshed-out character in comparison to Kamal's girlfriend Imani, played by Teyana Taylor. Both female characters exist egregiously to cheer on or criticize their partners from the sidelines, another aspect of the screenplay that feels stuck in the past, even if one of them lands a very contemporary job as an assistant choreographer for SZA.
An uninspiring romp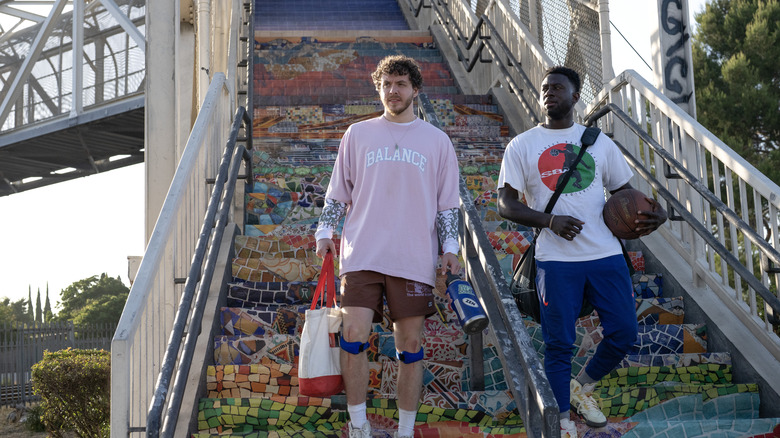 20th Century Studios
There's nothing wrong with the performances here — the two leads only fall short because they're being positioned to be compared with Woody Harrelson and Wesley Snipes, a battle that they could never win. I suspect Jack Harlow will be the beneficiary of several scathing reviews on account of being a chart-topping star making a sudden jump to acting, and in a role that will undoubtedly have viewers mentally critiquing him for not being Harrelson, no less. The truth is, he's perfectly fine, managing to land a few laughs and leaving the lingering impression he'd land more were he working with better material. He's a far less convincing dramatic actor than his considerably more captivating co-lead, although it only takes a brief supporting turn from Lance Reddick (in one of his final posthumous releases) as Kamal's sick father to show them both up. But then, as a long-working character actor, Reddick knew how to squeeze the most out of uninspiring material in a way that isn't yet second nature to his younger co-stars at the center.
Director Calmatic, like filmmakers ranging from David Fincher to Spike Jonze before him, has graduated from the school of music videos, making the jump to features after helming promo clips for the likes of Kendrick Lamar and Lil Nas X (whose "Old Town Road" video bagged him the Best Director VMA). But it's hard to find any evidence of the inventiveness he brought to that other medium here, with no creativity in how its sporting sequences are blocked or shot -– and, more damningly, the use of music that sounds like somebody in the editing suite playing their Spotify playlists over the top of random sequences. Only a late-in-the-film use of Ed Sheeran's "Shape of You" proves memorable, and that's entirely because it calls back to a joke earlier in the narrative. It seems implausible that a director who honed his craft in a musical art form couldn't incorporate an eclectic soundtrack into the drama in such a neat way. The filmmaker has cited Spikes Jonze and Lee as influences on his style, but this feature doesn't demonstrate that he shares their inherent musicality in any way, even as the latter gets lovingly name-checked as the greatest living American director in one sequence.
The final question to ask: Will an audience member who is unfamiliar with the original movie, such as the Gen Z crowd this is pitched directly to, respond to it more than critics? I suspect not entirely, considering the underwhelming critical reaction that greeted "You People" — with which it shares more than a few tired comic ideas –- when it premiered on Netflix earlier this year. Harlow has already signed on to star alongside Matt Damon and Ben Affleck in an upcoming heist thriller, so his acting chops will be given a better workout there. The best I can say for him here is that he is in no way responsible for any of the film's embarrassing moments, doing his best to try and elevate a comedically uninspiring script. Both he and Sinqua Walls prove affable screen presences despite the material they're given — it's not hard to imagine a version of this movie that would have served them both better and not so easily resorted to cliché at every turn.
"White Men Can't Jump" premieres on Hulu on May 19.