Who Did Evan Peters Play In One Tree Hill?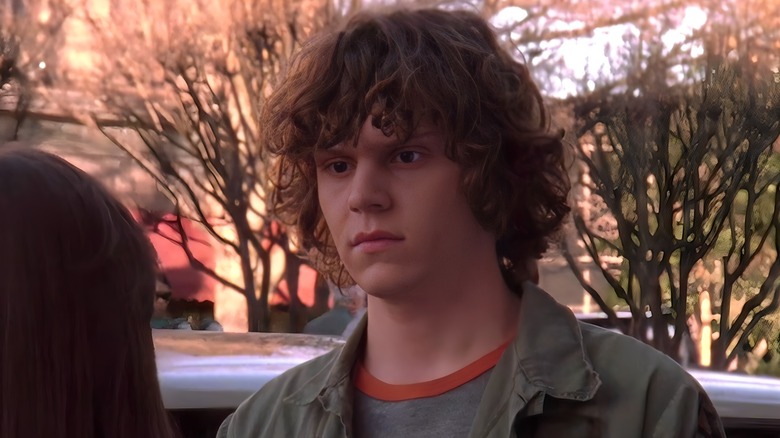 The CW
Evan Peters exploded onto the acting scene in 2011 with his breakout role in "American Horror Story" Season 1, playing a sociopathic ghost named Tate Langdon who, when alive, was responsible for murdering 15 of his classmates. Peters would go on to play a variety of characters in "American Horror Story" for the greater part of a decade, and during this meteoric rise in popularity he also starred as Peter Maximoff in the "X-Men" film franchise and Detective Colin Zabel in "Mare of Easttown."
While many fans are familiar with Peters' work after his career-altering part in "American Horror Story," it's worth mentioning that one of Peters' earliest roles actually came in the beloved teen drama series "One Tree Hill," in which he starred from 2008 to 2009. Throughout the sixth season of "One Tree Hill," Evan Peters played a high school student named John "Jack" Daniels, who became a recurring love interest of Samantha "Sam" Walker (Ashley Rickards) — another character who only appeared in Season 6.
The duo bonded quickly over their past experiences growing up in foster care, and although the more important storyline from Season 6 actually concerned Jack's brother Xavier Daniels (Devin McGee), Jack was still an important character throughout the season.
Peters' character had a tragic story in One Tree Hill
The CW
Although it's obvious from the first moment Evan Peters appears on the screen that Jack Daniels is a deeply troubled teenager, it's not until we meet his older brother Xavier that we truly understand why. With their parents out of the picture, Xavier is the primary caretaker and de-facto father figure in Jack's life — and is shown to be verbally abusive to Jack at home.
Xavier not only robs and attacks main character Brooke Davis (Sophia Bush) after overhearing a conversation about her between Sam and Jack, but he also murders a student named Quentin Fields (Robert Lee Jones III) during an unrelated gas station robbery. Later in the season both Sam and Jack are held captive by Xavier, only for Brooke herself to arrive at the house and knock out Xavier with the butt of a pistol. This exciting climax ends with Xavier being locked up in jail and Jack leaving the town to stay with foster parents, having lost the final member of his family and feeling truly alone once again.
While Evan Peters' brief appearance on "One Tree Hill" is certainly one of his more tragic roles (especially given that Xavier reappeared in Season 9, and Jack did not), it's still very interesting to see the young actor in one of his first major roles before "American Horror Story."