Who Played Beetlejuice In The Original Film?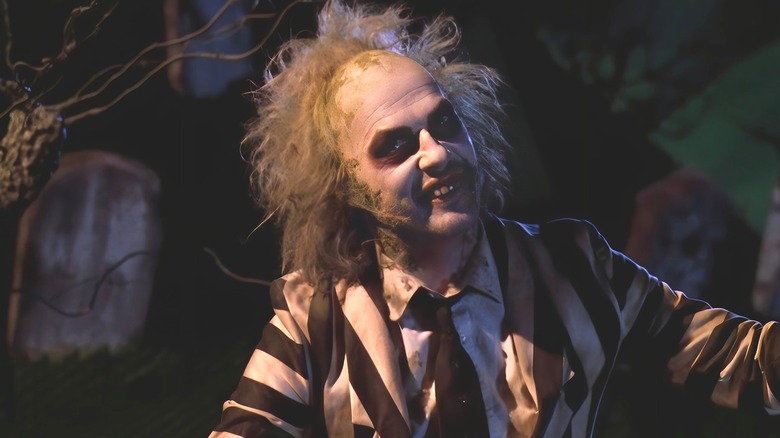 Warner Bros.
Beetlejuice. This simple compound word immediately invokes imagery of a friendly waving beetle and perhaps a floating carton of juice — at least when one is playing charades. Originally released in 1988, "Beetlejuice" begins with the happily married couple consisting of Adam (Alec Baldwin) and Barbara (Geena Davis). While the two plan to spend their vacation as a staycation and complete tasks around their beautiful home, their serenity is shattered after a tragic car accident. Luckily, or unluckily depending on how one looks at it, Adam and Barbara find themselves as ghosts haunting their former home.
Their house is soon purchased by a high-society family from New York, which greatly aggravates both Adam and Barbara. Turning to supernatural forces, Adam and Barbara soon recruit a freelance bio-exorcist, much to the chagrin of their phantasmal caseworker Juno (Sylvia Sidney). Of course, this roguish "ghost with the most" is played by the indomitable Michael Keaton, who at that point in time was best-known for movies like "Mr. Mom," "Johnny Dangerously," and "Night Shift." It is also important to note that the following year of 1989 saw Keaton become the Caped Crusader in "Batman," which marked the second time the actor worked with "Beetlejuice" director Tim Burton.
Keaton was initially hesitant about Beetlejuice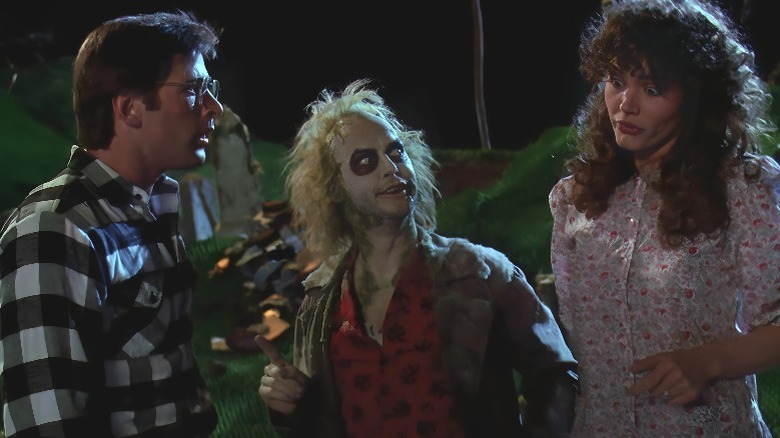 Warner Bros.
Though the correct spelling of the character is Betelgeuse (pronounced Beetlejuice), Michael Keaton stretched his comedic chops with the role, often alternating between soft-spoken and sophisticated to unhinged and highly animated. This is probably what led to such a reception for the character and the animated spin-off show aimed at children, and Rotten Tomatoes notes that "Beetlejuice" still maintains an 86% critic score to this day. Surprisingly, it looks like "Beetlejuice 2" has moved from a dream to reality, and according to Variety, "Beetlejuice 2" has now been confirmed with not only Keaton but Winona Ryder and Jenna Ortega as well. "Beetlejuice 2" currently has a tentative release date of September 6, 2024.
In an interview with Entertainment Weekly, Keaton explained that he was initially reluctant to join the cast of "Beetlejuice," though he eventually relented because he liked Tim Burton personally. However, after finally agreeing to the role, Keaton said, "It was off to the races. I called the wardrobe department and I said, 'Send over racks to my house, clothes all time periods.' I went to the makeup artist, Ve Neill, and said, 'I want mold on my face. My hair has to look like I stuck my finger in an electric socket.' She came up with the eyes, Tim had the idea of the striped suit, and I said, 'These are his teeth. This is his skin. 'Beetlejuice' is the ultimate 'Yes and...' movie, really, because Tim never went, 'Wait, no, you can't do that.' He went, 'Oh, you're going to do that? Cool.'" Considering how classic "Beetlejuice" is, it will be awesome to see Keaton get back into that famous pin-striped suit and distinctive makeup. It's showtime, folks!