Charlie Day Was Worried Fool's Paradise Would Break Ken Jeong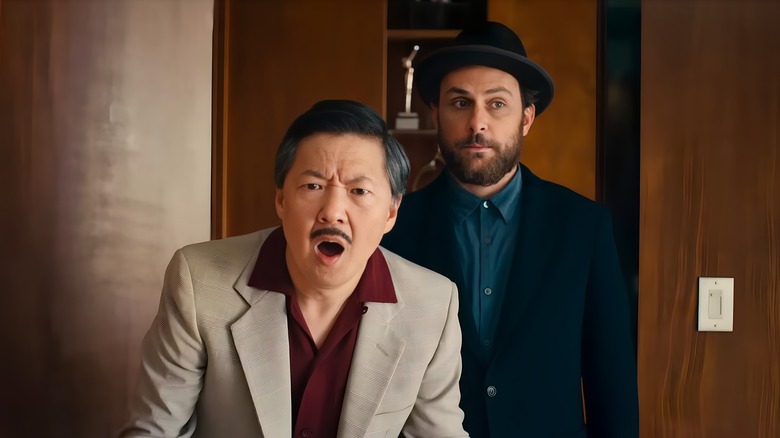 Roadside Attractions/YouTube
The world has been arrested by his singular talent for well over a decade now after the actor broke through screens big and small just before the 2010s. In "The Hangover," Todd Phillip's stylish comedy about a bachelor party gone wrong, Jeong stood out as the bafflingly unpredictable drug lord Leslie Chow; just a few months later, he became a reliable scene-stealer as Spanish teacher Ben Chang on the NBC cult classic sitcom "Community."
In the years since, the actor has effortlessly peppered his resume with countless impressive roles, including the title character in "Dr. Ken" (a series that Jeong also created and produced), a featured cameo appearance in "Avengers: Endgame," a notable supporting role in "Crazy Rich Asians," and a gig as a celebrity host on "The Masked Singer." Yet for the upcoming film "Fool's Paradise," in which Jeong plays a down-on-his-luck publicist desperate to find Hollywood's next big name, the actor apparently faced his toughest role yet — all at the hands of writer, director, and star Charlie Day.
Speaking to his "It's Always Sunny In Philadelphia" co-stars Glenn Howerton and Rob McElhenney on "The Always Sunny Podcast," Day admitted that, as reshoots commenced, he was worried that his demanding vision would overwhelm Jeong. "Sometimes we would do many, many, many takes," said Day. "I pushed him hard. Sometimes I would feel, like, bad ... like, 'I don't wanna break this guy.'"
While filming, Jeong's character morphed into a leading role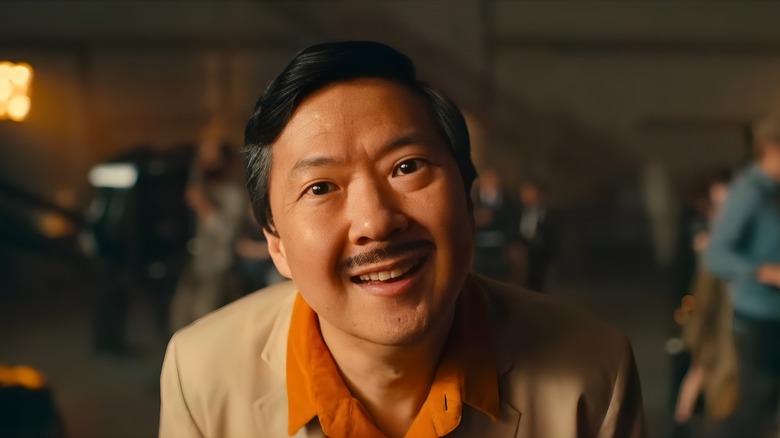 Roadside Attractions/YouTube
According to Day, the reshooting process is where he discovered how central Jeong's character was to the narrative, as well as how vital his performance was to making the story psychologically effective. "I think those emotional moments [with Jeong] are crucial to making the movie work," Howerton offered, to which Day immediately agreed.
While they were shooting additional photography, Day said he would often just try to get more footage of Jeong's character being natural and vulnerable in the environment of the film. It was a learning process for both men, though Day seemed grateful that Jeong was willing to commit so completely, remarking "he was just willing to do it and willing to just be more honest, and I was learning to be more honest as a filmmaker ... and the movie would not work without that ..."
Though Day technically plays the film's titular "Fool" (also referred to throughout the story as "Latte Pronto" by other characters), Jeong's publicist character inadvertently took on the brunt of the storytelling as shooting continued, with Day now describing him as a second protagonist. "I essentially made him the main character," he told his "Sunny" co-hosts. 
While "Community" fans may be excited to see Jeong's usual style amplified by the focus and screentime traditionally afforded to the leading man of a feature-length film, those who have already witnessed it warn that this character is nothing like the Ken Jeong we've come to know.
Ken Jeong's usual comedic style wouldn't work in Fool's Paradise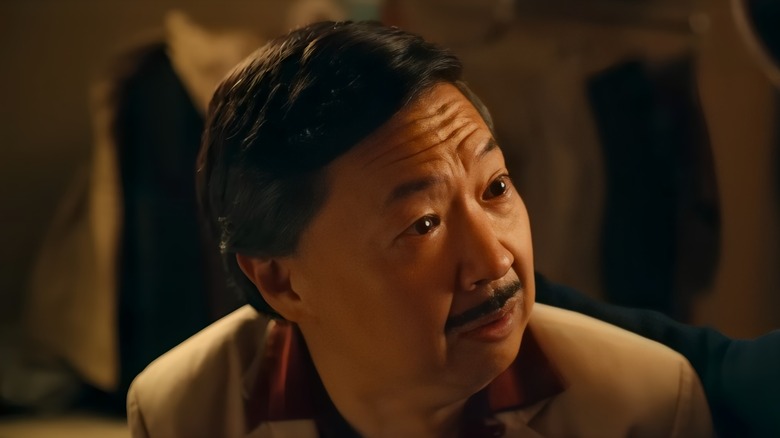 Roadside Attractions/YouTube
Day and his co-hosts tried to distill Jeong's over-the-top yet distinct comedic style in discussing his "Fool's Paradise" role, with Day, in particular, noting "It's almost like a sarcastic, sassy sense of comedy that he does, it's very funny ... " However, the actor-director knew early on that bringing that tone to this story would gravely undermine it. "I remember saying to him, 'Listen, people are used to you doing [this style] ...'" Day said. "'You can't do this for this character, you have to be a thousand percent earnest.'" He described the role as "a real acting challenge" for Jeong.
Howerton asked if the departure from his normal style gave Jeong any anxiety, to which Day replied without hesitation, "No. He is such a dream to work with because he wants to do a great job." All three men and podcast producer Megan Ganz went on to praise Jeong's acting in the film, with Day describing it as "a performance unlike [anything] anyone's ever seen him give."
Day and Jeong star in "Fool's Paradise" alongside Kate Beckinsale, Adrien Brody, Jason Sudeikis, Edie Falco, Jason Bateman, Common, John Malkovich, and the late Ray Liotta. The film hits theaters everywhere on May 12th, 2023.