Ken Jeong On Starring In Charlie Day's Directorial Debut Fool's Paradise - Exclusive Interview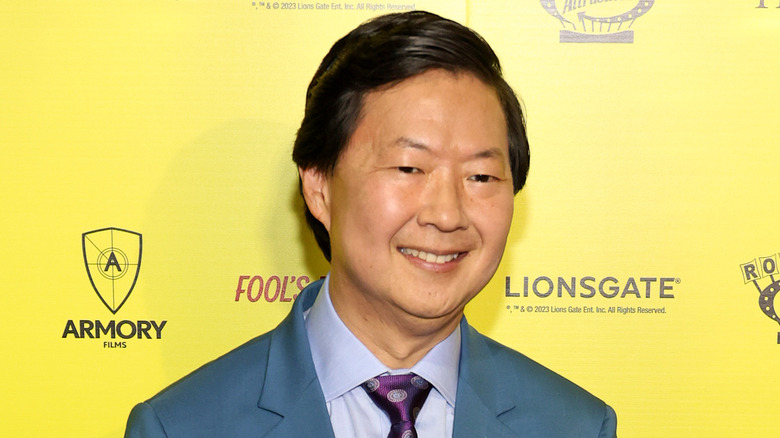 Kayla Oaddams/Getty Images
Ken Jeong needs zero introduction. From his unforgettable performance as Leslie Chow in "The Hangover" to his role on the beloved sitcom "Community" to his panelist gig on "The Masked Singer," Jeong has consistently been making us laugh for the last two decades. Now, Jeong is back on the big screen in "Fool's Paradise," the directorial debut from "It's Always Sunny in Philadelphia" star Charlie Day. 
In "Fool's Paradise," Jeong plays an unlucky publicist who finally catches a break when he discovers a man who has recently been released from a mental health institution — and looks a lot like a famous movie star. An unexpected opportunity presents itself for the unlikely duo, and they attempt to navigate the pitfalls of Hollywood, which is far less glamorous than they'd hoped. Featuring an all-star cast including Kate Beckinsale, Adrien Brody, Common, and the late Ray Liotta, Day's first film is a heartfelt and hilarious homage to the movie business and a celebration of the power of true friendship. As one of the movie's lead characters, Jeong gets to showcase his incredible emotional range as well as his comic chops, stealing the show in the process.
In an exclusive interview with Looper, Ken Jeong opened up about his role in "Fool's Paradise," taking direction from Charlie Day, the much-anticipated "Community" movie, and his breakout appearance on "The Office."
On making an 'emotional buddy comedy' with Charlie Day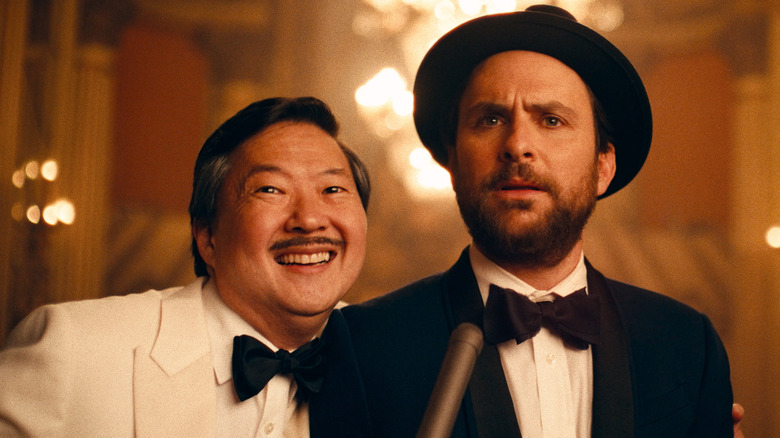 Courtesy of Roadside Attractions
"Fool's Paradise" is an amazing buddy comedy, and it works so well because there's a real warmth between your character and Latte Pronto [played by Charlie Day]. How did you bring that relationship to life?
It's all Charlie Day. This is his baby, and I was fortunate enough to be along the ride. This is — and I don't say this lightly — in my film career, this is the best performance I've ever had, and it's all because of Charlie. He brought out this performance in me, this depth of emotion, that no one has ever done. Not only that, he expanded my character in the reshoots to be the emotional core, and it wasn't necessarily conceived as this emotional buddy comedy. I'm so inspired by what Charlie did.
While we're filming, he realized he could redo it, rewrite it, and then basically a few years later, we all reshot like 27 pages of [the film]. I've never seen anyone do that in live film in my life. You can do that on Pixar films, animated films. "Toy Story" was rewritten for a decade, but I've never seen anything live-action being done quite like this. This was a passion project through and through.
To me, the biggest reward is talking to you — we didn't know ["Fool's Paradise"] would ever be seen. We did it because we love the script and we love Charlie, and to be here talking to you about this blows my mind. It's moments like this that remind me why I wanted to quit my day job as a doctor and become an actor. That is the biggest high, to talk about something that you truly love, and who among us can say that? We do something that we truly love to do, and I really do.
This is all in honor of Charlie, and he deserves his flowers, because he wrote, directed, and stars in ["Fool's Paradise"]. Again, [he] teased a performance out of me that I didn't think I was capable of. There are literally moments in the movie while filming, me telling him, "I don't know if I can do more than this," and then he would push me. Look, I was a doctor, I'm a hardworking actor, I pride myself on my own work ethic, but he works harder. He's that good, and I've learned a lot from him. Working with him inspires me to do even better.
Guillermo del Toro's unexpected influence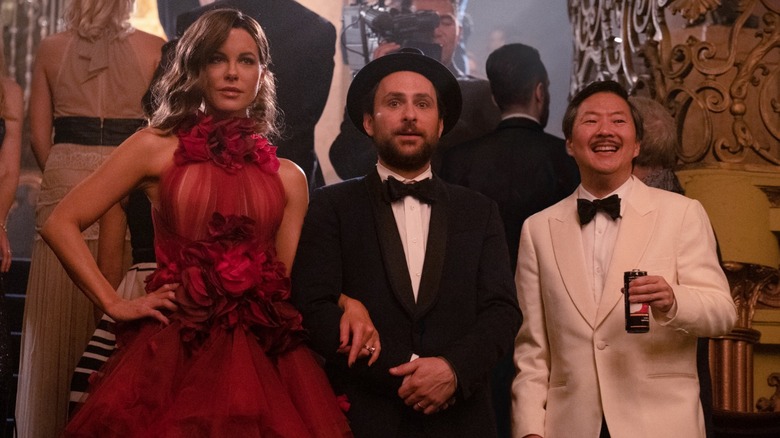 Courtesy of Roadside Attractions
The audience doesn't necessarily have a lot of empathy with your character at the beginning of "Fool's Paradise," but by the end, you completely win us over. What was it like going on that emotional journey?
Charlie [Day] guided me through that because the character was initially conceived to be something else, and then throughout filming, he realized that he had something more, and he wrote to that. Who among us can say that? Not to speak on Charlie's behalf, but I believe it was Guillermo del Toro — who Charlie had worked with on "Pacific Rim" — that saw an initial cut and said, "You should make Ken more the emotional core of the movie." Charlie wrote to that. Who would do that but Charlie? I've never seen that happen before. Flash forward to a few years later — the whole cast returns to do the reshoots, and it becomes a different movie and a better one. It became a deeper movie, and it was great.
Charlie and I kept in contact throughout those five years because I'm always bugging him, like, "When's the movie coming out, or is he going to this or that?" We were always keeping in touch, and he has become a close friend out of this whole journey because I was there. Every time he would text me, "Hey, are you available to do this?" I'm like, "Yep." "Can you do this?" "Yep."
I was always there no matter how busy I was, and I know how busy Charlie is. We'd always make time for each other ... You talk about this being a buddy comedy, a buddy journey. In real life, it's evolved that way behind the scenes. Really, I'm only here for Charlie. I'm only a part. I've been very blessed to do so many amazing things in my career, but in my film career, this is my favorite thing I've ever done.
Ray Liotta is 'missed dearly'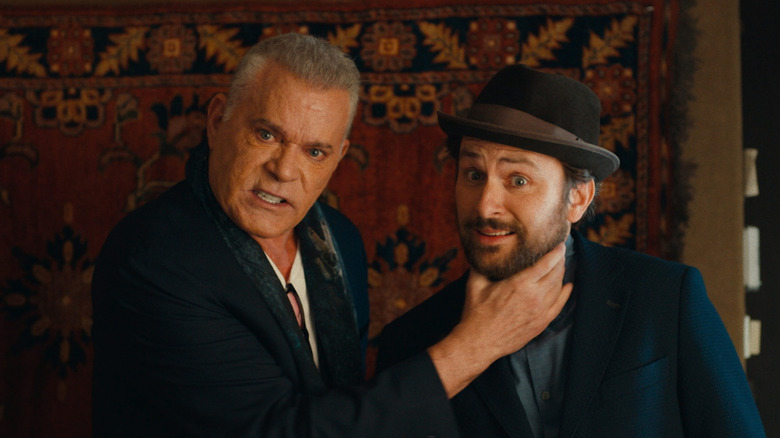 Courtesy of Roadside Attractions
"Fool's Paradise" has an amazing cast. What was it like being on the set with actors like Kate Beckinsale, Ray Liotta, and Adrien Brody?
Kate Beckinsale is so good in this movie. She brings out a comedic performance. For those of you who don't know, Kate can easily do comedy, drama, action. She can do it all. She steals the movie for me, as well as Adrien Brody, who is at his peak. It was great to do scenes with them and get to hang out with them behind the scenes.
Also, everyone is thinking about Ray Liotta right now and dedicating ["Fool's Paradise"] to him because this is one of his final performances, and he is so good in this movie. He's so comedically sharp. You get to see his process and how committed he is and was to his craft. There are a couple things we did in the movie, a couple of tiny scenes where we would have some exchanges — I'll take that for the rest of my life. There is a moment in the movie, his monologue, that I don't want to spoil ... I wasn't even supposed to be there that day, and I hung out on set, watching his monologue. It was like a page and a half. I remember watching all four or five takes of it, and he nailed it in the first take. It was certain things that he would do, and I was like, "This is ..." He is incredible, and he is missed dearly.
It sounds like you'll be back in a heartbeat if Charlie Day makes another film.
Oh, I'll be there to cater, I'll be there to be a medic. I don't have to be on screen. Literally, whatever Charlie wants, I will do because he is ... Again, I love him, love him, love him.
Roasting Joe McHale over the Community movie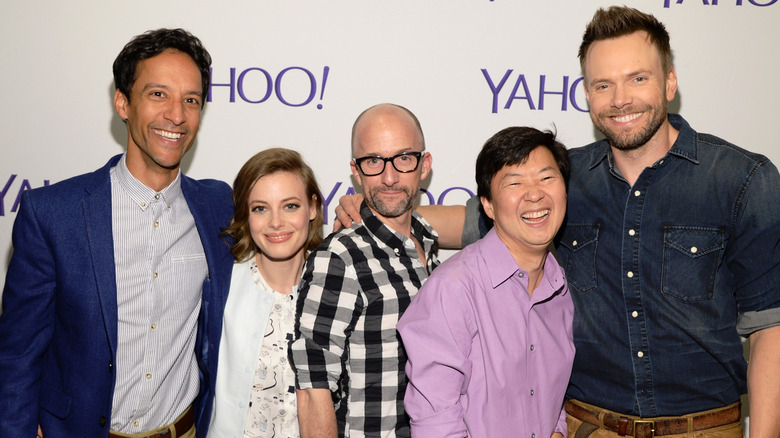 Michael Kovac/Getty Images
You've got loads of projects in the works at the moment, including the "Community" movie. Are you excited to reunite with that cast?
Oh, yeah. Everyone except Joel McHale, I'm very excited to reunite with. Truly, in television, my career will be defined by the "Community" movie. Unfortunately, Joel McHale's a part of it and he's ... We do a lot of things together; we did the "New Year's Eve Toast and Roast." I gave him mercy bookings on "The Masked Singer" when he needed the work.
I know people say we may or may not be best friends in real life. He may or may not be my closest friend in real life, but it's unfortunate that Joel McHale is a part of the movie. I don't think he was the star of it, but it's great that I get to see the other people I want to see. Sorry Joel's in it. You can print that, and I know next time Joel talks to Looper, he'll get back at me on that and I'll get my receipts, I'm sure.
Watching Steve Carell at work
You recently spoke about appearing on "The Office" and how that was a breakout role for you. What was it like working so closely with Steve Carell on your scenes?
Thank you for bringing that up. I don't know if people knew that I was on "The Office." That was one of my first credits, and the [original BBC version of "The Office"] is perhaps my favorite TV show of all time. I watched every episode dozens of times, even when I auditioned for that role in "The Office." What made it special for me was, at that time, it wasn't necessarily a big hit. It was in its first or second season, but I knew the tone instantly. I auditioned for Paul Feig, who directed that episode [and] has become this amazing director, the super director, now a superstar in his own right. I was acting with Steve Carell, who was just coming off "The 40-Year-Old Virgin." Needless to say, I was starstruck by both Paul and Steve. Paul had also co-created "Freaks and Geeks," which I was a huge fan of.
I was only on set for three hours. I had maybe three words, and I remember every single minute of being on that Dunder Mifflin set in Van Nuys [California]. I still remember. Some things you do in your career, you forget what you've done the day before. You get so busy in your life. But it's one of those moments where every time I see anyone from "The Office" ... When I run into Steve, I'll tell him — I'll almost embarrass him — because I'll be like, "I remember every single moment." He's like the LeBron James of comedy. He can do it all. He has the most versatility of anyone I know, and I learned a lot. I wanted to watch his process, and it was fantastic.
Still, to this day, you still see me talk about it. It's 17 years later and it still matters to me. It still resonates. I've even gone on the "Office Ladies" podcast with Jenna Fischer and Angela Kinsey ... I saw [creator] Greg Daniels recently, and we still talk about it ... If you love comedy, you're going to love being on "The Office."
Watch "Fool's Paradise" only in theaters from May 12, 2023.
This interview has been edited for clarity.