Who Does Jack Quaid Play In Oppenheimer?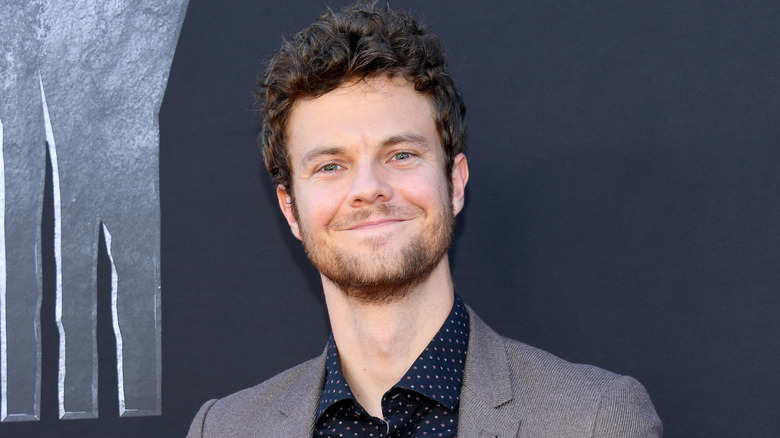 Jon Kopaloff/Getty Images
Ever since his debut in "The Hunger Games," actor Jack Quaid has continued to stack up memorable roles throughout his career. Recently, Quaid starred in the 2022 "Scream" film and his voice can also be heard for the character Brad Boimer in "Star Trek: Lower Decks." But most fans probably know him best as Hughie in Amazon's hit anti-superhero series "The Boys." And while many are probably anxiously waiting to see what shocking and unsettling shenanigans his character Hughie will be up to with the rest of his cohorts against Vought Interntional's worst in Season 4, this summer, they'll get the chance to see Quaid in a vastly different project.
The actor is part of the star-studded cast of Christopher Nolan's "Oppenheimer," where Quaid admitted to GQ that he had to reign in his inner fanboy a bit for Nolan. The actor noted that he was pretty starstruck watching the director at work on set. "Oppenheimer" is a biopic that focuses on J. Robert Oppenheimer and his work on the Manhattan Project. However, while Oppenheimer (Cillian Murphy) is a central figure in the film, he isn't the only scientist at work on the atomic bombs. Along with Oppenheimer, the Manhattan Project contained a team of some of the most intelligent scientists, including theoretical physicist Richard Feynman, who Quaid will portray in the film.
Oppenheimer considered Feynman one of the most brilliant physicists
At the age of 24, Richard Feynman may have been significantly young compared to some of the other scientific heavyweights participating in what would ultimately become the creation of the first atomic bombs. But his intelligence couldn't be denied, especially by J. Robert Oppenheimer. In 1943, when Feynman first joined the secret project at Los Alamos Laboratory, Oppenheimer greatly complimented Feynman writing that he considered him "by all odds the most brilliant young physicist" involved in the project. That's high praise. However, according to some colleagues, Feynman also had a particularly mischievous vibe about him. For instance, some of his more eccentric activities included expertly cracking office safes and cabinets.
Still, that all did little to deter the confidence and praise he got from theoretical division chief Hans Bethe. Bethe and Feynman worked remarkably well together, with Bethe having enough faith in the younger scientist to promote him as a group leader within their division. Feynman was even present during testing for the first bomb. With his life past the Los Alamos Project, Feynman is probably worthy of his own blockbuster biopic. He later won a Nobel Peace Prize and was even a part of an investigation panel into the Space Shuttle Challenger explosion. But in "Oppenheimer," he could potentially serve as one of the film's most intriguing people to watch outside of Oppenheimer himself.