Lacey Chabert Had A Mistaken Identity Meet-Cute While Filming Christmas In Rome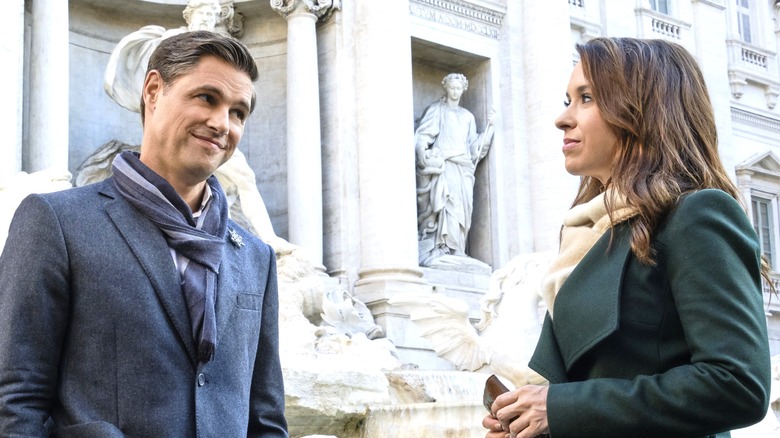 Crown Media United States LLC/Stefano Montesi
In Hallmark movies, love is always just around the corner, and romance during the holiday season is a trademark of films on the Hallmark Channel and Hallmark Movies & Mysteries. That includes "Christmas in Rome," which finds two people accidentally falling in love while learning about the magic of Christmas in Italy. The film begins with American tour guide Angela (Lacey Chabert) crossing paths with rigid businessman Oliver (Sam Page). Part of the movie takes place at the Trevi Fountain, a spot where many people toss three coins in the hopes of finding true love. And it's a tradition that led to an accidental meet-cute for Chabert.
During an interview on Home & Family, Chabert said she was taking in the majesty of the Trevi Fountain in the early morning hours when she thought she spotted the film's assistant director tossing coins into the fountain. "So I didn't want to scare him, you know. So I'm waving, like, 'Hey! Good morning. It's me. It's Lacey. Good morning.' And as he gets closer, I realized I don't know this person, and he's a tourist. And he's just thrown these coins into the fountain for love ...'" she said. She then apologized and told him that they were filming a movie in the area. "I was like, 'Enjoy your trip. Bye.' I was so embarrassed," she added.
Despite the film's name, Rome is not the only location that Chabert and the crew visited while working on this movie.
Another European country stood in for Italy for some scenes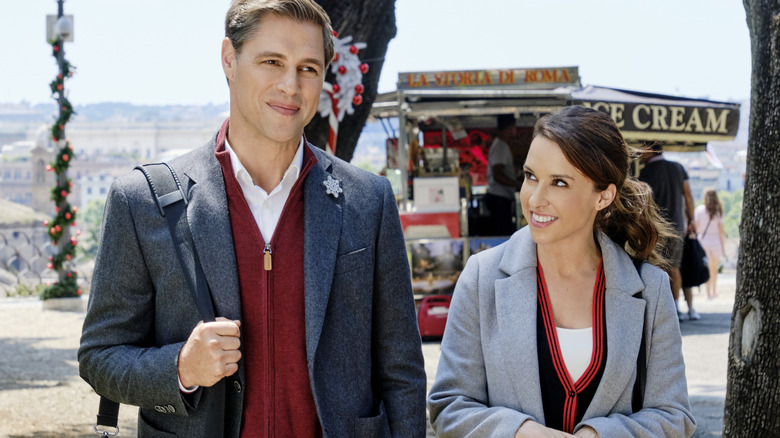 Crown Media United States LLC/Stefano Montesi
While Oliver is set on acquiring a high-end ceramics company just days before Christmas, Angela is on a mission to teach him about the magic of Rome and its traditions during the holiday season. It's an adventure that takes them to several of Rome's iconic landmarks, like the Trevi Fountain and the Colosseum. They even learn the art of making pasta and how to paint delicate ornaments. Lacey Chabert and Sam Page told the Hallmark Channel what it was like filming right in Rome, with Chabert noting its romantic flair, which is something that the city shares with Hallmark. "I think that it's very fitting that we're in Rome shooting this movie," said Page.
But not all of the scenes for "Christmas in Rome" were actually filmed in the city. According to International Business Times, the crew headed to Romania for many of the scenes. In an interview with the Times, Chabert hoped that this film would become a breathtaking spectacle for the armchair traveler. "Whenever we do movies that are in destinations, such as a magical place like Rome, I just want the audience to feel like they went there with us and that they got to take their own tour of Rome by watching this movie ..." she said. For a fully immersive Italian experience, just try to ignore that in many cases, you're actually watching Romania.