Queen Charlotte: A Bridgerton Story And Charles III's Coronation Were A Popular Double Feature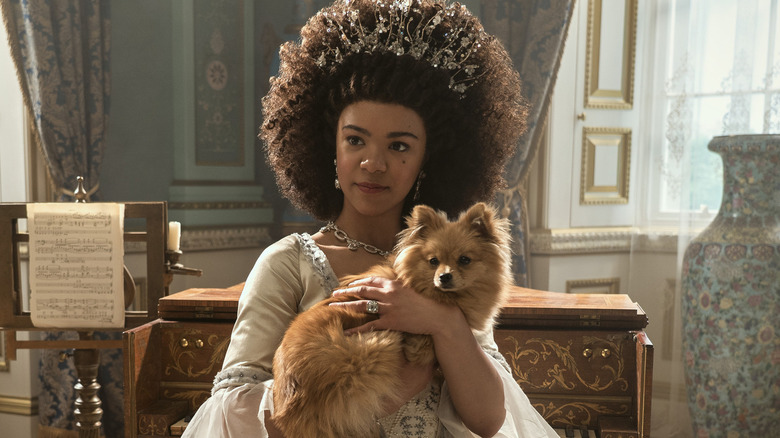 Liam Daniel/Netflix
Showrunner Shonda Rhimes' "Queen Charlotte: A Bridgerton Story" turned out to be quite the disturbance in the Force. May 4 might be regarded as the official day to celebrate all things "Star Wars," particularly with its "May the 4th be with you" slogan, but the new Netflix show dropped with much fanfare on the same calendar date. The prequel spin-off to creator Chris Van Dusen's "Bridgerton" series also paired nicely with the real-life coronation of King Charles III for what turned out to be an unexpected double feature across the pond for many.
In fact, according to Samba TV's Instagram account, the software company reports that 46% of the households in the United Kingdom that streamed the first episode, "Queen to Be," also tuned in for Charles III's crowning ceremony on May 6. Samba TV is a tech company focusing on audience analytics. And, as of June 2021, it was reported that the third-party organization measured viewership numbers in 3 million households with terrestrial-based smart televisions.
All six episodes of the limited-series event can now be viewed on the streaming service, and the earth-shattering numbers are in. "Queen Charlotte: A Bridgerton Story" soared to the top of Netflix's Top 10 for TV (English) viewership with just over 148 million streamers watching the show for the week of May 1 through May 7.
Charlotte and Charles III team up for a royal double feature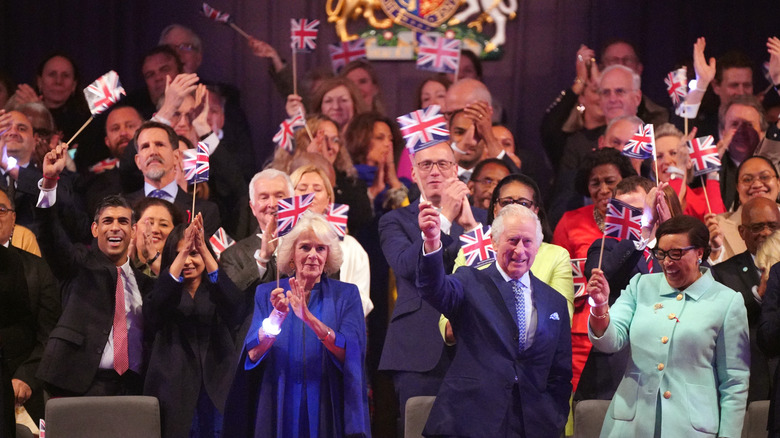 Wpa Pool/Getty Images
"Queen Charlotte: A Bridgerton Story" still has a long way to go if it wants a chance to catch "Stranger Things" Season 4's record-setting 1.35 billion total hours watched. But the new Netflix limited series did find its audience. And in the United Kingdom, those fans who caught the new show's first episode "Queen to Be" kept the royal celebration going, as they also tuned in to witness the coronation of King Charles III and his wife, Queen Camilla, two days after "Queen Charlotte" premiered.
The coronation of Charles III and Camilla also managed to amass its own gaudy statistics. 18.8 million viewers watched the two-hour time frame that included the ceremony Charles III was actually crowned on May 6. And those numbers did eventually reach 20.4 million just after the King's crowning that same day.
Over 12 million viewers also tuned in on May 7 for the coronation concert honoring King Charles III. So, as it turns out, the fictionalized streaming version of the real Queen Charlotte and King Charles III make quite the royal couple when it comes to attaining massive viewership numbers.