Star Wars: When Does Rey Skywalker's Solo Film Take Place In The Timeline?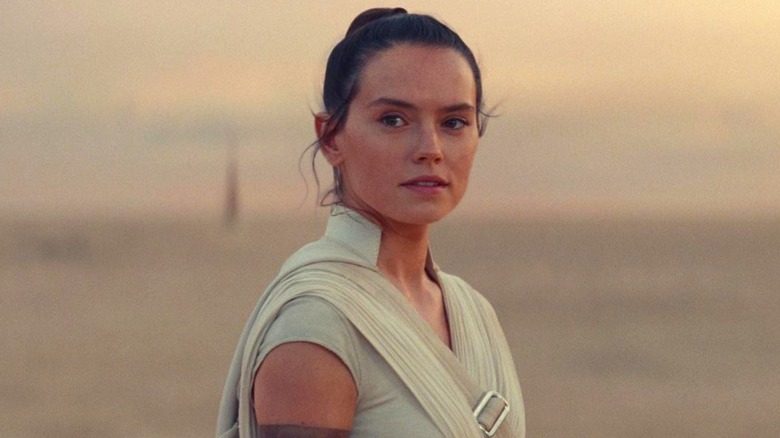 Lucasfilm/Disney
Over the past several years, live-action "Star Wars" stories have found a new home on the small screen through Disney+ projects like "The Mandalorian" and "Obi-Wan Kenobi," among a host of others. However, that doesn't mean that the franchise is going to ignore where it came from going into the future. As announced at Star Wars Celebration 2023, a new "Star Wars" film is on the horizon, with none other than Rey Skywalker — portrayed once again by Daisy Ridley — front and center as she attempts to reestablish the Jedi Order in the wake of the First Order's collapse.
As that brief synopsis indicates, this Rey solo movie will take place after the events of "Star Wars: Episode IX – The Rise of Skywalker." She completes her Jedi training and defeats the resurrected Emperor Palpatine (Ian McDiarmid) in the feature, thus setting her up to train a new generation of Jedi. Exactly how far beyond the conclusion of the Skywalker saga is this tale, though? It was confirmed by Lucasfilm figurehead Kathleen Kennedy at the aforementioned event that when the movie begins, 15 years will have passed since "The Rise of Skywalker" (via IGN).
Of course, the timeline placement of the Sharmeen Obaid-Chinoy-directed film isn't the only thing about this movie fans have on their minds. Naturally, now that we have some idea about what it will entail, folks have begun to wonder who might show up alongside Rey for her next journey.
Who could join Rey in her solo movie?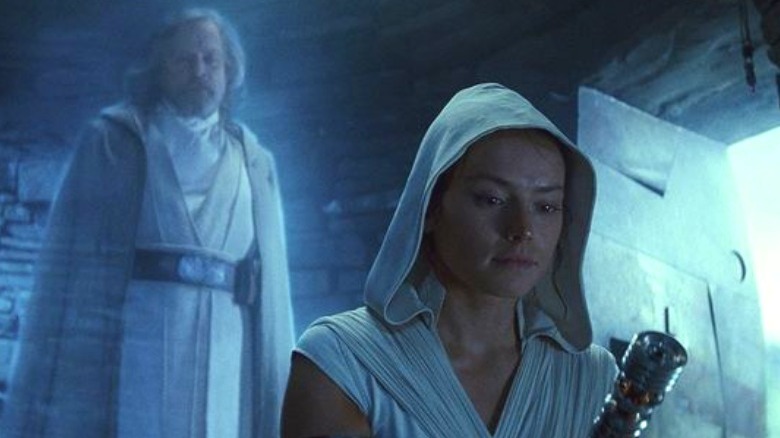 Lucasfilm/Disney
While it stands to reason that Rey Skywalker will be joined by some unfamiliar faces in her solo movie, it's also reasonable to wonder if some other "Star Wars" sequel trilogy staples will join the fray. For those specifically hoping to see John Boyega's Finn finally start his Jedi training, it might be unwise to hold your breath. The actor made it clear in an interview with John Fugelsang that he's not too keen on returning to "Star Wars" anytime soon, so, at least for the time being, it's safe to say he won't appear.
Folks are also curious about the presence of Luke Skywalker (Mark Hamill) in his Force ghost form. As one of Rey's mentors, one has to imagine he could pop up to give her some advice as needed, but according to Kathleen Kennedy in her chat with IGN at Star Wars Celebration 2023, it's not likely. "I don't know if we'll spend a lot of time in flashbacks or [on] Force ghosts or things like that, but certainly, the spirit of what he represents to her is going to be significant," she said. On the other hand, the return of Oscar Isaac as Poe Dameron could be on the table, seeing as the actor is open to a "Star Wars" comeback.
We'll just have to wait and see what surprises the Rey Skywalker movie could bring as it inches closer to its unannounced release date.