The Bee Movie Never Intended For Barry & Vanessa To Seem Romantic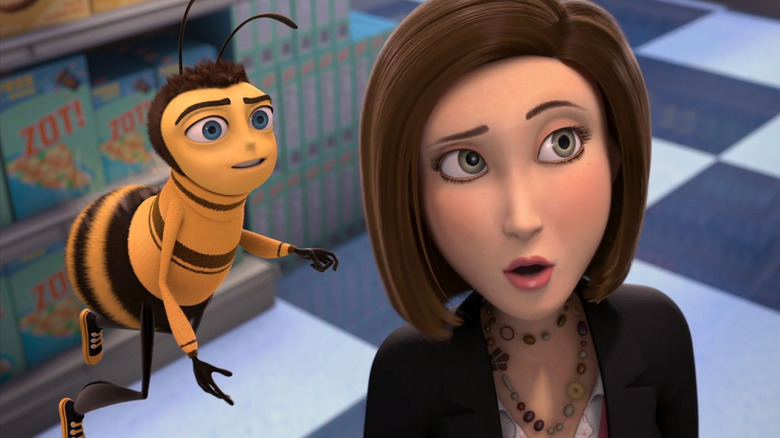 DreamWorks
It can be fun to root for an odd couple. But other times, opposites should not attract. Enter 2007's "Bee Movie," which tells the story of a hardworking bee (voiced by Jerry Seinfeld) who aims to sue the human race for exploiting bees for their honey. Along the way, he gets help and becomes close with florist Vanessa Bloome (voiced by Rachel Zellweger) — maybe a little too close. While there is no explicit romance between the two, fans have nevertheless picked up on the relationship's odd implications, leaving plenty of unwanted imagery to the imagination. And the filmmakers ensure that this was not the goal. 
Co-writer Spike Feresten explained to The New Statesman in a 2017 retrospective that the team did their best to avoid such ideas. "Often we would lose sight of those characters in the room," he said. "They would just be Barry and Vanessa, and we would write this dialogue for Barry and Vanessa, and read it over and have to remind ourselves, well, this is a tiny bee saying this, and the tiny bee is fighting with her boyfriend, so let's dial it back to friend, and make it less romantic, because it's getting weird." 
Funny enough, while star, co-writer and co-producer Jerry Seinfeld also explained on "The Tonight Show" that the implications were unintentional, he admitted that "this is really not appropriate for children." But some years before this statement, kids who grew up on "Bee Movie" got Seinfeld buzzing with ideas.
Seinfeld considered a sequel for six hours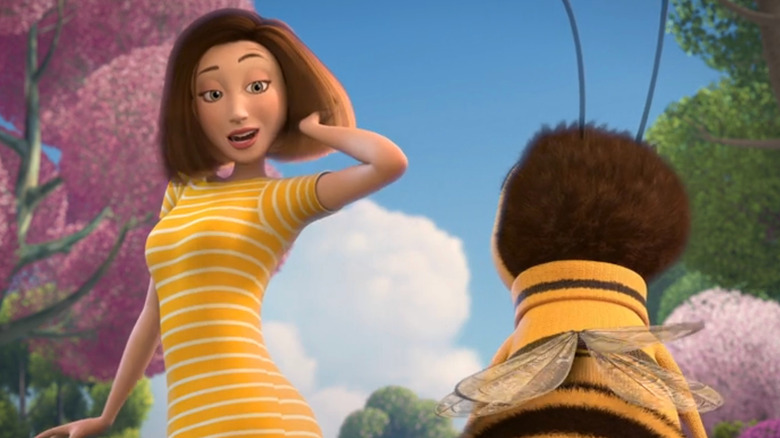 DreamWorks
Chances are, if you've been active on the internet in the last few years, "Bee Movie" has come across your radar at least once. That's because, following the uploading of the film's screenplay online along with absurd fans edits of the film itself circa 2016, the DreamWorks animated feature became a popular meme that spread like wildfire across social media. 
Although the resurgence was certainly out of irony as fans embraced the film's head-turning nature, some felt there was more to the meme movement. In particular, Jerry Seinfeld briefly considered making a sequel to "Bee Movie" amid its popularity. However, his passion for more pollinated antics was short-lived, as he explained on a Reddit AMA when a fan asked about a potential sequel. 
"I considered it this spring for a solid six hours," he says. "There's a fantastic energy now for some reason, on the internet particularly ... I actually did consider it, but then I realized it would make 'Bee Movie 1' less iconic." The "Seinfeld" star goes on to explain that while he's been urged by fans and even his own family, he did not like the idea of returning to the arduous process of animation. And if it was ever going to be as uncomfortable as the first film, this was a sequel worth swatting away at.