Why Jerry Seinfeld Stays Away From Making Movies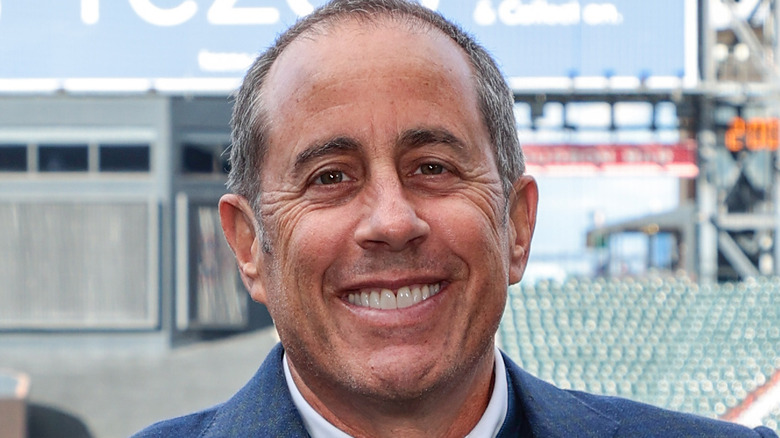 Dimitrios Kambouris/Getty Images
Jerry Seinfeld remains a prominent force in comedy years after his titular sitcom came to a close. "Seinfeld" is still held in high regard and remains highly bingeable content on streaming platforms. Over the years, the comedian has released various stand-up specials and came up with the hilarious "Comedians in Cars Getting Coffee," which sees him driving around town with his peers, discussing a myriad of topics. It's enough to beg the question of why Seinfeld doesn't have a more prominent presence on the big screen. 
Naturally, he's appeared in some movies over the years, most notably with the instantly meme-able "Bee Movie." But in a world where Adam Sandler and Will Ferrell can come out with a new movie every year, it's a bit strange one of the most famous comedians of all time has chosen to keep his distance from the medium. In a Reddit AMA that took place years ago, the comedian explained why he prefers to stick with shorter formats. 
Jerry Seinfeld thinks comedy works better when it's shorter
No doubt Jerry Seinfeld could've had a lucrative career on the big screen if he wanted to. He had already proven himself dominant on television, so a step toward film wouldn't have been out of the question. During a Reddit AMA, one of the actor's fans brings this up, telling him, "How come you don't do movies? You're amazing. Hope all is well."
Seinfeld responded, "I don't do movies because I think generally the size of that content does not lend itself to great comedy; it lends itself to people saying, 'Hey, I made a movie.' To me, the funniest things are shorter, so I think TV series or comedians in cars, I think I have a better chance of making you laugh." After that, a lot of people appeared to be in agreement, including one user who wrote, "Yes thank you for not making tons of mediocre content just to pump it out, as so many comedians do nowadays."
He elaborated on this further during a 2020 interview with David Spade, discussing how films never interested him in the first place because he's always wanted a larger hand in the content he creates. As he told Spade, "I was fine doing ['Seinfeld'], but after that, I wasn't looking. I really feel like I need to control the words, otherwise it won't be funny. I can't do other people's material and make it funny." Sadly with that, it sounds like people shouldn't hold their breath for "Bee Movie 2."