Transformers: Rise Of The Beasts - Who Voices Mirage?
As the seventh installment in the explosive live-action movie franchise, "Transformers: Rise of the Beasts" has some enormous shoes to fill. Fans are excited for the latest addition as it introduces several towering enemies, like the enormous gorilla bot Optimus Primal (voiced by Ron Perlman), who will surely give the Autobots a formidable and memorable showdown. It also features an array of award-winning stars like Peter Dinklage as the razor-sharp Scourge, Michelle Yeoh as the radiant Airazor, and Michaela Jaé (MJ) Rodriguez as the agile Nightbird. Surprisingly, "Transformers: Rise of the Beasts" even includes a notable comedian as the silver and blue Porsche Mirage.
Mirage first appeared in the third film, "Transformers: Dark of the Moon," as a red Ferrari 458, where they were originally voiced by Francesco Quinn. Unfortunately, Quinn died unexpectedly after its release, leading to the character's omission from the subsequent sequels. In "Transformers: Rise of the Beasts," Mirage finally returns with a new look and a new voice, which some may even recognize as the jokester Pete Davidson, from his other hysterical work in film and television.
Mirage is voiced by actor and comedian Pete Davidson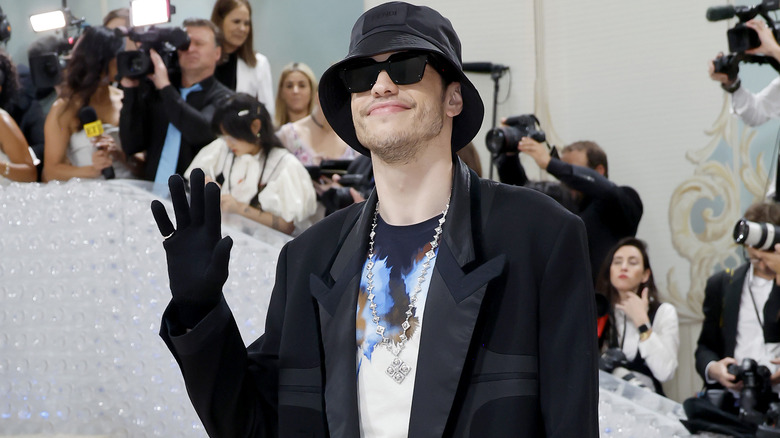 Mike Coppola/Getty Images
In the first clip from the film, we hear the corny dialogue the franchise is famous for — a perfect opportunity for Pete Davidson's comedic skills to shine through. He brings to life Mirage's stylish new ride with a silly breeziness that provides the perfect dose of comic relief. In his new vehicle, the Autobot spy is tasked to protect the electronics genius Noah (Anthony Ramos) and his researcher friend Elena (Dominique Fishback) as they hunt down an elusive key. 
You might remember Davidson from his memorable career on "Saturday Night Live," where he appeared in more than a few ridiculous skits. He also starred in the semi-autographical film "The King of Staten Island" and the similarly styled television show "Bupkis." Davidson even had a brief but exciting part in DC's "The Suicide Squad," in which his character met a quick and unexpected fate. He later reteamed with director James Gunn on Marvel's "Guardians of the Galaxy Vol. 3" in a fun and silly cameo.
In addition to his riotous stand-up comedy, he also played the clumsy fool David in "Bodies Bodies Bodies," lending his particular flavor of zany humor. These comical roles surely prepared him to take on the wackier version of Mirage in "Transformers: Rise of the Beasts."