GOTG 3: Which Character Did Pete Davidson Play?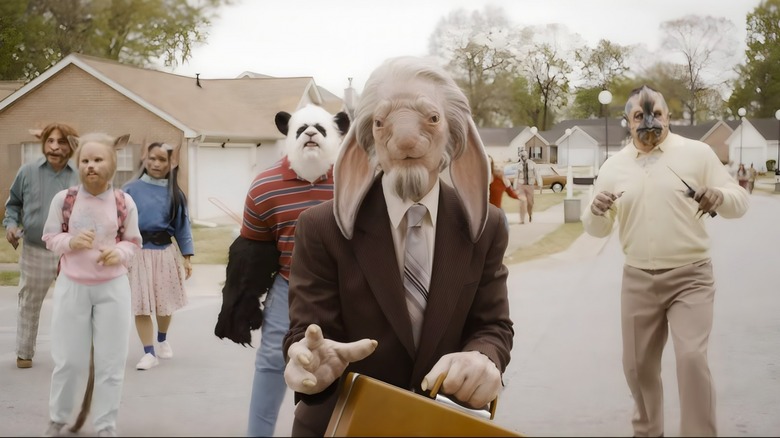 Disney/Marvel Studios
Contains spoilers for "Guardians of the Galaxy Vol. 3"
Almost a decade after Marvel's unlikeliest heroes blasted into theaters, the "Guardians of the Galaxy" trilogy ends with one of the most satisfying conclusions in the Marvel Cinematic Universe. James Gunn says goodbye to the Guardians the only way he knows how: with swearing, needle drops, and the most devastating backstory involving a talking raccoon. Also present to say goodbye is a long list of Gunn's frequent collaborators. Of course, there are the big ones such as Sean Gunn, Nathan Fillion, and Michael Rooker, but one actor may be hard to spot. On Twitter, Gunn revealed that Pete Davidson played the most integral of roles as a bug-eyed alien that appears in the final conflict. As the Guardians rush to save all of the experiments in The High Evolutionary's (Chukwudi Iwuji) ship, Davidson appears in the resulting chaos as Phlektik.
"[M]y friend Pete not only voiced but actually came to visit us in Atlanta for a day and played Phlektik on set," Gunn posted on Twitter. The filmmaker included pictures of Davidson alongside the large cast on set, and of his character, who had maybe 30 seconds of screen time. Thankfully, Gunn opted not to post images of Lambshank, the unfortunate character he voiced himself, as an act of mercy.
James Gunn has an unsurprising sense of humor about his cameos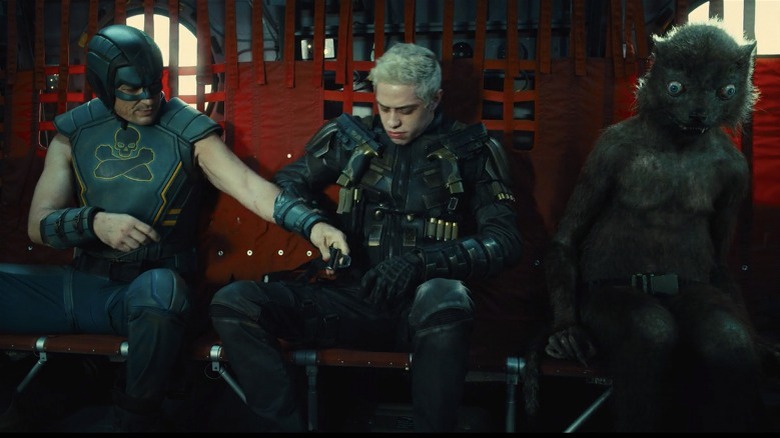 Warner Bros. Pictures
The final chapter in the "Guardians of the Galaxy" trilogy would not be complete without some James Gunn hallmarks. The director has always been free with cameos in his films, and always with a wink. Though not the only actors from "The Suicide Squad" to appear in "Guardians," Nathan Fillion, Michael Rooker, and Pete Davidson all have the honor of not living past the opening credits of the former. This sense of humor is present in "Guardians" as well. Though it has its heartfelt vision of Rooker as Yondu at a pivotal moment, it also features Nathan Fillion of "Slither" fame in an unflattering suit floating around a spaceship. Even Gunn's wife was included in the fun of the sequence — after playing Harcourt in "The Suicide Squad" and "Peacemaker," Jennifer Holland appears as an administrator on the ship.
"Meet Administrator Kwol," Holland posted on Instagram. "Aptly named, this acronym stands for Kick-ass Woman OverLord. I'm not sure if @jamesgunn, who named her, knows that is what her name stands for ... but obviously it's true." Holland was not spared from the shenanigans in the film. After a short scene of discovering the Guardians have snuck onto the ship, it turns out Gunn apparently brought his talented wife into the fold only for her character to get shot in the leg. Even being married to the director doesn't save your character from suffering.