The Two Denzel Washington Movies Dominating Netflix Right Now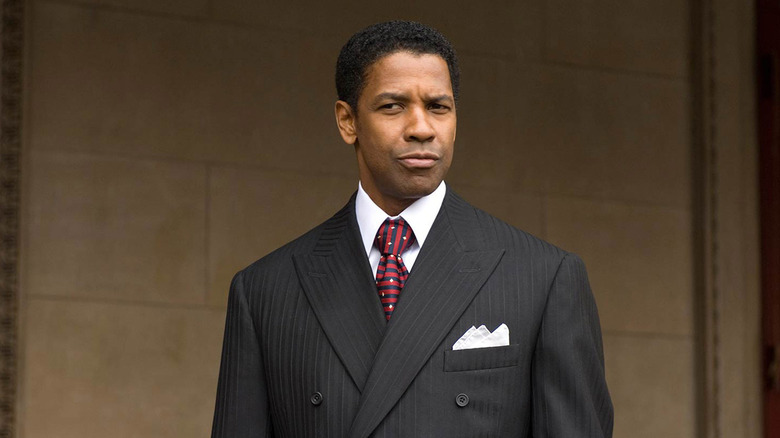 Universal Pictures
Denzel Washington has had a long and historic career in Hollywood, doing everything there is to do in the industry. He has played leading roles, taken to the stage, and sat behind the camera, becoming a legend in the process. While he's taken a step back from big-screen performances in recent years (aside from a reunion with Dakota Fanning in "The Equalizer 3"), fans have proven that Washington's work is timeless, with not one but two movies making waves on Netflix. 
"American Gangster" tells the true story of Frank Lucas, a drug trafficker who took advantage of the Vietnam War to smuggle heroin into the United States. Directed by the legendary Ridley Scott, Washington plays Lucas, depicting his rise to power in Harlem. Russell Crowe lends his talents to Detective Richie Roberts, the man trying to bring Lucas down. The two eventually work together, resulting in the arrest of countless corrupt NYPD officers. 
"American Gangster" scored big with critics, earning numerous award-season nominations, including Best Motion Picture – Drama, Best Director, and Best Actor at the Golden Globes. Rotten Tomatoes echoed the critical sentiment, with the movie scoring a certified fresh 81% on the aggregate site.
Flight takes off on Netflix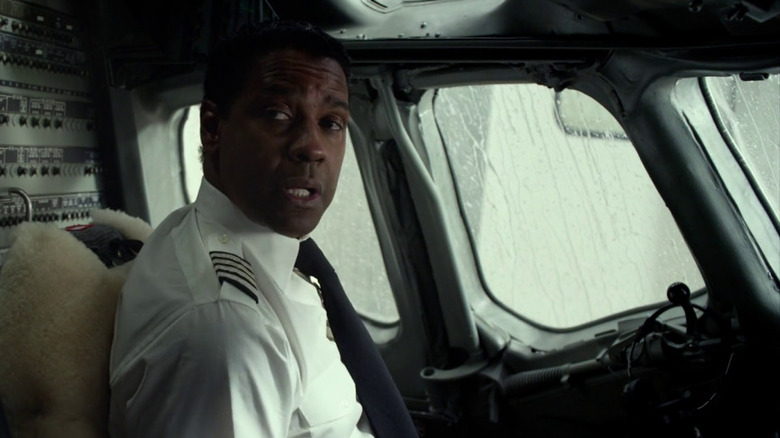 Paramount Pictures
Denzel Washington's other movie dominating Netflix is "Flight." Arguably one of his most notable performances in recent years, Washington plays William "Whip" Whitaker, a commercial pilot struggling with alcoholism and drug abuse. During one of his flights, a mechanical failure sends the plane into a nose dive, and the intoxicated Captain miraculously crash-lands the vessel, saving nearly everybody on board. Although Whip didn't cause the accident, the ensuing investigation brings his struggle with addiction to light.
As if Washington's incredible performance wasn't enough to draw audiences in, "Flight" was also director Robert Zemeckis' first live-action film since "Cast Away." In an interview with The Hollywood Reporter, the director called the movie "the extension of 'Back to the Future,'" saying that Washington's character's substance abuse puts him in a similar "isolated" situation to Marty McFly.
As is practically customary for any Washington performance, "Flight" received immense praise from critics, scoring a certified fresh 77% on Rotten Tomatoes. Award season also treated the film kindly, with Washington earning numerous nominations for his performance, including an Oscar, Golden Globe, and SAG Award. Although "Flight" couldn't secure any of the high-profile awards, it continued adding to Washington's and Zemeckis' already impressive resumes.
With both "Flight" and "American Gangster" available to stream on Netflix, there's no better time to watch two of Washington's most memorable performances.