The Denzel Washington Crime Drama Netflix Fans Can't Stop Streaming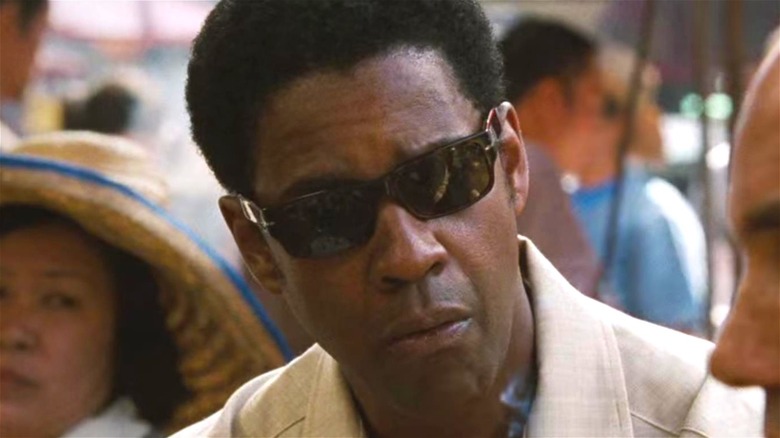 Universal Pictures
We love when Denzel Washington plays a good guy, but we love it even more when he plays a bad guy. And the movie about one of the baddest guys he ever played is currently burning up the Netflix streaming chart. The movie is a hit crime drama set in 1970s New York, amidst drug traffickers, crooked cops, and the backdrop of the Vietnam War.
The film is directed by Ridley Scott, the acclaimed director of classic movies like "Alien" and "Gladiator." It's to date the only movie he's made with Denzel Washington, though Washington did work several times with Scott's brother Tony, who directed him in four films, including "Man on Fire" and "Unstoppable." The film also reunites Scott and star Russell Crowe, who both won Oscars for "Gladiator." The script is by Oscar-winning screenwriter Steve Zaillian, who won an Oscar for "Schindler's List" and also collaborated with Scott on "Hannibal" and "Exodus: Gods and Kings." This film was itself nominated for two Oscars, Best Supporting Actress for Ruby Dee and Best Art Direction for Arthur Max and Beth A. Rubino. (It fared better at the Golden Globes, earning nominations for Best Picture, Best Director, and Best Actor, per IMDb.)
The film is 2007's "American Gangster," which is currently sitting pretty at #6 on Netflix's daily Top 10 movies chart.
American Gangster is a star-studded crime epic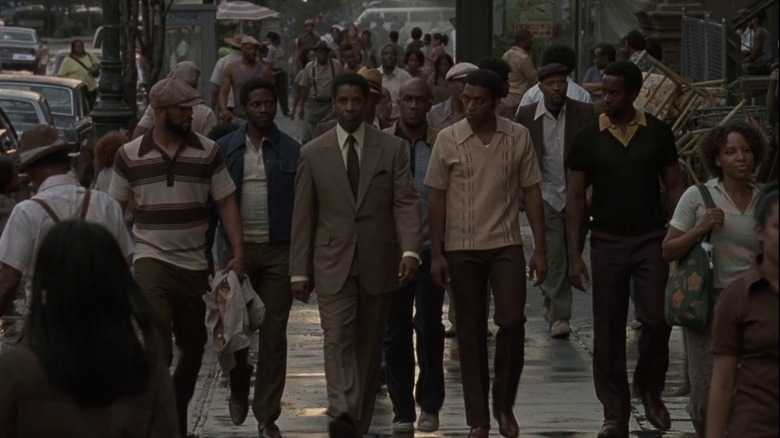 Universal Pictures
"American Gangster" tells the story of Frank Lucas (Washington), who becomes one of the most notorious criminals of the 1970s for breaking the Italian mafia's monopoly on heroin trafficking by cutting them out as middlemen. Lucas innovates by going directly to the source in Southeast Asia, buying from producers there and smuggling the drugs into the United States in dead American soldiers' coffins. His lower import and distribution costs allow him to sell purer heroin at a lower cost than his competitors, which makes him very rich –- and a very big target.
Lucas is pursued by Richie Roberts (Crowe), a detective whose honesty makes him a pariah in his hopelessly crooked department. Roberts' personal life is a mess, but he's a good cop. He's the mirror image of the criminal Lucas, who is always cool, collected, and professional in his business dealings.
The film is based on a true story, but embellished for dramatic effect. Lucas himself admitted to the New York Post that the film is only 20% true. Richie Roberts is depicted as being in a custody battle with his ex-wife, while the real Richie Roberts didn't have a child with her. But that's all secondary to the intoxicating effect of the movie. The film's star supporting cast includes Chiwetel Ejiofor, Josh Brolin, Idris Elba, and Carla Gugino, as well as great character actors like Ted Levine, John Hawkes, and Joe Morton.
"American Gangster" also inspired an album of the same name by Jay Z, which isn't the official soundtrack but is closely linked. It's the highest-grossing film of Denzel Washington's career, having taken in $268 million worldwide.