Welcome To Derry: Andy Muschietti Teases A New Bowers Character In A Big Role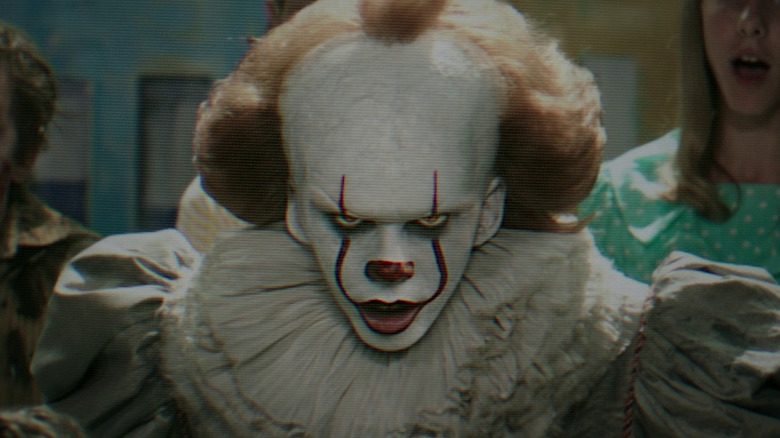 Warner Bros. Pictures
Of the countless Stephen King villains, perhaps none is as well-suited for the prequel treatment as Pennywise from King's acclaimed novel "It." Director Andy Muschietti, who helmed the "It" adaptations in 2017 and 2019, is well aware of this fact. "As we all know, the mythology is very rich, and in Stephen King's book, Pennywise has been around for a million years. He's been in contact with humans for at least five hundred years," the director told CinePOP. "So, if you go back and back and back and back, you'll see a lot of drama."
Muschietti isn't going back a million years any time soon, but for his forthcoming prequel series "Welcome to Derry," the director is taking viewers back to the 1960s to explore the origins of the terrifying creature.
HBO Max — soon to be just "Max" — is keeping "Welcome to Derry" details close to the chest, but Muschietti has revealed a first behind-the-scenes image on Instagram teasing a new character who is presumably related to Henry Bowers, the sociopathic teen bully from "It." The image features a door with the words "Clint Bowers, Chief of Police" etched onto the glass.
Clint is the newest member of the Bowers family tree
Warner Bros. Pictures
In Stephen King's novel as well as the "It" film adaptations, Henry Bowers' menacing sociopathy is second only to Pennywise himself. As the head of the Bowers Gang, Henry and his cronies terrorize the Losers' Club. Henry, meanwhile, is subject to abuse at the hands of his father, Oscar "Butch" Bowers, an officer with the Derry Police Department. When Henry is driven insane by Pennywise, he murders Butch and lands himself in the mental hospital.
Andy Muschietti's "Welcome to Derry" update confirms that law enforcement runs in the Bowers family, though it's unclear if Clint is Henry's grandfather, great uncle, or some other relative. Also unclear is whether the Bowers' cycle of abuse is multigenerational, or whether Clint is an outlier.
There's also no word as to who is playing Clint Bowers, though some preliminary casting was announced. Taylour Paige, Jovan Adepo, James Remar, Chris Chalk, Madeleine Stowe, and Stephen Rider are set to star. Of that group, Remar fits into Clint's demographic, though it's possible the actor playing him hasn't been revealed yet. Notably, Bill Skarsgård won't return as Pennywise. 
"Welcome to Derry" is slated to premiere sometime in 2024.
If you or someone you know may be the victim of child abuse, please contact the Childhelp National Child Abuse Hotline at 1-800-4-A-Child (1-800-422-4453) or contact their live chat services.