The Untold Truth Of Daria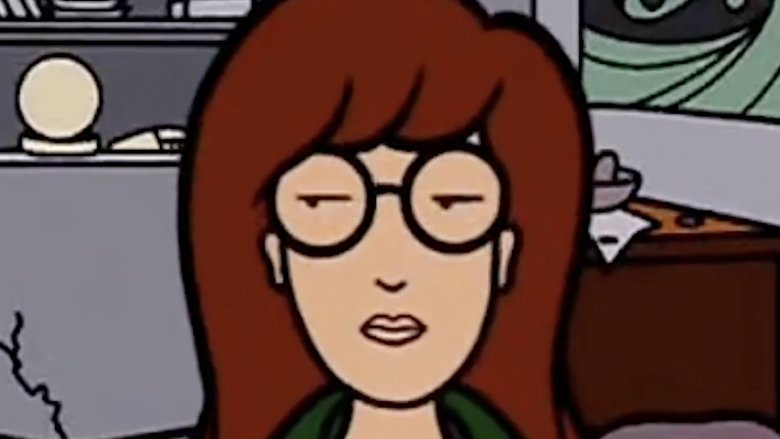 YouTube
Back in the '90s, lots of people half-joked and half-lamented that "MTV doesn't play and music videos anymore." While the channel named "Music Television" certainly pulled back on the rock n' roll clips in the '90s, its roster of original programming ironically led to its own golden age. During that decade, the channel aired lots of innovative, unforgettable, and just plain great shows, including The Real World, The State, Aeon Flux, Beavis and Butt-head, and Daria. 
Taking Daria Morgendorffer, a perpetually eye-rolling teenager out of Highland and to a new setting of the stratified town of Lawndale, Daria gave voice to and represented the kind of characters not usually seen in '80s and '90s teen movies and TV shows: those who lived on the edge of high school society, sarcastically commenting on their absurd surroundings. Daria, and her friends like artist Jane, rock musician Trent, and overachiever Jodie, helped make Daria a cultural high-water mark for millennials. Here's a look behind the classic cartoon.
MTV mandated it into existence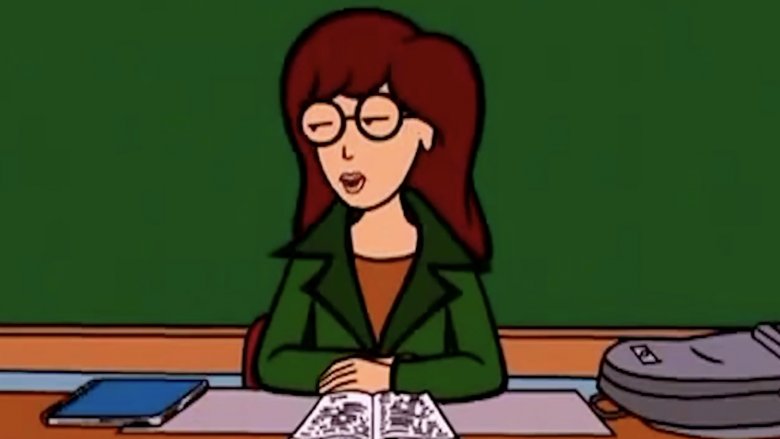 Around 1995 to 1996, MTV gave its creatives a directive: create an animated series geared toward young female viewers. Beavis and Butt-head had been very successful for the network, but creator Mike Judge was in the midst of wrapping up the series and moving on to the movie Beavis and Butt-head Do America and a new show for Fox, King of the Hill. 
"It hit me we already had what we needed," MTV writer-turned-Daria co-creator Glenn Eichler told The Huffington Post. He suggested to MTV executive vice president Abby Terkuhle that a show based on the Beavis and Butt-head side character Daria fit the bill. "Basically, she was the smart person who hung out with Beavis and Butt-head to annoy her parents," Eichler told The New York Times. Also, the character had strongly resonated with viewers: MTV received lots of communications in praise of Daria. MTV greenlighted the show, and in March 1997, the show debuted and quickly became one of the network's most-watched shows.
How Daria became Daria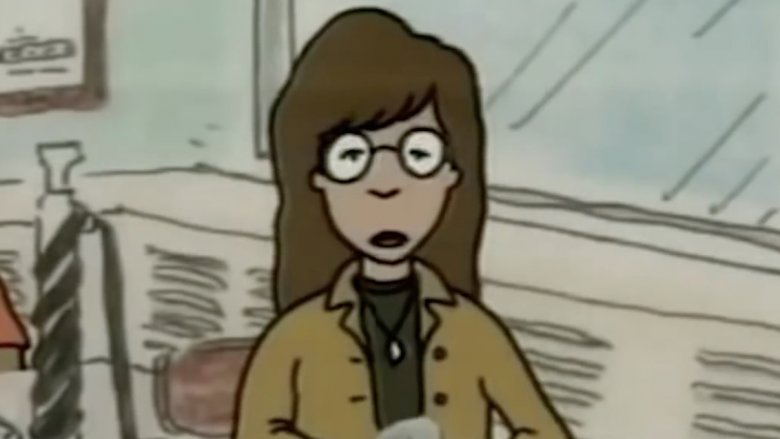 YouTube
To create the character of Daria, one of the most iconic fictional characters of the '90s, writers cribbed details from two other beloved and definitive female voices of the era: sardonic stand-up comedian and actress Janeane Garofalo, and Darlene Conner, the sharp and sarcastic middle child portrayed by Sara Gilbert on the sitcom Roseanne.
The name "Daria Morgendorffer" came directly from real life. Mike Judge recalled a classmate named Daria, who he'd crudely called "Diarrhea," giving rise to Beavis and Butt-head following suit. As for "Morgendorffer," that's the maiden name of the mother of MTV writer David Felton.
So that covers character and voice, but what about Daria's appearance? During a production meeting, character designer John Garrett Andrews grabbed a paper plate and made a sketch that would serve the basis for Daria's look. His inspiration: his high school girlfriend, "a smart but shy teenage girl with a sarcastic wit named Lindy Regan."
How Daria found her voice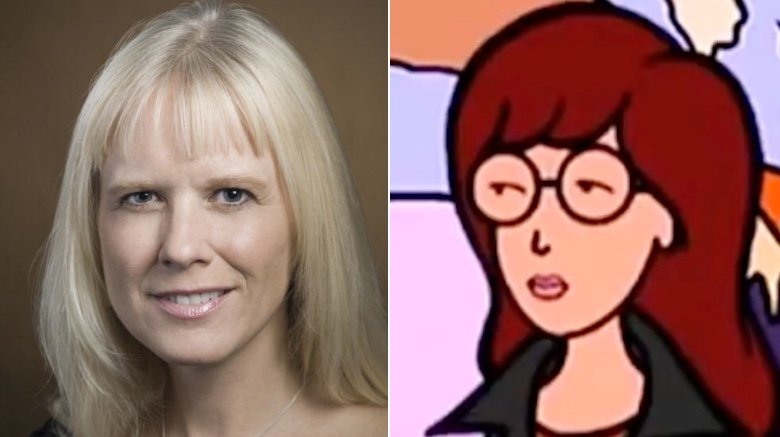 Twitter/YouTube
Unlike today, when most animated projects feature a voice cast of big stars (do kids even care that a troll in Trolls was voiced by Justin Timberlake?), MTV didn't go to Hollywood to find the woman who would bring Daria Morgendorffer to life. Actually, they didn't look very far at all. On both Beavis and Butt-head and on Daria, the character's voice came from Tracy Grandstaff. She wasn't an actress; she initially wrote for MTV, and had spells in the on-air promotions and program development divisions, but also helped out wherever she could in the freewheeling, low-budget days of the network in the '90s. 
For example: Grandstaff appeared in the pilot episode of The Real World, and joined the writing staff of Beavis and Butt-head when the network developed a single Mike Judge-produced cartoon into a full-fledged series. Judge voiced most of the characters on the show, but "whatever female characters he didn't want to do — they threw me in the booth because I was on the writing staff, and they didn't really have to pay me," Grandstaff told Vice. Among her roles: Daria. "I'm a pretty monotone voice, and I think that's why I landed Daria. (And the fact that our personalities are similar.)"
Judge not, lest ye be judged by Judge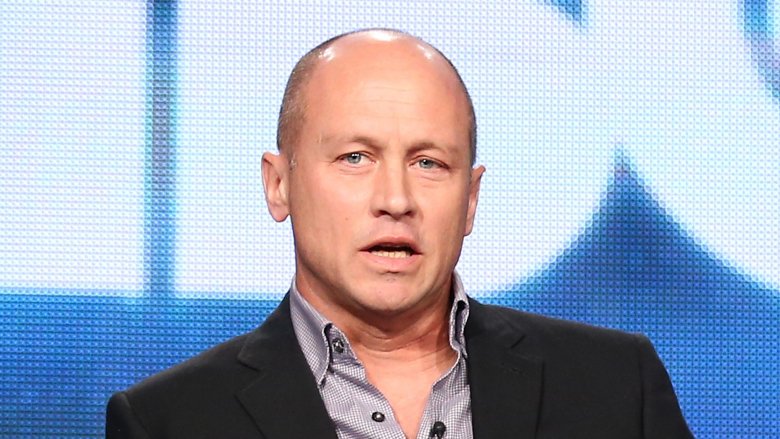 Getty Images
While Mike Judge created Beavis and Butt-head, MTV's writers and producers helped him develop it into a continuing series, including suggesting the addition of a character that became Daria. MTV executives consulted Judge when Daria was in the works, if only to get his blessing, but they really didn't need his approval. In the beginning, Judge didn't have much interest in working on Daria, nor did he have the time: when it entered production, he was getting King of the Hill off the ground. 
Judge ultimately had mixed feelings: "A couple of the producers told me they were going to possibly spin off Daria, and I thought it might be a good idea," Judge told The AV Club in 2004. "Next thing I knew, they were just doing it, and I wasn't crazy about some of the people they hired. I think they were trying to show that they could do something without me." And as of the time of that interview, Judge said he's "honestly never seen more than two or three minutes" of Daria.
The spinoff that never was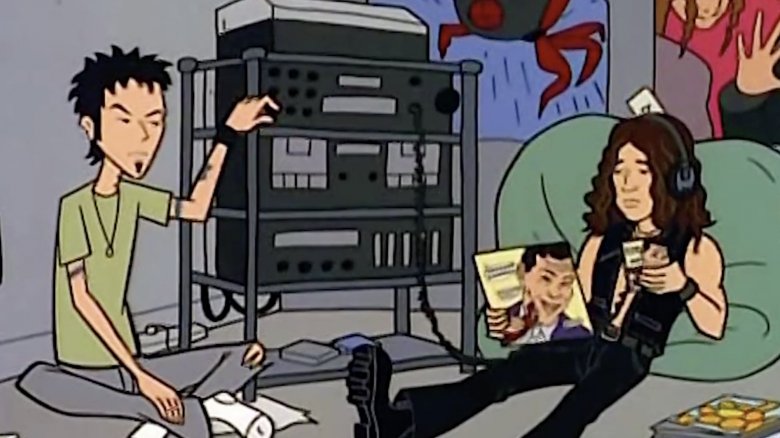 YouTube
One of Daria and Jane's few allies in Lawndale: Trent, Jane's cool, soft-spoken older brother who fronted a ridiculous, never-gonna-make it grunge band called Mystik Spiral ... but they were always "thinking of changing the name." (Among their "hits": "Ow! My Face" and "Icebox Woman.") Daria and Trent had not-so-secret crushes on each other, but it never quite happened for those two. One other thing that also never happened was a
Daria spinoff focused on Trent and his band's low-effort adventures. 
Daria co-creator and producer Glenn Eichler wrote a pilot script, which depicted the band moving in together, kind of like the Monkees did on The Monkees. The show would have explored them finally trying to make it big, under the tutelage of an aggressive new manager. The script was included as a special feature on a Daria box set, because that's as far as it went. The project died when MTV shut down its animation division.
Making the most '90s rock guy of the '90s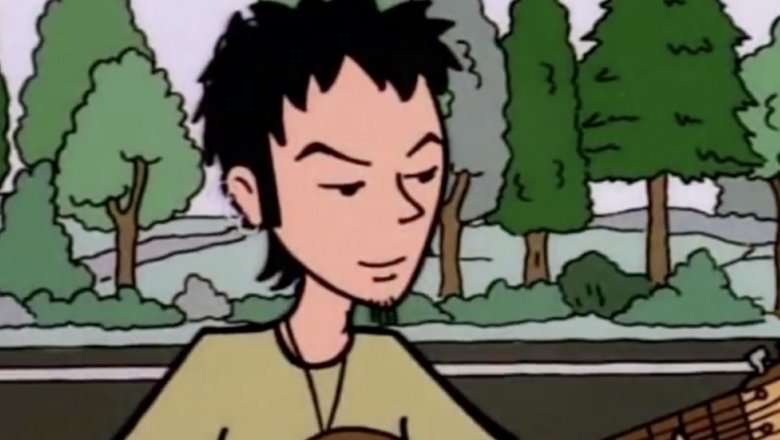 YouTube
Trent Lane at least vaguely reminded viewers of any number of contemporary alternative rock stars. His good looks-meets-outsider attitude conjured up comparisons to Jakob Dylan of the Wallflowers, or maybe Chris Cornell of Soundgarden. The actual inspirations for Trent: a little bit famous rock star, a little bit non-famous wannabe rock star.
Daria co-creator Susie Lewis Lynn told Nerdist
that when she was young, she developed lots of crushes on guys in bands. "A lot of them were really hot on stage, but when you talked to them, it was completely different. And it was such a bummer." That explains Trent's charisma ... and also how he was kind of dud. 
Daria's other co-creator, Glenn Eichler, took that concept and ran with it, adding in some pop culture touchstones, particularly Jordan Catalano, the brooding crush object played by Jared Leto on the 1994-95 cult series My So-Called Life. "He was this real dreamboat, right?" Eichler said, "But whenever he talked, he was kind of a moron." Rounding out the recipe: a first name taken from Trent Reznor of Nine Inch Nails and the appearance of Dave Navarro, guitarist for Jane's Addiction and the Red Hot Chili Peppers.
The Splendorific origins of that theme song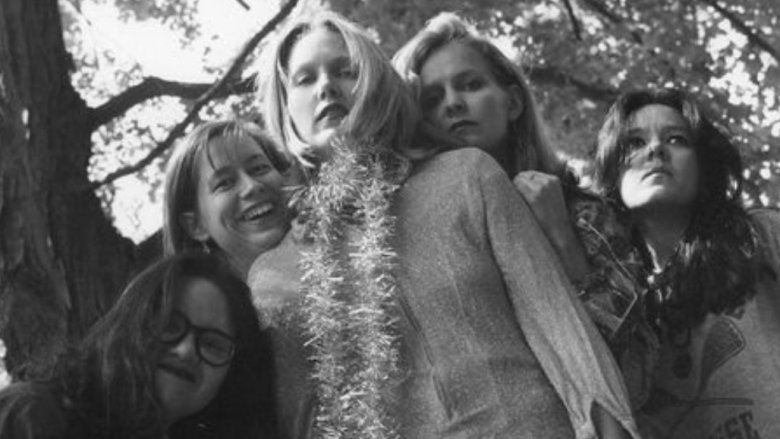 Twitter
Female-fronted alternative rock acts were huge in the mid-'90s. Bands like the Breeders, Belly, that dog, Veruca Salt, Garbage, and more provided the soundtrack of the time. A lesser-known example: Splendora. The Brooklyn-based quintet signed a deal with Geffen Records but never had a hit single ... although millions heard their Daria theme song week after week.
How that came to pass is a story of where luck meets rising to the occasion. When Daria went into production, co-creator Susie Lewis Lynn found a copy of Splendora's one and only album, 1995's In the Grass, on her desk one day. She enjoyed it, and got ahold of the band and asked them to record some demos for tunes that could make a good theme song for an animated series about a smart and sarcastic teenage girl. Of the four tracks Splendora submitted, producers most liked "You're Standing On My Neck." The band broke up shortly thereafter.
It used the internet before the internet was cool (or worked well)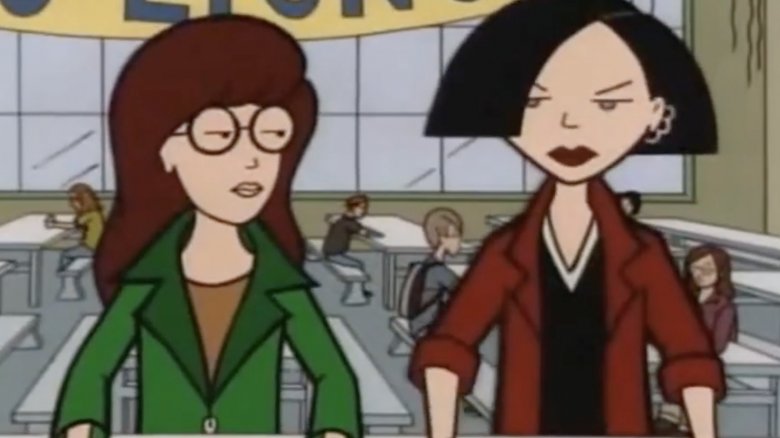 YouTube
In the age of both social media and hundreds of TV shows trying to differentiate themselves, there isn't a series on the air (or streaming) that doesn't use the internet to promote itself, offer fans extra scenes or information, or all of the above. Short "webisodes" became a thing about a decade ago, detailing the adventures of side characters or important backstories pertinent to the mother series.
The internet was relatively nascent and not in everybody's home in 1997, the year Daria premiered. High-definition streaming video wasn't a possibility with predominantly dial-up connections, but the show was an innovator and pioneer in how a show could use the internet to connect with fans and build an even larger audience. Daria staff writer Anne Bernstein wrote diary entries and articles (they'd later be called "blog entries") in character as Daria, Jane, and others, along with profiles and other Dariaverse data. It's all considered canonical to the show, too.
Where are they now?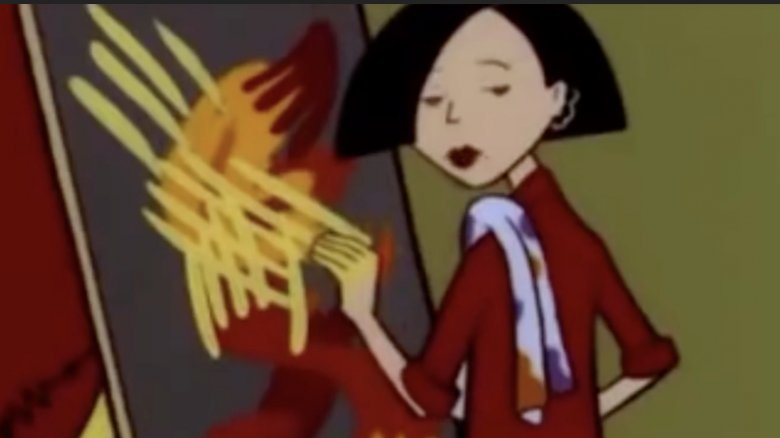 YouTube
The quintessential '90s show lasted all the way until January 2002. If all the Daria characters were real, they'd be pushing 40, and would have settled into their disparate life paths. 
With no reunion episode in sight, Entertainment Weekly talked to co-creator Susie Lewis Lynn in 2017 to celebrate the 20th anniversary of the show's debut. She gamely contributed a rundown (although not necessarily canonical) on where she thinks all of the show's characters wound up in life. 
In brief: Daria lives in the Hell's Kitchen neighborhood of New York with her toilet-trained cat, Godzilla, and works as the only female writer on an unnamed late night talk show. Jane is a professional avant garde artist who lives in Soho with her archaeologist husband. Daria's superficial sister, Quinn, is raising triplets in Lawndale and runs a YouTube channel about desserts and skin care called "S'mores and Pores." Former cheerleader Brittany is a weather girl and cheerleading coach at Lawndale; she married jock boyfriend Kevin, who is a stay-at-home dad with a beer belly. Trent is still playing in a band, Trent Lane and the Mystical Explosion, and he lives in Queens with his four bandmates. He lives off the royalties from Mystik Spiral's only hit, "Freakin' Friends," but really makes ends meet with his job as a bartender.
It's coming back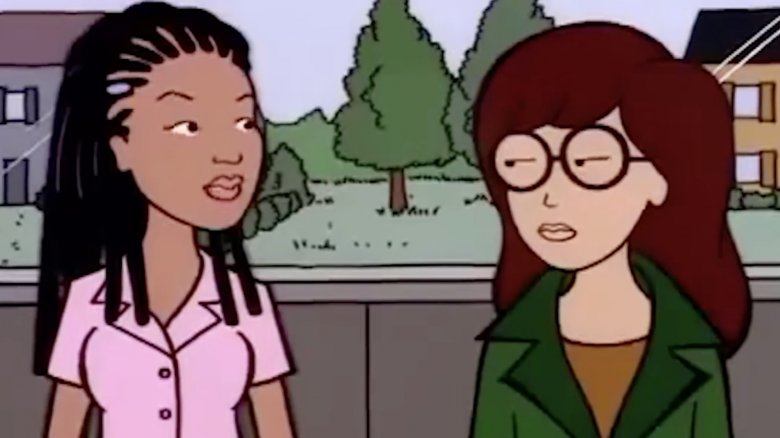 YouTube
In 2011, MTV convinced Mike Judge to produce a limited run of new episodes of Beavis and Butt-head. It begged the question: Could new installments of that show's equally missed spinoff, Daria, show up, too? At the 2011 Television Critics Association press tour, MTV president Van Toffller said that it was a possibility. "Daria still airs on MTV2 and Logo," Toffler explained, referring to the show's then-current rerun outlets, "and it's done quite well on both. Wev'e talked to the creators. So there's not as long a shot as you'd think that Daria will be back on one of our channels." 
It was a long shot, however: a Daria revival didn't materialize. But then it did ... seven years later. In June 2018, MTV announced that it had formed a new in-house production facility, MTV Studios, and that one of its initial offerings would be Daria & Jodie. 
Written by Unbreakable Kimmy Schmidt and Inside Amy Schumer writer Grace Edwards, the new Daria will center on Daria and Jodie Landon, a supporting character from the original series; she was as smart as Daria but a whole lot more popular. MTV promises that Daria & Jodie will "reinvent" the classic series as "these two smart young women take on the world, with their signature satirical voice while deconstructing popular culture, social classes, gender, and race."