Wednesday's Iconic Dance Scene Took Direct Inspiration From Michael Jackson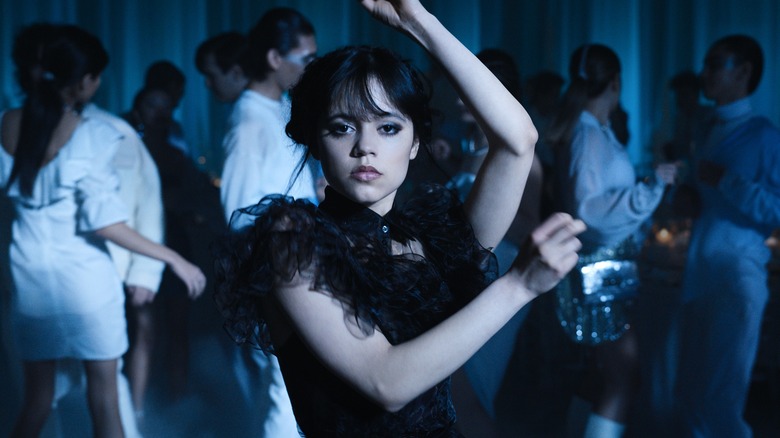 Netflix
She's creepy, kooky, and showing off some killer dance moves, and it's Wednesday Addams' (Jenna Ortega) dance moves in "Wednesday," Season 1, Episode 4, "Woe What a Night," that have become an iconic moment for the hit series, which broke multiple Netflix records. Wednesday heads to the Rave'N dance at Nevermore Academy, and upon hearing the song "Goo Goo Muck" by The Cramps, she starts an electric dance with moves and editing that echo a very popular music video from Michael Jackson. 
"[Jenna Ortega's] movements were inspired by 'Thriller,' and I was obsessed with 'Thriller' when I was a kid," Editor Jay Prychidny told SYFY Wire. "That was definitely the inspiration for me in starting the way it does — just holding onto her face with the choreography starting off-camera ... that definitely for me is a reference to how the 'Thriller' dance starts."
"Goo Goo Muck" has proven to be Wednesday's jam, and it fits better than the original flash mob sequence planned for "Wednesday." While "Goo Goo Muck" works, it's not the song that many people are pairing with their recreations of the dance on social media.
The song choice fans have made when performing Wednesday's dance on social media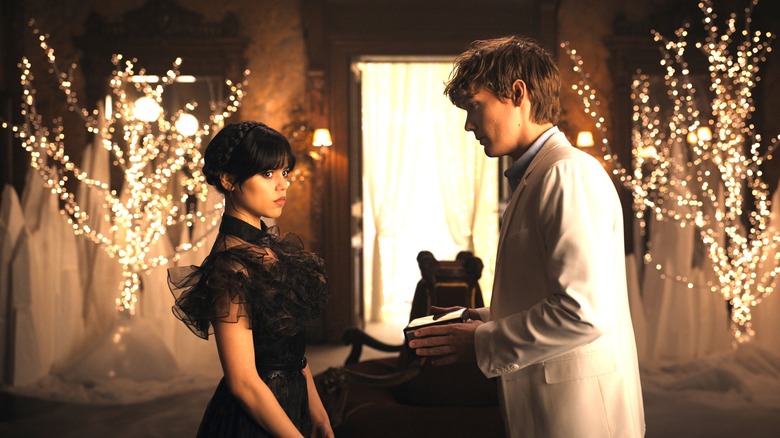 Netflix
Jenna Ortega told "The Tonight Show Starring Jimmy Fallon" that she was in charge of the moves for her big dance solo, which includes references to Lisa Loring, who played Wednesday Addams in the 1960s TV series. While she focused on the dancing, music supervisors Jen Malone and Nicole Weisberg were in charge of the music. 
"We pitched The Cramps' 'Human Fly' to the team, too, then spring-boarded onto 'Goo Goo Muck,'" Malone told Variety. "The Cramps are perfect for Wednesday. They're in her headspace ... the track had to be fun, quirky, and lend itself to Wednesday's personality." Ortega was also excited about this choice.
"The Cramps is one of my favorite bands ever, so I was super excited, super pumped," Ortega said on "Jimmy Fallon." While the cast and crew were behind the song, fans have since been putting their own spin on the big dance scene by going with a different track on social media.
Lady Gaga's "Bloody Mary" has become the song of choice for those recreating Wednesday's dance on TikTok. Netflix's Twitter account, @wednesdayaddams, tweeted approval of the song change, citing their appreciation for Lady Gaga and her little monsters.
"Slay Wednesday!" @ladygaga replied. "You're welcome at the Haus of Gaga anytime."