Jenna Ortega's Iconic Wednesday Dance Almost Involved A Flash Mob Before She Shot The Idea Down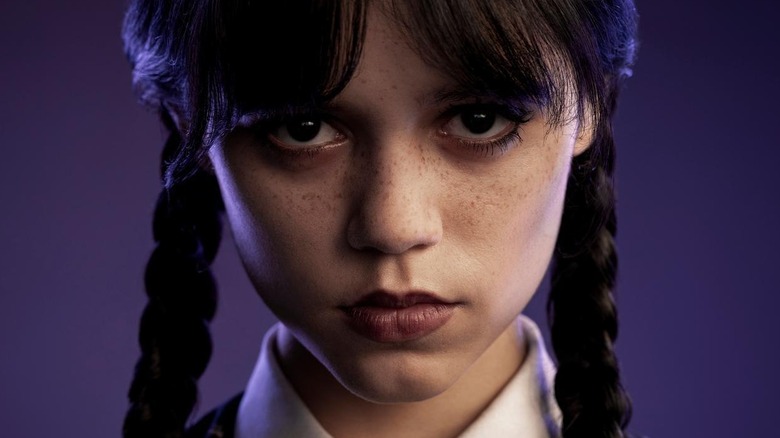 Matthias Clamer/Netflix
There are plenty of iconic dance scenes in film and TV, such as Gene Kelly in "Singing in the Rain" or Uma Thurman and John Travolta in "Pulp Fiction." Now a TV dance scene has made this honorary list by achieving viral popularity, forever setting it among the most memorable. We're, of course, referring to the dance scene in the hit Netflix series, "Wednesday." The scene appears in Episode 4 of the show, "Woe What a Night."
One of the reasons that could explain this scene's unbelievable success has to do with one of the best aspects – if not the best — of the show: Jenna Ortega's performance as Wednesday Addams. "I just saw this scene last night, and the intensity she brings to that dance is incredible," u/AblativeLaster commented on a Reddit post about the dance scene. The Reddit thread contained dozens of comments showing appreciation for Ortega's commitment to the role, which can, for sure, be felt during her iconic dance to The Cramps' "Goo Goo Muck" at the Rave'N Dance. Wednesday is truly dancing like no one's watching — unashamed to be weird — and her weirdness is nothing short of mesmerizing.
But it seems that the scene we got could've been something else entirely. In a recent interview, Ortega revealed that the now immensely popular dance would've been completely different if they had gone with the original idea behind it.
Wednesday's dance scene almost involved a flash mob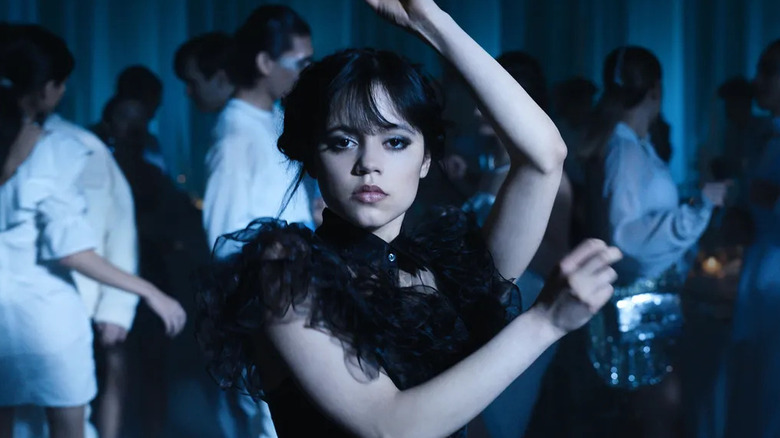 Netflix
Jenna Ortega appeared on "The Tonight Show Starring Jimmy Fallon," where she was asked by the host about the famous dance. The young actress explained that when she first read the script for the episode, a song for the dance had yet to be picked.
"Originally they wanted a flash mob," Ortega recounted. "But I thought 'No, there's no way Wednesday would be cool with dancing and encouraging a bunch of people.'" This serves as an example that, oftentimes, actors build such a close relationship with their characters that they know when some action or attitude would feel out of place for them. Judging by Ortega's fascinating and nuanced performance, it should come as no surprise that the actress knew how to best choreograph the scene so it would be faithful to Wednesday's character.
She went on to tell Fallon, "The director, Tim Burton, and I talked about it a little bit and he said, 'Yeah, let's not do a circle, let's have it be your own thing.'" Which, considering the end result, was probably for the best. She also revealed that, at that time, 48 hours before she had to be on the dance floor, she hadn't gone over the dance in the slightest.
How did Ortega resolve this problem? She did not sleep for those two days and used sources of inspiration — like the rock band Siouxsie and the Banshees and the 1999 French movie "Beau Travail" — to help her come up with choreography.