Evil Dead Rise: When You Can Watch At Home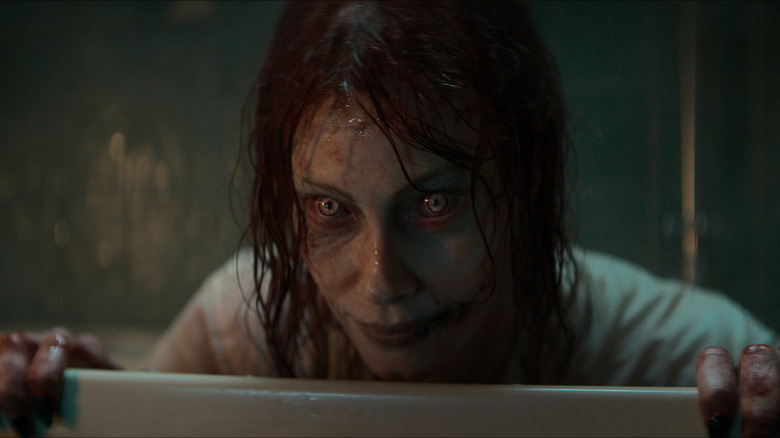 Warner Bros. Pictures
The latest chapter in the "Evil Dead" saga is making a quick leap to digital video. According to Bloody Disgusting, Lee Cronin's hit horror "Evil Dead Rise" will be available to purchase on digital video Tuesday, May 9, 2023 for $24.99. The film will also be available as a premium video on demand rental the same day for $19.99 on such platforms as Amazon Prime, AppleTV, Google Play, and Vudu, Bloody Disgusting noted. For fans who want to wait for a physical copy of the film, the publication said "Evil Dead Rise" will be available as a 4K UHD Combo Pack, as well as Blu-ray and DVD, on Tuesday, June 27, 2023.
"Evil Dead Rise" was released in theaters Friday, April 21, 2023 and earned more than $24.5 million domestically in its opening weekend. Just over two weeks into its theatrical run, the film has earned nearly $115 million at the worldwide box office.
"Evil Dead Rise" moves the action from the traditional "Evil Dead" setting of a cabin in the woods to a high-rise apartment in Los Angeles. The story follows the harrowing plight of a Ellie (Alyssa Sutherland), a single mother of three who becomes possessed after family members accidentally unleash an evil force via "The Book of the Dead." Once Ellie is fully possessed, her children (Gabrielle Echols, Morgan Davies, and Nell Fisher), her sister Beth (Lily Sullivan), and their neighbors fight for survival in a building next to impossible to escape from.
Evil Dead Rise was originally set to debut on HBO Max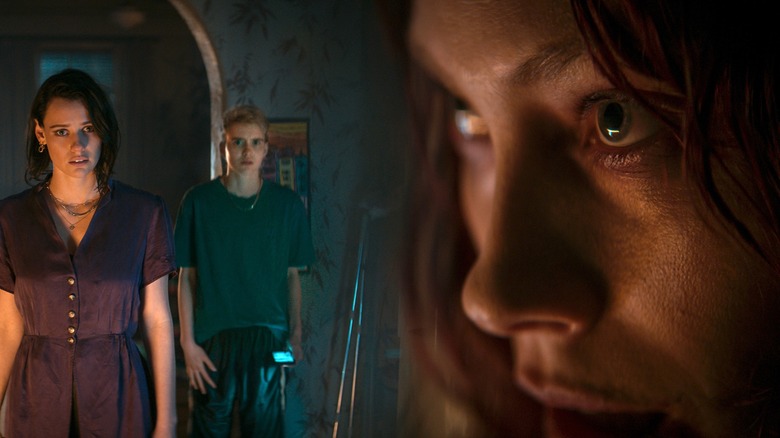 Warner Bros. Pictures
Produced by the original "Evil Dead" director Sam Raimi, producer Rob Tapert, and actor-producer Bruce Campbell — who starred in the original movie saga as Ash Williams — "Evil Dead Rise" was originally slated to release on Warner Brothers' streaming service HBO Max in 2022. After the film came together, "Evil Dead Rise" made the rare leap to the big screen first.
Campbell told Looper in an exclusive interview that the first time "Evil Dead Rise" screened in a theater for test audiences, "the scores were okay but not amazing." Because of this, the studio told him and his fellow producers that the film would go to streaming. Another variable to consider, according to Campbell, was the uncertainty over the future of theaters during the COVID-19 pandemic. As time went by and a second test screening was held, "Evil Dead Rise" yielded different results.
"We had a second screening when the film was done, and it shot up so dramatically [that] Warner Brothers went, 'All right, we're going theatrical.' It proved itself, which is where we give them credit for being flexible," Campbell told Looper. "I give the movie credit for kicking ass enough that they [changed their minds] because it does deserve a theatrical [release]. I'm a producer; I'm supposed to say that, but some movies don't. But 'Evil Dead Rise' is very visually arresting, and if you want a movie with good visuals, man, you want that as big as you can."
"Evil Dead Rise" is still playing in theaters. If the film follows Warner Bros.' normal 45-day release schedule, it could possibly debut on HBO Max as soon as June 3, 2023, Coming Soon reported.